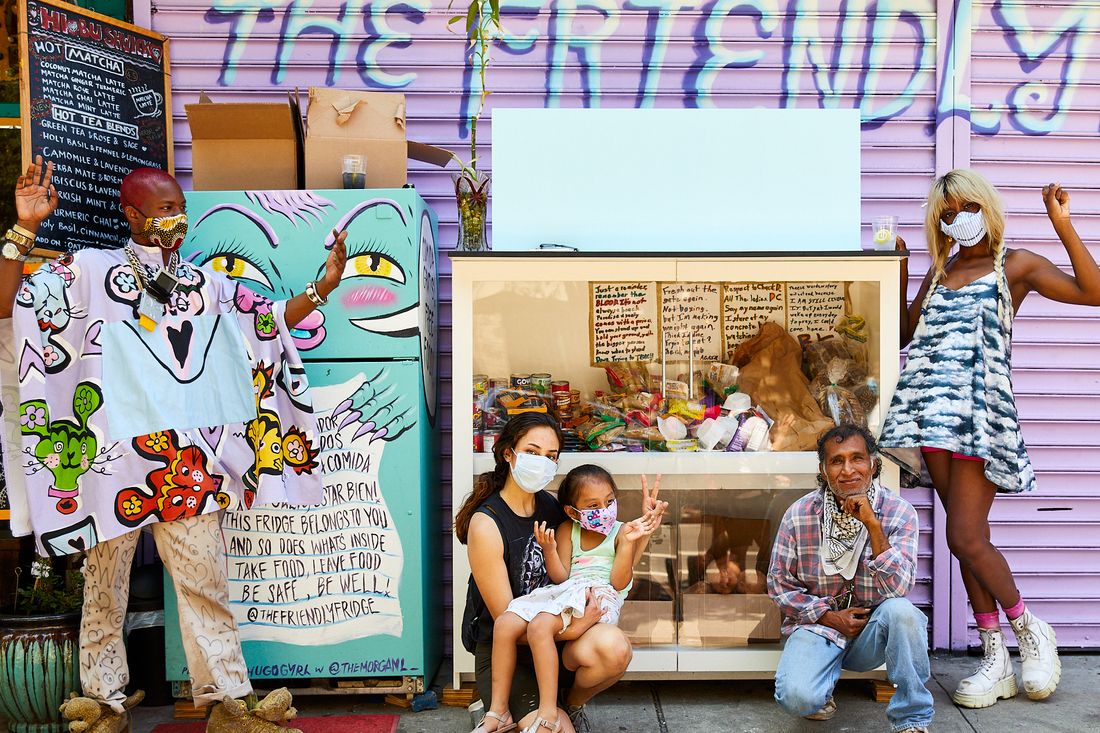 From left: Paperboy the Prince, Briana Calderon Navarro, Jazmin R., Francisco Ramirez, and Vie Darling at the Friendly Fridge, 190 Knickerbocker Ave., Bushwick.
Photo: Jonathan Bumble
As the city has weathered a tumultuous four months, convulsing under the weight of a pandemic and protests against police brutality, a group of New Yorkers, united not organizationally but rather by a passion for food and justice, has begun establishing "community fridges" across the boroughs, from Harlem to Brownsville, Astoria to Bed-Stuy.
These community fridges are a network of over a dozen sidewalk refrigerators plugged in outside of bodegas and apartment buildings aimed at fighting food waste in a country that throws away 30 percent to 40 percent of its food supply every year. Inside, they are filled with a supermarket-worthy variety of foods — from produce including fruits, greens, fresh herbs, legumes, and giant carrots to milk, eggs, rotisserie chicken, and, on one day at a refrigerator in Harlem, "the best mac and cheese on the island" from local chef Melba Wilson. On a different day, in Bushwick, a florist leaves bouquets for Mother's Day, and someone else provides 100 crusts to throw a pizza party in the neighborhood. Sade Boyewa El, an artist-activist-organizer and longtime Harlem resident, says, "It's the same stuff you'd find at Whole Foods."
Much of the work to get 13 refrigerators plugged in across New York (plus one in Oakland, California, and more coming to the city by the day, including in Rockaway, Woodside, Jersey City, and Greenpoint) has been spearheaded by Thadeaus Umpster, a member of the collective A New World in Our Hearts, who has been involved in food-justice work for decades. But he'd rather not be portrayed as the movement's leader, and some of the refrigerators have popped up independently of his (or any) organized efforts. "We are anarchists, which means that we believe in organizing in a way where there is no hierarchy," he explains. "I started the first fridge, but that doesn't put me in a position of power over anybody else. I think that's the difference [between] charity and mutual aid." Nevertheless, a lack of hierarchy and the presence of shared values around food don't mean the organizers are all always on the same page; some are quick to point out that most of the community-fridge visitors are not self-described anarchists.
To many, charity evokes the image of rich, saviorlike benefactors giving to those who they believe to be lesser. "We think that's bullshit," says Umpster, who emphasizes nonhierarchical justice work that is born in and of the community. Pam Tietze, who operates a refrigerator in Bushwick, says, "This is not charity; this is empowerment. There isn't a group you have to thank. It's something the community can own."
On one level, the refrigerators are a way to combat hunger in underserved communities during a pandemic and economic crisis. Boyewa El says she started Harlem's refrigerator when she saw long lines curling around the block at the neighborhood food pantry. "It's just heartbreaking. Food is not, and should never be, a privilege. But it is," she says. Unlike food pantries, the refrigerators can be 24/7 anonymous resources. They don't ask how many people are in your family, what your income is, or question how much you are taking. They are built around community trust, an understanding that people will take what they need and leave what they don't. "When people come to the fridge, we're not monitoring you. We're not tracking what you do," Umpster says.
Just as important to the organizers as food security is their ability to combat food waste, which is why they call themselves "food rescuers." Umpster said he was particularly haunted by images of milk being poured out and produce being plowed back into the fields during the pandemic. "There is no need for anyone to be hungry. This country's waste alone could feed the world," he says. "The tonnage of food that we're rescuing? Humbling is the best word." Food scarcity, as Umpster frames it, is a myth. "The fridge will never be empty."
How many people they feed, or how many volunteers are involved (over 150 at the time of publish), is not the point of the exercise. "How I measure [the success] is I fill up the fridge, and if it's gone the next day, that's what it's supposed to do," explains Boyewa El. "It's not really free shit. It's more than that. It's a community; it's a relationship," adds Umpster.
Jaz Johnson, a founder of East Harlem's refrigerator, likens the refrigerators to a community pet: "You feed it when you can, and everyone takes care of it. If you see the door open, you close it."
The refrigerators are also providing access to nutritional food for neighborhoods in food deserts (where there is a lack of fresh, affordable food) or food swamps (where there is an overabundance of cheap fast food) — issues that disproportionately affect communities of color. Johnson, whose refrigerator was founded by several chefs, says they can be a fun, free opportunity to experiment with produce people might not be familiar with. "Food has the power to heal. Let's all eat vegetables all the time and see how we feel in 30 days," she says. "The more this thing grows, it is continuing to apply pressure to the nation to do better and put policy that is in everyone's best interest."
In terms of sourcing, organizers have rescued food from restaurants and bakeries, which often have end-of-day leftovers, in addition to local supermarkets, food pantries, and nearby farms. Sometimes the food comes from a neighbor with a spare pack of eggs from the grocery. "It is mutual aid, and mutual means everybody, of course," says Boyewa El.
There is also the sourcing of the refrigerators themselves, many of which are found on Craigslist or Instagram. But you also need a place to plug them in. Boyewa El asked the owners of her local deli if she could plug it into their outdoor outlets, and they happily agreed. One building resident tried to resist the refrigerator for being "an eyesore," but Boyewa El persisted. "Someone in the building who is not happy with themselves, obviously, was giving me some pushback," she says. "I didn't give a rat's ass." Other refrigerators have faced more difficulty in finding a power source or are operating via tentative (and very secret) outlets.
Other than that, Umpster says the only other backlash they've received is from commenters on social media, calling them gentrifiers — the irony being that the initiatives are community led. "There's no 'they.' It's just us," says Umpster. And the others agreed. Johnson says, "Our refrigerator would not run if the community was not supporting and running it." Boyewa El calls hers the greatest sense of community she's experienced living in Harlem for 25 years.
In the coming weeks and months, the organizers hope to continue spreading information about how to set up community fridges across New York and the country, hoping that greater usage can create actual changes in federal and state food policy. But whether or not that goal is successful, one thing is made clear by the organizing: Food is a powerful cultural unifier, and one that can change the atmosphere of a place. Explains Umpster, "People like to eat. No matter what culture you come from, food is a way to bond. I've been doing this type of organizing for a long time, but once we happened upon the community-fridge model, my relationship with my neighbors changed. The vibe of the block has totally changed."
For Tietze at the Bushwick community fridge, the experience has also been proof that individuals can make a difference, even when the political landscape makes you feel powerless. "I had this urge to do something, and this feeling that other people were feeling this way too. It was amazing to see that if we create a space for individual efforts, people will show up. I literally put a plug in a wall," she says.
Adds Boyewa El, "Everybody comes together and does this as a collective, which is so beautiful. In this sense, there is no color involved. It's the color of food. It's the color of the rainbow. It's the color of mutual love. It's a love story of food. It's a party in the mouth."
For the Cut, photographer Jonathan Bumble visited community fridges around the city, many of which are decorated by homemade signs and posters, in order to document the growing movement and the community that's grown up around it. Of the project, he says, "The first time I heard of a community fridge, I was stunned by how great of an idea it was. I was curious how such an idea could possibly function on the mean streets of New York. I hope these photographs help spread the word about the fridges, help this community thrive, and show another way neighbors can help each other. If you happen to see a fridge on your way to the grocery, maybe buy an extra can of something, or some fruit, and drop it in on your way back."
Below, more images from his travels around the boroughs.