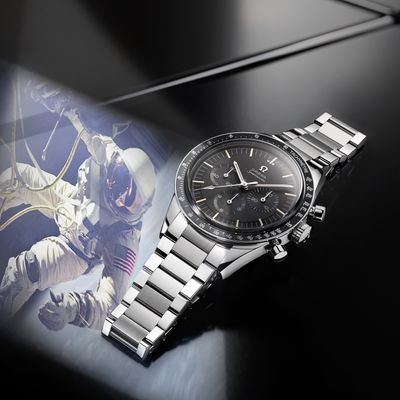 Underneath their hefty space suits, the Apollo 11 astronauts wore a certain watch: the Omega Speedmaster. Now, the brand is celebrating the 51st anniversary of humanity taking its first steps on the moon with a new watch.
Inside the crew's Omega Speedmaster watches was a mechanism called the Calibre 321, which powered the watches and is qualified by NASA for use on space missions involving humans. This year, the Calibre 321 is back in its second-generation form, and the Speedmaster Moonwatch 321 Stainless Steel watch is ready for use by earthlings.
With its direct connection to space history, the mechanism is highly sought after by watch collectors around the world. Considering it took two years of extensive research and reconstruction to bring this movement back to life, the brand didn't hide it either: You can see the Calibre 321 itself through the sapphire crystal caseback. Astrophiles and accessory lovers alike can check out the watch here.