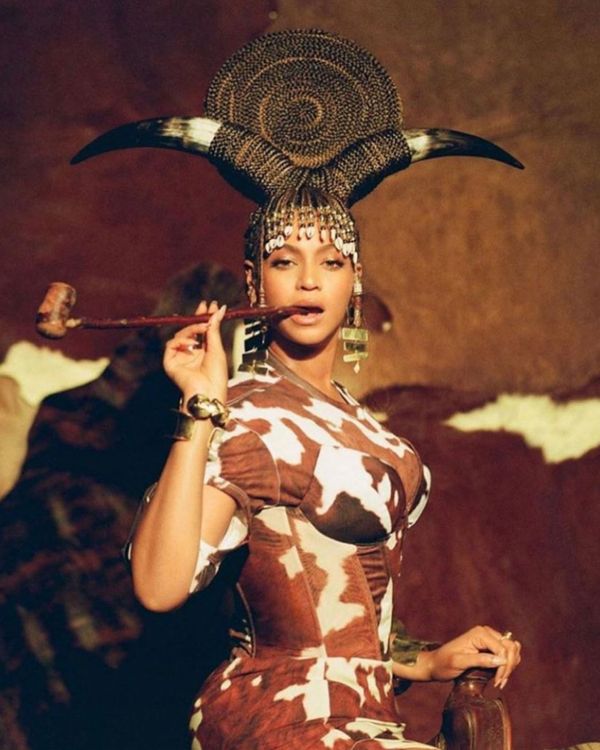 It's just about impossible to isolate the best looks from Beyoncé's Black Is King. The visual album, which came out on Disney+ at 3 a.m. today, is a triumph of style, artistry, and choreography, set to music from Beyoncé's 2019 album The Lion King: The Gift.
As my colleague, Andrew Nguyen, put it in our work Slack this morning: "literally every single shot and second was noteworthy." And indeed, even the two second scenes of Beyoncé wearing underwear and body paint in a tree, dressed as a chess piece in Israeli designer Alon Livné, floating in the ocean she rented in a gauzy Wendy Nichols gown, are a glimpse into the divine.
And while I found myself mesmerized by her mother earth Mary Katrantzou (which, perhaps, is what I would choose to die in) I just couldn't get over the cow print, which is featured most heavily in Beyoncés music video for "Already" with Shatta Wale and Major Lazer:
Animal print is everywhere in Black Is King, and as we noted last year, people have been dressing as cows for some time now. But Beyoncé in Riccardo Tisci's take on the farmyard motif is a whole other thing. For the video, the Burberry designer created a mostly custom look: a structured cow print bodysuit that Beyoncé wore with a mini skirt with thigh straps from Burberry's spring '19 collection that is unfortunately very sold out:
In another shot, she's wearing a cow-print minidress beneath a corset, with a matching coat, gloves, and boots:
And a parasol:
And suddenly, I need everything to be cow print.