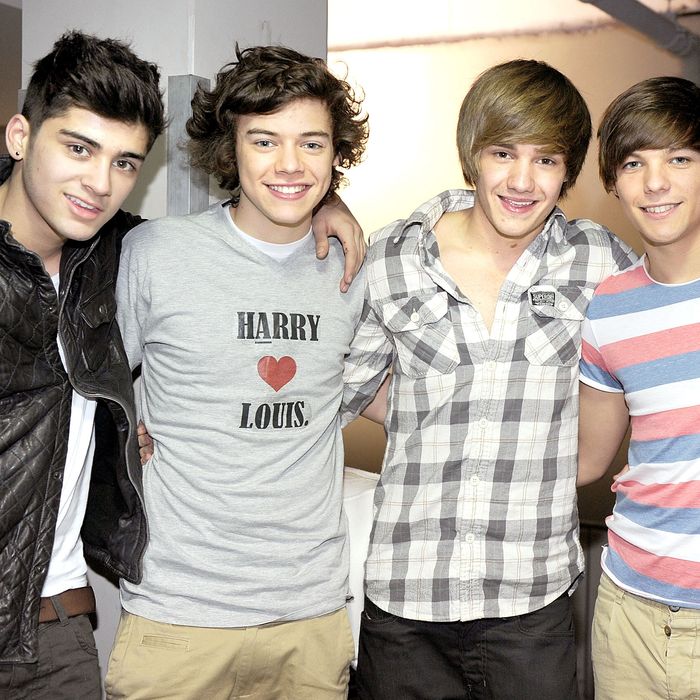 This week, One Direction turns ten years old, which was my age when I first saw a photo of Zayn Malik and knew my standards for men would be forever ruined. The boys first came to fame on the X Factor, where they sang "Torn" while wearing earth-tone sweaters and scarves:
They've been through a lot since then. Admittedly, I wasn't a big fan of their music growing up, but I'm vaguely aware of the drama that surrounded the OG crew, made up of Zayn Malik, Niall Horan, Liam Payne, Louis Tomlinson, and of course, Harry Styles, who became a fixation of mine in 2018 after he modeled with those Gucci lambs:
So here's what I missed: Billboard writes that in 2015 it was announced via Facebook that Zayn Malik would leave the band due to "stress." A few months later, the four remaining band members announced the group would be taking a hiatus until 2016. They released their last album in 2015, after which Malik revealed in an interview that he felt creatively stifled by the band. In 2016 Malik releases a very steamy solo single, "Pillowtalk," with a video featuring Gigi Hadid, the mother of his soon to be born child. He followed it with two solo albums. At the same time, Harry Styles was fashioning himself into a solo artist and style icon, dropping his own eponymous freshman album in 2017, and another in 2019. The other 1D boys released albums too.
The One Direction Twitter account seems to be teasing something, possibly a reunion song recorded via Zoom, but for now, please enjoy these ten sweet photos of One Direction, in celebration of their tenth anniversary: