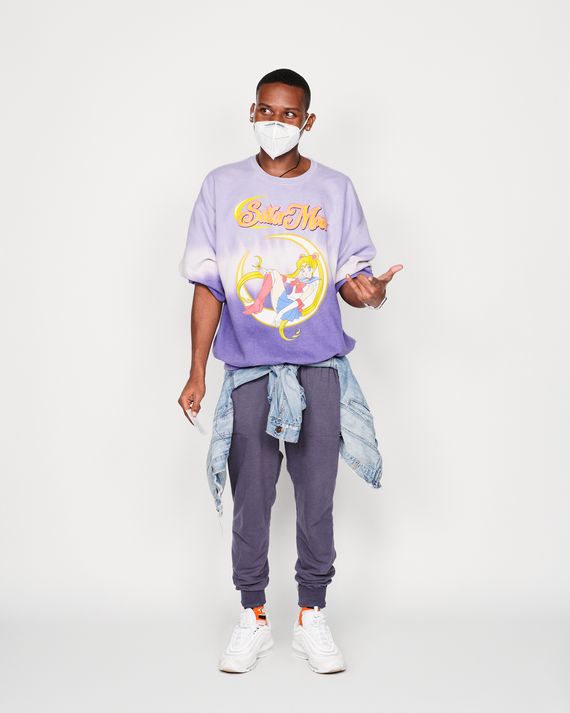 Donnell George.
Photo: Kyle Dorosz
Donnell George (pictured above), Unemployed DJ, Upper East Side.
Where are you going?
The Upper East Side, to my friend's house, where I'm staying. I'm just off a flight from Miami. My story is insane, bro.
What happened?
After the pandemic hit, I was laid off from my job at the Standard. I was broke and ended up in Florida — I had to go stay at my childhood home with my mother. My mom, my family — they don't really accept homosexuality. And I moved to New York in the first place to be gay, to explore myself. So going home — I had to put everything that New York brought out of me back into a box. Those months were dark, and they were raw. But then the moon and the sun and the planets aligned: Unemployment kicked in. My friend sent me $100. I booked a flight back to New York.
How does it feel to be back?
Girl, listen. I'm just so happy.
Have you been taking the subway regularly?
This is my first time since February. I'm going for a job interview — to survey for an engineering company. I'm not exactly a spring chicken, but I have a lot of experience. I got the virus back in March. Doctors said I had some of the worst lungs they'd seen, so I'm a little terrified to take the train. But I need work.
Where are you off to?
Work. My first week back at work. I do hair. People are coming in so hairy, and I'm just so happy to be out of the house. At first, not working seven days a week was nice. But then — Netflix, Netflix, Netflix, YouTube, TikTok. Okay, I have to get out.
Did you sit down on the train?
I did, which was a miracle. The trains, I'll admit, seem a bit cleaner, but I've lived in New York for 47 years, so I know it's not going to stay like that, unfortunately.
*This article appears in the July 6, 2020, issue of New York Magazine. Subscribe Now!