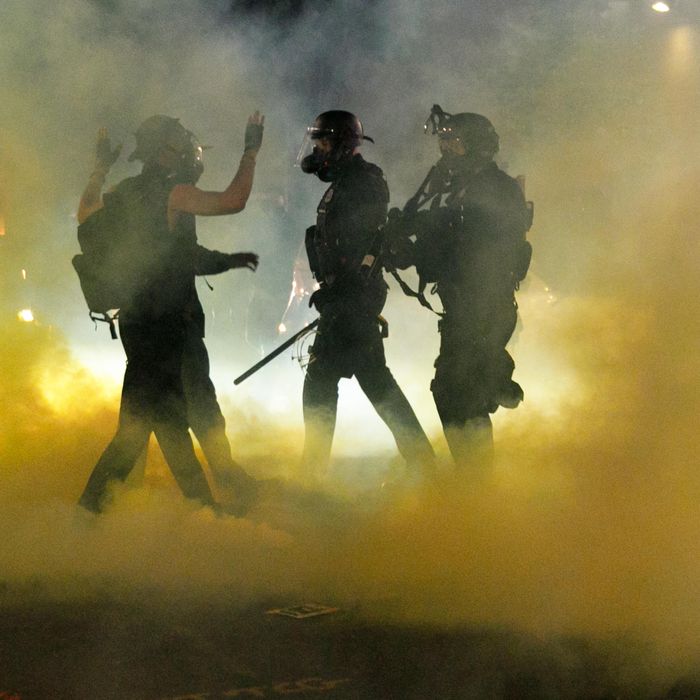 Police confront protesters in Portland.
Photo: Anadolu Agency via Getty Images
Earlier this month, the Department of Homeland Security and the U.S. Marshals Service deployed federal law-enforcement officers to Portland, Oregon, to crack down on ongoing protests in the city.
As a result, over the past few weeks, demonstrators in Portland have had to contend with not only the local police force — which has been aggressively trying to quash the protests with tear gas, rubber bullets, and mass arrests — but also federal agents, who, according to recent reports, have been employing violent and constitutionally dubious tactics against protesters, including firing "less than lethal" munitions into crowds and driving around the city in unmarked vans to yank protesters off the streets.
Mark Pettibone, a Portland resident who was hauled into a van by federal officers as he was walking home from a protest in the early hours of July 15, told the Washington Post: "I was terrified. It seemed like it was out of a horror/sci-fi, like a Philip K. Dick novel. It was like being preyed upon."
On Twitter, photos and videos of the heavy federal police presence in the streets of Portland went viral, and by last Friday morning, the word fascism was trending nationwide. City officials in Portland, meanwhile, have expressed concern about the influx of federal law enforcement, saying that they did not request assistance from federal agencies and that the presence of the federal troops has only served to escalate an already tense situation. On Saturday, police declared a riot after protesters set fire to the Portland Police Association building, with local and federal officers deploying extreme force against demonstrators. Days later, in the early hours of Thursday, July 23, Portland mayor Ted Wheeler was teargassed by federal agents while speaking to a crowd of demonstrators outside the city's federal courthouse.
Below, what we know about the situation in Portland.
Protesters have been grabbed off the street by federal police in camouflage and body armor and forced into unmarked vans.
Videos from recent protests show officers in what appear to be military fatigues driving around Portland in unmarked minivans and arresting demonstrators without apparent cause.
Mark Pettibone told Oregon Public Broadcasting (OPB) that he was forced into one such van in the early hours of Wednesday, July 15, when he and a friend were walking home from a peaceful protest outside the federal courthouse.
"I am basically tossed into the van," Pettibone said. "And I had my beanie pulled over my face so I couldn't see, and they held my hands over my head."
Pettibone said there were several officers in the van with him, all of them in camouflage and body armor, and they wouldn't identify themselves. After driving him around for a while, they took him to a building that he learned only after his release was the federal courthouse. Officers patted him down, took his picture, went through his things, then put him in a cell. Later, two officers came in and asked him if would like to waive his Miranda rights and answer questions. Pettibone declined, the officers left, and he was released about an hour and a half later.
Pettibone said he could not think of anything he had done that could serve as grounds for arrests, nor did he receive any paperwork, citation, or record of his arrest.
When reached for comment by OPB, the U.S. Marshals Service said it had not arrested Pettibone. DHS did not comment on his arrest.
Another video, posted on July 15, shows two federal officers in full tactical gear approaching a protester who is standing on the sidewalk with her hands up. They put the protester's hands behind her back and force her into a van waiting across the street, ignoring bystanders as they yell, "What are you doing? Where are you taking her?"
On Friday, in a statement addressing its recent seizure of pedestrians, the CBP said, "CBP agents had information indicating the person in the video was suspected of assaults against federal agents or destruction of federal property."
"Once CBP agents approached the suspect, a large and violent mob moved towards their location," the statement continued. "For everyone's safety, CBP agents quickly moved the suspect to a safer location for further questioning. The CBP agents identified themselves and were wearing CBP insignia during the encounter. The names of the agents were not displayed due to recent doxing incidents against law enforcement personnel who serve and protect our country."
One protester suffered skull fractures after being shot in the face by federal officers.
Donavan LaBella, 26, was hospitalized and suffered skull fractures after federal officials shot him in the face with "less than lethal" ammunition at a protest in downtown Portland on the night of Saturday, July 11.
LaBella's mother told Oregon Live that her son required facial reconstruction surgery following the attack. "He still has a tube in his skull to drain the blood," she said Sunday morning.
Portland mayor Ted Wheeler said on the night of July 12 that the U.S. Marshal Service would conduct an investigation into the incident.
The next weekend, video went viral of federal officers beating and pepper spraying a Navy veteran.
A week later, on July 18, officers met protesters at the Mark O. Hatfield Federal Courthouse. The Oregonian reports that it was "unclear" whether or not federal forces or local police deployed tear gas — a substance that, per recent legislation, law enforcement may only use during riots in Oregon — against protesters, but footage tweeted by a Portland Tribune reporter shows federal officers in gas masks and camouflage beating a protester with batons and pepper spraying him directly in the face. The protester, later identified as 53-year-old Navy veteran Christopher David, did not react, standing still as the officers swarmed and then walking away.
David told the Washington Post that he had gone to the protests in downtown Portland on Saturday evening intending to ask federal officers what they thought of the oath they had taken to protect and defend the Constitution.
When David saw federal officers rush protesters and knock them to the ground, he approached them and and asked, "Why are you not honoring your oath? Why are you not honoring your oath to the Constitution?"
Ignoring his questions, the federal officers pushed David away, then, when he approached again, hit him with batons and sprayed him in the face with a chemical irritant. Blinded by the spray, David retreated. At a hospital later, he learned that the officers had broken his hand in two places.
Over 30 mothers created a "Wall of Moms" to protect protesters.
Also on Saturday, July 18, over 30 mothers from around Portland gathered outside the federal courthouse to form a "Wall of Moms" in an attempt to shield their fellow protesters from federal officers. With arms linked, the mothers faced the courthouse and shouted, "Feds stay clear! Moms are here!"
According to BuzzFeed News, the "Wall of Moms" was organized by Bev Barnum, a 35-year-old content marketer and mother of two who created a Facebook event after she saw the viral video of officers pulling a protester into an unmarked van. "We wanted to look like we were going to Target, like normal people," Barnum told BuzzFeed News, explaining that she hoped their nonthreatening appearance would prevent federal officers from attacking them and their fellow demonstrators. Still, she says, federal officers sprayed chemical irritants at some of the mothers later in the night.
Federal agents tear gassed Portland's mayor.
Portland mayor Ted Wheeler was standing with protesters outside the city's federal courthouse late Wednesday night when he was teargassed by federal agents, the AP reports.
"It stings. It's hard to breathe," Wheeler told New York Times reporter Mike Baker afterward. "I can tell you with 100 percent honesty, I saw nothing that provoked this response." He went on to say, "They've come in and they kicked a hornet's nest. This is not a deescalation strategy."
After he was teargassed by federal officer the first time, the mayor stayed in the crowd and was teargassed again shortly after.
It is unclear right now if the federal agents knew the mayor was in the crowd.
Though Wheeler has vocally opposed the presence of federal law enforcement in Portland, he has also been criticized recently by residents for not reining in local police, who used tear gas multiple times against protesters prior to the arrival of federal agents earlier this month.
The federal officers were sent into Portland on President Trump's orders, ostensibly to protect statues and monuments.
Ever since protests against racism and police brutality first erupted following the killing of George Floyd earlier this year, President Trump has repeatedly expressed his desire to crack down on demonstrators. In his speeches, the president has referred to protesters as "thugs" and "terrorists," and expressed a desire for "retribution."
On June 26, after protesters attempted to pull down a statue of Andrew Jackson that sits in the park across from the White House, President Trump signed an executive order to protect monuments, memorials, and statues.
In response, DHS formed the Protecting American Communities Task Force (PACT).
"DHS is answering the president's call to use our law enforcement personnel across the country to protect our historic landmarks," acting DHS secretary Chad Wolf said in a statement on July 1. "We won't stand idly by while violent anarchists and rioters seek not only to vandalize and destroy the symbols of our nation, but to disrupt law and order and sow chaos in our communities." In a statement Wolf issued on Thursday, July 16, he described protesters as a "violent mob" of "lawless anarchists" who had laid "siege" to federal property.
Per the AP, the PACT task force sent officers from Customs and Border Protection and other agencies like the U.S. Marshals Special Operations Group, to Portland, Seattle, and Washington, D.C. According to a July 16 memo prepared for Wolf in advance of his arrival in Portland, however, these officers — outfitted as if for war, and assigned to various federal sites around the city — may not have undergone training appropriate to their current assignment. "Moving forward, if this type of response is going to be the norm, specialized training and standardized equipment should be deployed to responding agencies," the memo notes. As the New York Times reports, the DHS appears to have pulled from agencies that investigate drug cartels, for example, and lack experience managing large crowds of protesters in cities.
Oregon is suing the federal government for alleged violations of protesters' civil rights.
Oregon's attorney general, Ellen Rosenblum, filed a lawsuit against the DHS, the U.S. Marshals Service, the U.S. Customs and Border Protection, the Federal Protection Service, and their agents late Friday night. "They have engaged in unlawful law enforcement in violation of the civil rights of Oregonians by seizing and detaining them without probable cause," a press release contends, citing LaBella and Pettibone's cases.
In a statement, Rosenblum called the federal government's tactics "entirely unnecessary."
"They not only make it impossible for people to assert their First Amendment rights to protest peacefully. They also create a more volatile situation on our streets," Rosenblum said. "The federal administration has chosen Portland to use their scare tactics to stop our residents from protesting police brutality and from supporting the Black Lives Matter movement. Every American should be repulsed when they see this happening. If this can happen here in Portland, it can happen anywhere."
The ACLU Foundation of Oregon is also suing the federal government, having filed its own lawsuit against the DHS and the U.S. Marshals Service on Friday. The suit seeks to block federal agents from "arresting, threatening to arrest, or using physical force directed against any person whom they know or reasonably should know is a Journalist or Legal Observer" who has committed no crime.
Oregon officials have condemned the federal presence in their city.
In response to LaBella's shooting, Oregon governor Kate Brown condemned President Trump for "continuing to push for force and violence in response to protests." She added, "The cycle of violence must end."
In a statement to the Washington Post, Portland city commissioner Jo Ann Hardesty said, "I am proud to be among the loud chorus of elected officials calling for the federal troops in Portland's streets to go home." She continued, "Their presence here has escalated tensions and put countless Portlanders exercising their First Amendment rights in greater danger."
Ted Wheeler, Portland's mayor, characterized the officers as the president's "personal army," according to the Washington Post. "This is part of a coordinated strategy of Trump's White House to use federal troops to bolster his sagging polling data, and it is an absolute abuse of federal law enforcement officials," he said. "As we were starting to see things deescalate, their actions … have actually ratcheted up the tension on our streets."
President Trump, meanwhile, praised the work of the federal troops, saying in a press conference last Monday: "We've done a great job in Portland. Portland was totally out of control, and they went in, and I guess we have many people right now in jail. We very much quelled it, and if it starts again, we'll quell it again very easily. It's not hard to do, if you know what you're doing." On Saturday night, he reportedly tweeted — and then deleted — a gloating celebration of federal agents' tactics: "Oregon officials are running scared when it comes to Portland."
He later revised that sentiment to: "We are trying to help Portland, not hurt it. Their leadership has, for months, lost control of the anarchists and agitators. They are missing in action. We must protect Federal property, AND OUR PEOPLE. These were not merely protesters, these are the real deal!"
Public officials and Democratic politicians have accused Trump of deploying "secret police."
On Friday morning, as "fascism" trended across the country, some politicians and commentators accused Trump of deploying a "secret police force."
Those condemnations have only escalated in light of this weekend's brutal police response, with Senator Jeff Merkley tweeting that he and Senator Ron Wyden would be "introducing an amendment to the defense bill … to stop the Trump administration from sending its paramilitary squads onto America's streets."
Civil-rights advocates worry that the Trump administration will try to use similar tactics in other cities as well.
Zakir Khan, a spokesman for the Oregon chapter of the Council on American-Islamic Relations, told the Washington Post he thought the Trump administration was trying to test the limits of executive power: "I think Portland is test case. They want to see what they can get away with before launching into other parts of the country."
Indeed, on Wednesday, July 22, Trump announced that he would be sending a "surge" of federal agents from the DEA, ATF, U.S. Marshals Service, Department of Homeland Security, and FBI to Chicago to "help drive down violent crime."
The president also said agents would be deployed to Albuquerque, New Mexico.
"Under no circumstances will I allow Donald Trump's troops to come to Chicago and terrorize our residents," tweeted Chicago mayor Lori Lightfoot on Tuesday.
The Chicago mayor also said on Wednesday, following the president's announcement that she doesn't "see a Portland-style deployment coming" but that "it's too soon to be able to say if this is a value add or not."
This article has been updated throughout.