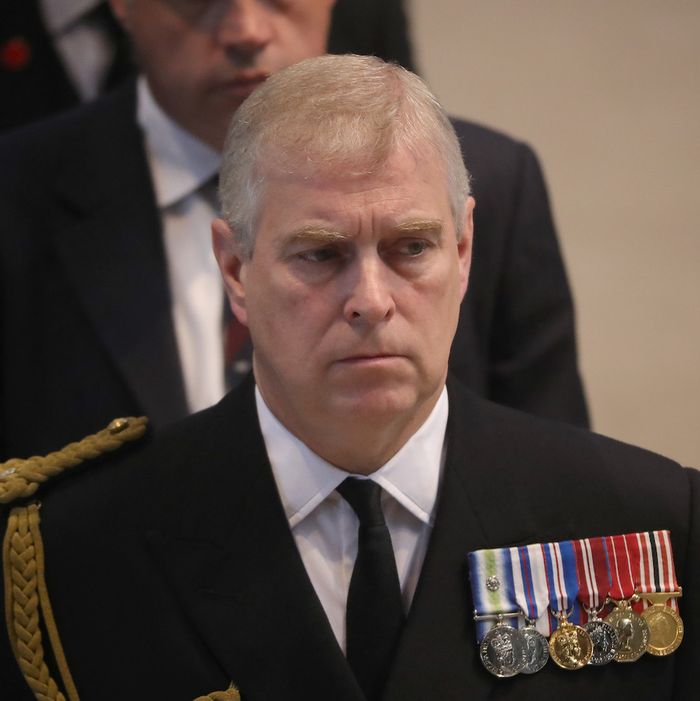 Uh oh…
Photo: Christopher Furlong/Getty Images
Prince Andrew has reportedly canceled his summer travel plans out of an abundance of anxiety — not over the as-yet uncontained coronavirus pandemic, no no, nothing like that. According to dual reports from the Daily Mail and the Sun, the royal is growing increasingly fearful following the arrest of his friend, British socialite Ghislaine Maxwell, in the Jeffrey Epstein case, and has no desire to leave Britain at this time.
Last week, the FBI tracked down Maxwell, an alleged co-conspirator of Epstein's whom the U.S. government believes recruited and groomed underage girls for the deceased financier. The criminal indictment charges her with enticing minors to travel to engage in illegal sex acts; transportation of a minor with intent to engage in sexual activity; two conspiracy counts related to those charges; and two counts of perjury. One of the women who has accused both Epstein and Maxwell, Virginia Giuffre, says she was made to have sex with Prince Andrew when she was 17, an allegation he denies.
Still, Andrew was good enough pals with Maxwell to let her sit on his mother's throne, and he admits to having been a friend of Epstein's, although he subsequently described the relationship as "useful" if ultimately "unbecoming." The prince has consistently denied any complicity in Epstein's alleged sex ring, but he has also — according to the FBI — repeatedly refused to cooperate with the investigation, despite New York prosecutors' formal request for his testimony. Andrew's legal team refutes this, but according to the New York Times, the lawyers recently sought help from a Washington-based lobbyist, Robert Stryk, who has "a history of taking on clients with unsavory reputations."
Maxwell's friends, meanwhile, have speculated that she "would never sell out" Prince Andrew, but nonetheless, he is reportedly very "nervous" about his annual golf trip to Spain's Costa del Sol, so nervous that he has opted simply to bin the whole vacation. Interestingly, the tabloids report, Epstein's death last August did not prompt Andrew to cut short his visit to Real Club Valderrama, purportedly the "most exclusive" golf resort in all of Europe, per the Daily Mail. But fear of the authorities appears to have chilled his tour plans indefinitely: The Sun's "palace source" says it's "unlikely" that Andrew will leave the U.K. for the foreseeable future, and will "never travel to the U.S. again." At least not voluntarily, it seems.