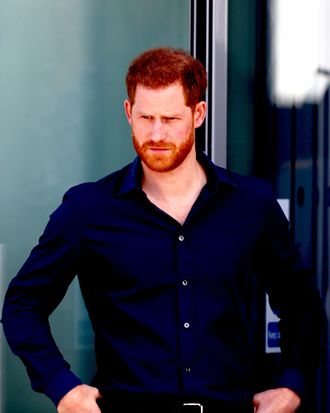 @SpikeyMau5?
Photo: WPA Pool/Getty Images
Listen, we all have them. It's really nothing to be ashamed of. I would be willing to bet that almost anyone who grew up with the internet has at least one embarrassing screen name, or Hotmail address, or Instagram handle in their rearview mirror. This is true whether you are a child unleashed onto the worldwide web and allowed to choose any account name you want, or an adult prince attempting to blend with the normies and avoid the massive invasions of privacy that plague your regal family. At least, if an account from two royal watchers is to be believed.
According to the authors of Finding Freedom, a new biography of Prince Harry and Meghan Markle's relationship, Harry used to lurk on Instagram under the name @SpikeyMau5. In the book, Bazaar's Royal Editor-at-Large, Omid Scobie, and Carolyn Durand, a longtime royal correspondent, report that Meghan started following "a mysterious-looking Instagram account by the name of @SpikeyMau5" shortly after she met Harry in 2016. "With no face visible in the profile photo, just a mouse-shaped helmet, it would have meant nothing to most people," the book contends, according to Bazaar. "But it was in fact Harry's private account."
While Harry and Meghan did reportedly give an interview for Finding Freedom, we have no way of knowing if Harry explained the alchemy behind @SpikeyMau5. But according to Scobie and Durand, Harry landed on this inscrutable portmanteau the same way we all do: by playing to his interests and leaning on his nicknames. The "Mau5" component apparently nods to his love of house music, specifically the music of Deadmau5. "Spikey," meanwhile, reportedly refers to another of his online aliases: Spike Wells, the name Harry allegedly used on Facebook. Apparently, people — particularly people working for Scotland Yard — called Harry "Spike." Therefore: @SpikeyMau5, nonsense to all but his most trusted circle.
Stars, they're just like us.