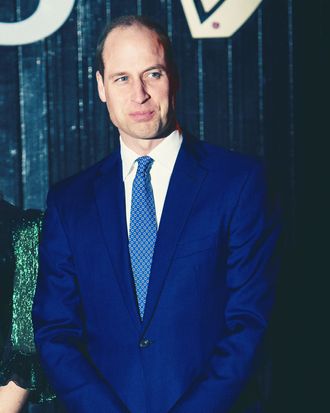 Prince William
Photo: Shutterstock
Gift-giving is an art, its talents unequally bestowed upon members of the human race — as are accessible price points. The latter isn't an issue for Prince William; he can let his generosity lead him anywhere: an island, a cherished childhood memory, the diamond store. Sadly, it seems this one's not great at dreaming up the right gift for a particular person, which is of course the key to it all. Case in point: When they were dating, he once bought his future wife, Kate Middleton, a pair of binoculars.
Prince William revealed himself as "average at present buying" during a podcast interview with BBC Radio 5 Live's That Peter Crouch, which was recorded in sections — some over Zoom, some at Kensington Palace in March. The Daily Mail reports that when the talk turned to gift-giving for significant others (Crouch said he'd bought his wife the same raincoat three years in a row, bummer), the duke of Cambridge offered a sympathetic story. "I did get my wife a pair of binoculars once," he said. "She's never forgotten that."
And not in a good way. William goes on, "That was early on in the courtship that was. I wrapped them. They were really nice." He really thought they were cool, these binoculars. "I was trying to convince myself about it. I was like, 'But these are really amazing. Look how far you can see!'"
It all started going wrong at this point, the point at which Kate Middleton opened her gift and perceived she was now the owner of what I truly believe were a very fine pair of binoculars. "She was looking at me going, 'They're binoculars. What's going on?' It didn't go well. Honestly, I have no idea why I bought her a pair of binoculars."
Of course gifts that don't go down well always seem foolish in retrospect, but in all fairness to the prince, Kate Middleton does kind of seem like a binoculars person. A fancy-ring person, too, to be sure, but I could totally picture her using a pair to spy on people from a courtyard-facing window in any of the copious palaces she frequents. I could see her greeting a crowd of royal-obsessed Brits; someone shouts, "We love you, Kate Middleton!" And she raises the binoculars to her eyes to find the face of her superfan, and like a rock star warming up with the band onstage, she points at them with her calfskin-gloved hand. I could see her examining the gilded portrait of a deposed king in exquisite detail, or attempting to track her Seamless order from several blocks away.
Perhaps Prince William saw something of this, too? Unfortunately, it was all wrong.