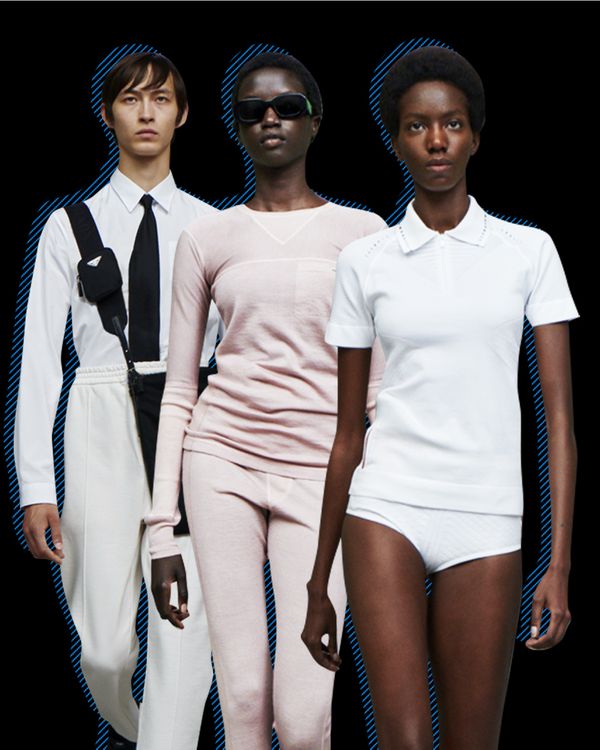 Prada Spring 2021.
Photo: Prada
What are clothes for? As I sit here, still in my pajamas well after noon, they serve only as a divider between my body and my desk chair — a function of hygiene and the rules of social etiquette, like not being naked in front of your roommate.
Prada's virtual spring 2021 runway show, though, was a reminder that clothes can also offer possibility, like a breeze coming through a window, and that this is the purpose of fashion: to be the breeze. No one understands this duality better than Miuccia Prada, who delivered a refreshingly practical collection on Tuesday that also might inspire you to get dressed again.
As the show notes explained, the new collection — Mrs. Prada's last before truly joining forces with Raf Simons next season — was perfectly simple. A clean slate. She offered no spectacle or useless frills, just well-made clothes, defined as "machines for living," that you could see fitting into your life (real, or imagined) now and for years to come.
While some of the references may have been clinical — a crisp white wrap dress resembling a vintage nurse's uniform, for example — the collection's simplicity wasn't austere in the way that Kim Kardashian West's minimalist home might be. Instead, it unearthed an ease and elegance that has been lacking from life under lockdown, which has been largely heavy and depressing. "A sense of lightness not only of physicality but of emotion," as the show notes described it. "Of enjoyment, energy, fun."
There was a whimsy to the styling — leggings and cocktail dresses! Blazers and long underwear! — and freedom embedded in the loose, soft fabrics. It was a thoughtful, not gimmicky answer to the question of how this moment might change the way we dress. (How to feel naked while not actually being naked?) A fantasy, of course, but this, according to Prada, is "a reason for fashion."
It's also reason to tuck my black Prada tie into some sweatpants for my next Zoom meeting.
In lieu of a runway show, Prada invited five artists — Terence Nance, Joanna Piotrowska, Martine Syms, Juergen Teller, and Willy Vanderperre — to make five short videos showing the collection from five different perspectives. They called it "The Show That Never Happened." The format was meant to be a reflection of the real-life runway show experience, where each guest watches from a different vantage point (and often through their phones), as well as the new, virtual runway experience, which involves us all watching from our various devices in our own worlds.
As with Hèrmes' recent film presentation, the artistic, intellectual nature of this digital Prada show made it seem less like an ad than it actually is, and allowed the viewer to focus on the clothes, what they represent, and how nice it would be to have them on your body. Vanderperre's film highlighted the collection's stripped-down silhouette. Teller focused on the fabric's more technical aspects. And Piotrowska's vision was achingly, provocatively tactile, with models rolling around on a carpet and snapping their fingers, but never quite touching one another. Altogether, it was a poetic reflection of a moment when our bodies are vectors of disease, but also a reminder of our humanity.
This collection was the "quintessence of Prada." It boiled down all the things we've come to love about the brand — romantic but not too pretty; clever but not ridiculous; sporty but never macho — and crystallized them. Prada fans will want to inject it straight into their veins. We're alive!