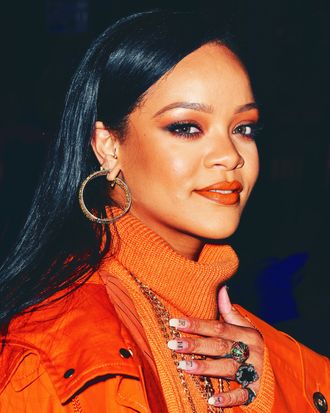 Photo: James Devaney/GC Images
The rumors are true: Rihanna is coming to upgrade your skin-care routine. In 2019, "Page Six" first noticed that Rihanna, Inc., had trademarked the phrase "Fenty Skin." Now, we are days away from an actual launch.
Fenty Skin will officially be available July 31. Despite any official announcement from the brand or Rihanna herself, the secret home page and Instagram handle were both unearthed by beauty news Instagram accounts like @TrendMood1. Currently, little information exists on the site other than a tagline ("The New Culture of Skincare") and an email sign-up for early access. There are no clues about what type of products will launch. Will there be moisturizer? Most likely. Is "culture" a nod to probiotics? Maybe. Does she seem like the type to double cleanse? Probably not. Will this finally be the skin-care line for people who don't sleep a lot (Rihanna sleeps an alleged four hours a night) or who walk around with a to-go wineglass instead of a water bottle? Please.
Thank you, Rihanna, for donating millions for coronavirus relief and to domestic-violence victims, for making 40 foundation shades the standard across the beauty industry, and, in advance, for the glow-up.