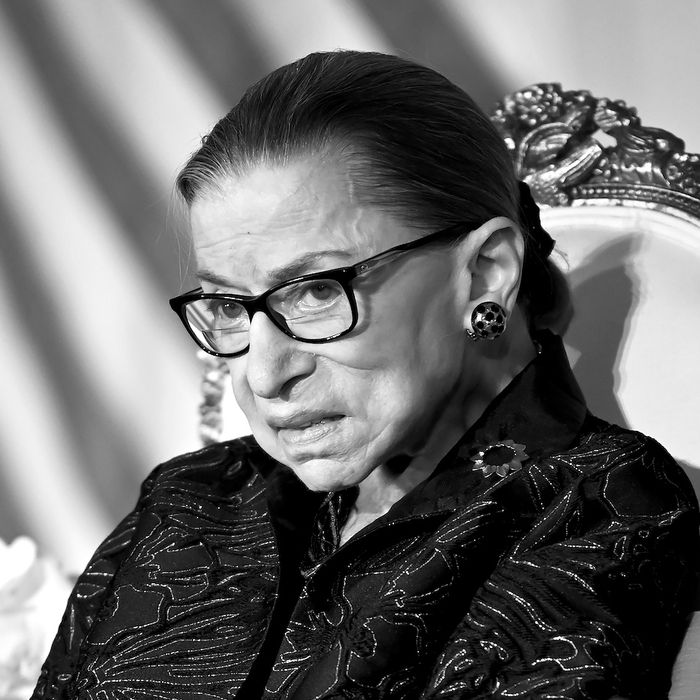 Ruth Bader Ginsburg.
Photo: Shannon Finney/Getty Images
Ruth Bader Ginsburg has been hospitalized for a possible infection, after coming down with a fever and chills on Monday night. She is being treated at the Johns Hopkins Hospital in Baltimore, where she underwent a non-surgical procedure for a gallstone in May.
"The Justice is resting comfortably and will stay in the hospital for a few days to receive intravenous antibiotic treatment," Supreme Court spokeswoman Kathleen Arberg said. The infection is reportedly related to a bile duct stent, which was cleaned on Tuesday and inserted last August, as part of her treatment for pancreatic cancer.
Although she started 2020 "cancer free," the Supreme Court justice has made quite a few visits to the hospital in recent years. In December 2018, she had two cancerous growths removed from her lung. She underwent a heart procedure in 2014; battled pancreatic cancer in 2009; and also received treatment for colorectal cancer in the late 1990s. While Ginsburg is purportedly very strong and very committed to an intense workout regimen, she is also 87, and a key component of the liberal minority on the nation's highest bench. Given President Donald Trump's far-right political agenda, and the lasting role the courts could play in cementing that legacy, Ginsburg's health is a point of concern for her supporters. In 2018, some of them went so far as to offer up their own ribs after she fractured three of hers in a fall.
But for now, the justice appears to be recovering normally after Tuesday's procedure. Informed of her hospitalization on Tuesday, Trump reportedly said, "I wish her the best. She's actually giving me some good rulings," referring to the spate of cases the Supreme Court has decided in recent weeks. Guess he didn't read her contraceptive-coverage dissent.