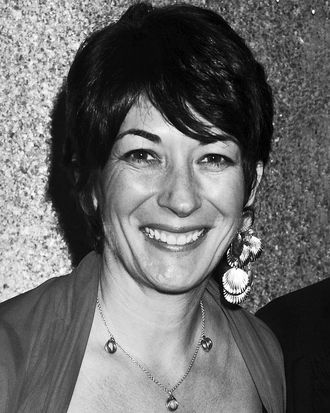 Maxwell in happier times.
Photo: Shutterstock
A new cache of documents related to Ghislaine Maxwell and Jeffrey Epstein may soon come to light, U.S. District Judge Loretta A. Preska ruled today. As a result of her ruling, reams of documents concerning Virginia Roberts Giuffre's 2015 defamation suit against Maxwell could be unsealed as early as next week, amounting to hundreds of pages of depositions (by Maxwell, Giuffre, and other still-anonymous accusers), correspondence, exhibits, and more, all of which Maxwell's lawyers have argued should remain secret to avoid harm or embarrassment to their client.
Maxwell, who is being held without bail at Brooklyn's Metropolitan Detention Center, is currently embroiled in two ongoing legal battles. She was indicted earlier this month on six charges of sex trafficking and perjury relating to her alleged recruiting and grooming of underage girls for Epstein; a trial date has been set for next summer. But as that case proceeds, she is still dealing with the ongoing fallout of a five-year-old suit by Giuffre, one of the most prominent of Epstein's accusers. Though the Giuffre case was settled out of court in 2017, it has remained on the docket as attorneys have battled back and forth about making public many of the documents and exhibits related to it.
The Giuffre case is the source of much of the public information about Epstein and Maxwell's alleged crimes. Originally sealed after the settling of the case, the material came back to light in 2019, when a coalition of intervenors to the suit — odd bedfellows, including the Miami Herald and its reporter Julie K. Brown, who won a Pulitzer for her work doggedly pursuing the Epstein story; Mike Cernovich, the reactionary blogger; and Alan Dershowitz — petitioned its unsealing in a suit that ultimately went to the Second Circuit U.S. Court of Appeals. More than a thousand pages of documents were released that August; the next morning, Epstein was found in his Manhattan prison cell, dead by suicide.
Judge Preska's ruling stands ready to add significantly to that public record. She dismissed Maxwell's arguments against the unsealing and the vagueness with which her lawyers had substantiated them. "The Court finds that any minor embarrassment or annoyance resulting from the exposure of Ms. Maxwell's mostly non-testimony … is far outweighed by the presumption of public access," the judge said dryly, referring to one deposition at issue in which Maxwell ultimately revealed little. Maxwell herself was not present by video or phone at the hearing.
Though the judge's order beforehand noted that she intended to rule on the unsealing of just five documents — docket Nos. 143, 164, 172, 199, and 230 — at the hearing itself, she read through a much more comprehensive list, spending a full 20 minutes reviewing the many documents to be unsealed or further unsealed. Laura Menninger, an attorney for Maxwell, asked for a two-week stay to file an emergency motion to appeal the ruling with the Second Circuit. Judge Preska granted one week — and ordered the documents to be prepared in the meantime. If the Second Circuit declines to intervene, a new dam, holding untold details, stands ready to break.
Judge Preska's ruling was the second setback of the day for Maxwell and her lawyers. This morning, U.S. District Judge Alison J. Nathan, who is presiding over Maxwell's criminal trial, also in the Southern District, denied her request for a gag order against the prosecutors for the government and the witnesses in the case, saying rules prohibiting public statements that could be prejudicial are already on the books. "The Court firmly expects that counsel for all involved parties will exercise great care to ensure compliance with this Court's local rules," Judge Nathan wrote. "In light of this clear expectation, the Court does not believe that further action is needed at this time to protect the Defendant's right to a fair trial by an impartial jury."
Asked about Maxwell and her case this week, President Trump said, "I just wish her well, frankly," which was not, perhaps, the typical presidential response to a question about an accused sex trafficker. (Trump admitted he had met Maxwell "numerous times over the years," as photos of the two together corroborate, and Trump famously called Epstein a "terrific guy" in the pages of New York back in 2002, noting their shared taste for beautiful women — in Epstein's case "on the younger side.") White House press secretary Kayleigh McEnany said today that Trump was expressing, frankly, a desire for Maxwell's case to be resolved in court rather than to end, as Epstein's did, in suicide. "What the president was noting is that the last person who was charged in this case ended up dead in a jail cell, and the president wants justice to be served for the victims in this case and he prefers this to play out in a courtroom," McEnany told Fox News.