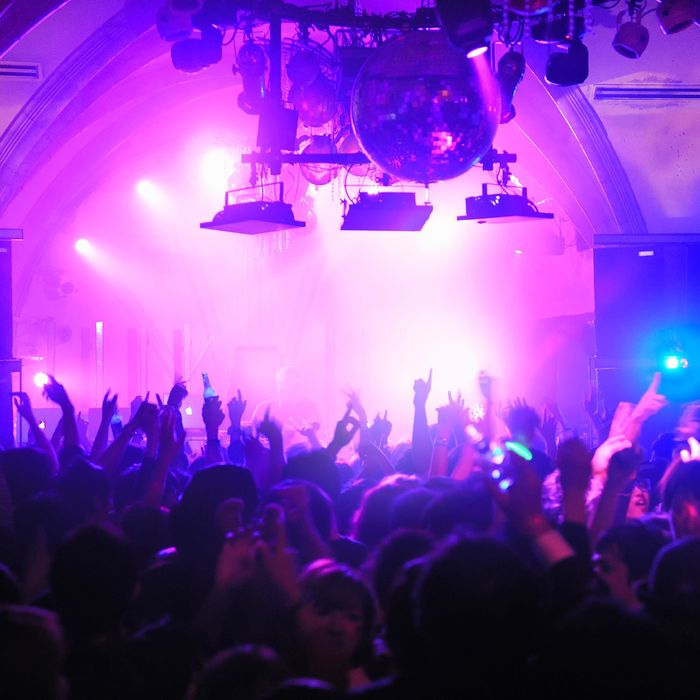 Photo: Yagi Studio/Getty Images
In the weeks since all of the country has begun reopening in some form or another, much of it has succumbed to a dramatic resurgence of the coronavirus. Just this Tuesday, for instance, Los Angeles County public-health officials reported the highest single-day count of COVID cases and hospitalizations since the start of the pandemic. New York City, which has begun reopening, too, but still has more social-distancing strictures in place than most of the country, has largely kept its COVID caseload steady, but in recent days the numbers have crept up again. On Tuesday, Mayor Bill de Blasio noted a rise in coronavirus infections among young adults, particularly those in their 20s. De Blasio called the uptick "a warning sign." Given that none of us wants to get sick or return to our caves indefinitely, foregoing large gatherings indoors still seems like the move.
And yet Gothamist reported this week that a clandestine nightclub scene, much of which doesn't appear to take proper precautions, has emerged in the city of late. According to the outlet, "Underground parties have been taking place every weekend in the city, spread via WhatsApp chat groups and text chains with promoters asking people not to publicize the illicit event."
Gothamist reviewed photo and video evidence of events that allegedly happened or are planned at a range of venues. Some events appear to be at least partially outside, yet several videos of these alleged recent parties don't look to be enforcing social-distancing or mask requirements. Guidance for an event at the Williamsburg Hotel encouraged partygoers to stay six feet apart but did not note whether masks were required. Video of the event is dark but shows people dancing fairly close together and some not wearing masks. Williamsburg Hotel manager Julita Kropiwnicki told Gothamist that the hotel does "enforce a strict policy of masks" and will "continue to work to make sure that all team members and guests comply with our policies."
Osvaldo "O.J." Jimenez, who's been active in the city's nightlife scene and runs the HiLoveNewYork Instagram account that's been gathering videos from some recent parties (he says he doesn't go himself but people send tips his way), told Gothamist he thinks venues hosting stage-three ragers "cater to out-of-towners" because "all the promoters an owners I know are taking COVID serious." Jimenez claimed that some underground parties "offer fake COVID tests for $50 or $60."
NYC guidelines still advise people to wear masks when "out in public" and to keep at least six feet of distance. They also forbid gatherings of more than 25 people. Yet a promoter for an event at a lounge near Bryant Park that was letting up to 90 people in sent a message that read in part, "Don't share this information on SOCIAL MEDIA! This is a private space and we are interested in no drama policy. PLEASE SHARE IT IN PRIVATE MSGS." Last weekend reports circulated about an indoor dance party hosted by Nocturnal Radio Live. A similar event is reportedly scheduled for July 18. The Ravel Hotel in Long Island City recently hosted a rooftop pool party where plenty of people weren't wearing masks. A spokesperson for the mayor's office told Gothamist the city has reached out to the Williamsburg Hotel and Ravel Hotel, "to make sure they understand the rules."
This post has been updated.