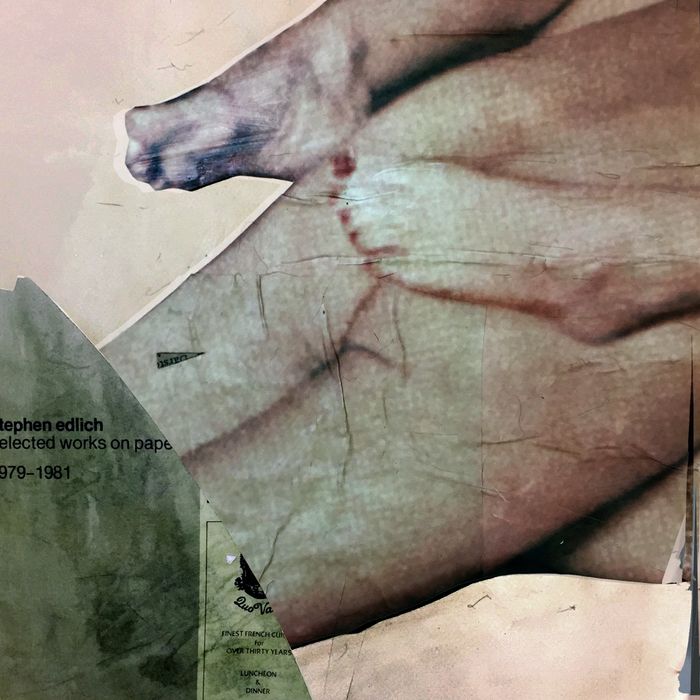 Photo-Illustration: James Gallagher
This week, a man hooking up with the mother of his daughter, masturbating to relieve stress, and sexting as many women as he can: 35, single, New York.
DAY ONE
8 a.m. I get up to face another day of remote work, if you can call it that. It's mostly attending Zoom meetings about how the university can waste more money during the pandemic while pretending to save, when they really want to save the jobs of already overpaid administrators. I drag myself out of bed and sign on to my PC then walk away to shower and make breakfast.
8:30 a.m. In the shower I try to masturbate to relieve the stress, but honestly, I am too mentally preoccupied to get there. I think about my daughter's mother, D. She's coming by in a few hours to pick up some cash and a few things she needs before she leaves the city with our toddler daughter to stay with family. She and I are not together — we were in a committed relationship until a few years ago — but the pandemic has brought us a lot closer and we recently had sex.
12:00 p.m. I can't take my co-workers babbling on about nothing. I mute them half the time during Zoom meetings. Today I just await D's arrival and wonder if we'll have sex again.
12:20 p.m. She greets me with a hug and a gentle kiss, and we start making out on my couch. I get really worked up and do D hard from behind over my desk. She has great boobs and I love to finish inside her with them in my face, so I sit back on the couch again and she rides me. The world, work, and the pandemic all seem a million miles away.
4:00 p.m. We're showered up and I've done exactly zero work. D has been the highlight of my day and I can feel old feelings getting stirred up. I put her in a Lyft and say a quiet prayer for her and our baby.
6:00 p.m. I am technically still working, but in reality, am studying. I have been quietly acquiring new (more employable) skills and IT certifications. Hopefully, my attempt at retooling will allow me to weather the storm on the horizon — who knows what will happen.
8:00 p.m. I eat a lonely pasta dinner and get a text from D saying they arrived safely and that she had fun today. She closed it with a heart emoji, and I feel loved. Maybe we can try the nuclear family thing after all, just not in NYC.
DAY TWO
3:30 a.m. Insomnia has become a way of life for me and it's only gotten worse since the pandemic. My phone vibrates with a random late-night text message. It's M, an old friend from high school whom I've been having regular sex with off and on for years. She's also a nurse at one of the local hospitals. We've been talking a lot since the pandemic started. Her text says "I'm stressed and I want your dick!" I shouldn't have responded, but I did. She tells me she's blushing and touching herself. We sext for a long while.
11:00 a.m. My thoughts drift back to D. Part of me wishes I were with her right now. The librarians keep babbling about nothing and I can feel the stress welling up in me as I think about the future.
5:00 p.m. I kill time doing chores and cleaning. While I change my sheets and put on new ones my wrist and ankle restraints pop out from under my mattress. It's been so long since I got to tie someone up, I'd forgotten I had them. I just sigh and tuck them back into the bed frame and finish changing the sheets.
DAY THREE
10:00 a.m. I'm once again sitting at my PC being tortured by meaningless chatter. The library staff love to speculate about how life is going to be when the university reopens.
1:00 p.m. I head out to the pharmacy on my lunch break. Everyone has masks on.
8:30 p.m. I get a text from F, who I met at work a few years ago. It reads: "I want you to abuse my pussy again! What are you doing tomorrow?" I am taken aback by its directness. That said, fucking F is great, and I tell her to come by tomorrow night.
DAY FOUR
8:50 a.m. I spend the morning straightening up for F. I keep trying to get into the spirit of my impending fuck session, but the truth is I would much rather have D sleeping in bed and making breakfast with my daughter.
8:40 p.m. F arrives and she quickly removes her face mask and greets me with a kiss. She looks amazing! Her curves, her outfit! She doesn't know it, but I have always thought she was out of my league. We sip some alcohol she brought. She goes to pour another glass and I come from behind her and wrap my hands around her tits and kiss the back of her neck and whisper, "Let's fuck!" She giggles and reaches back into my pants. We go to the bedroom, where we go a solid three rounds before I send her home in a Lyft.
DAY FIVE
10:00 a.m. I see on Instagram that a professor from college is having an outdoor event near me. I decide it would be cool to partake and set about planning my day around it.
3:00 p.m. D sends me a video of my daughter playing in her grandparents' yard. She looks happy and I am grateful that she is safe and enjoying herself.
6:00 p.m. I head to my professor's event. I spend most of the time chatting up N. She's flirty and starts hinting that she would like to see my apartment after the event since I live so close by. I enjoyed the flirtation, but no.
DAY SIX
11:00 a.m. I wake up to a text from J, an ex-girlfriend from several years ago who has the biggest boobs I have ever seen. She is from the South and her accent always turned me on. I haven't heard from her in several months. We chat a bit about our lives and she tells me she missed me.
5:00 p.m. D video-calls me. Our daughter greets me with a "Hi Dada!" and my soul melts. D tells me how much they miss me. I tell her that I miss them back. Part of me feels like telling her I love her, but that would be hasty.
10:00 p.m. The stress is getting to me. I try to jerk off to relieve some tension, but I can't find any videos online that I want to finish to. I get frustrated with my inability to find an appropriate porn video so I just go to bed.
DAY SEVEN
3:00 p.m. D sends me more pics of our daughter and says she wishes I was there. We end up discussing the possibility of me moving in eventually.
5:00 p.m. Work is almost over. In one window on my PC I have the librarians in a Zoom meeting babbling on as usual and in the other I'm browsing diamond engagement rings that I can't afford.
Want to submit a sex diary? Email sexdiaries@nymag.com and tell us a little about yourself.