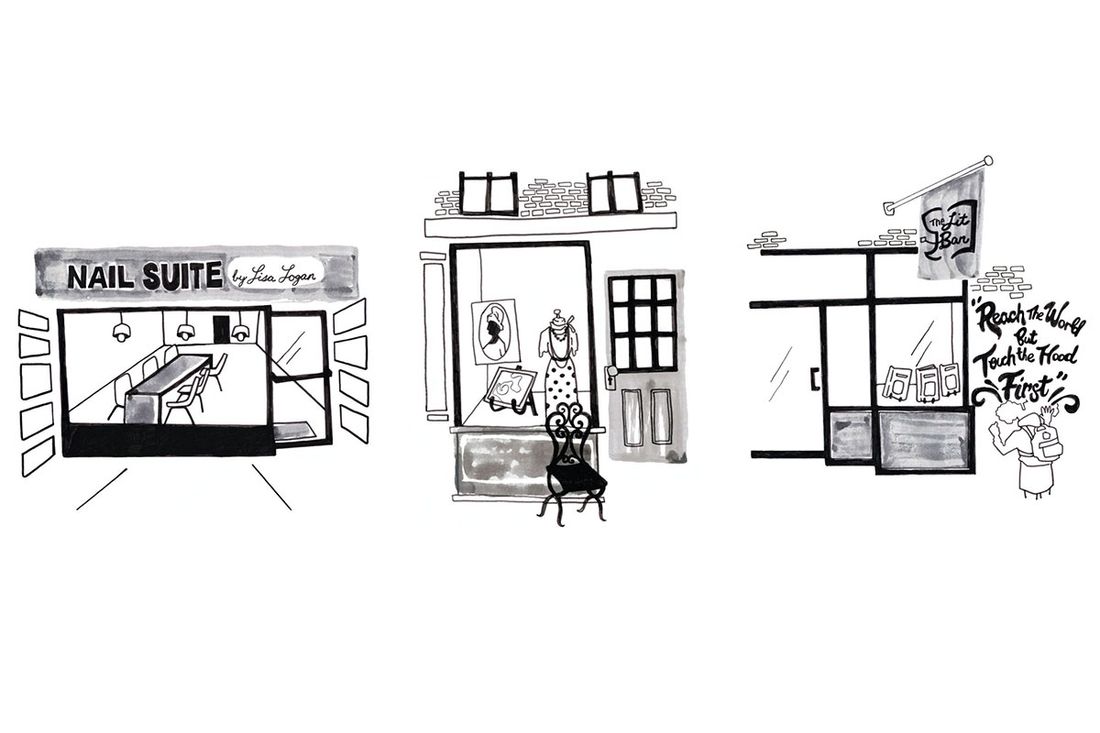 Illustration: Jonell Joshua
You may have noticed some posts from our friends at the Strategist on the Cut. They'll be dropping in every now and again, sharing their expertise on the basics you don't have time to research and the weird and wonderful things you don't yet know you need.
Across New York, this pandemic has forced small businesses — many of which were already operating on tight margins and paying staggeringly high rents — to face the possibility of closure. This has been especially true, statistics show, for Black-owned businesses, which lack easy access to loans, and seem to be benefiting less from federal stimulus programs (only 2 percent of a citywide small-business-loan program went to businesses in the Bronx, the borough with the highest percentage of Black people), and whose communities are suffering disproportionately from the virus itself. Many places are struggling to pay their overhead. Paws and the City, a Crown Heights pet store, told us it's on the precipice of losing its business entirely. But following George Floyd's death and the national reckoning with institutional racism, #ShopBlack began trending and, in the span of just a few weeks, some small Black-owned businesses started to see a torrent of sales. For these shop owners, the experience has been complex. Joyous — one beauty brand sold out its site and grossed more revenue in the month of June than it did in the entirety of 2019 — and complicated, too: "In June, we've done over a year's worth of sales," said Noëlle Santos, the owner of the Lit Bar in Mott Haven, the Bronx's only independent bookstore. "It feels a little icky, to be honest. So many businesses around me closed. I wanted it, but not like this."
The Businesses: Brooklyn Tea | Paws and the City | Golde | Buy Better Foods | The Way | Celsious | The Lit Bar | Lichen | Lisa Logan Nail Suite | String Thing Studio | The Brooklyn Circus | Sol Cacao | Healhaus | Madame Matovu | Alvin Ailey Extension | Flamekeepers Hat Club
The Tea Store That Went From Three Orders a Day to 100
Brooklyn Tea, 524 Nostrand Avenue, Bedford-Stuyvesant | Founded: 2017
Pandemic best sellers: Kyoto Cherry Rose, Cream Earl Grey, Cucumber Melon
Ali Wright and Jamila McGill, co-owners: We spent months just sitting in the shop watching Netflix on our projectors. Then, a couple of days after Blackout Tuesday, we suddenly started seeing ourselves on all of these online lists of Black-owned businesses. And then Shonda Rhimes tweeted us out. She wrote, "I just ordered so much tea. My favorite discovery of the day is @BrooklynTeaNYC." We freaked out. The next day was Juneteenth, and we got a text message from a friend saying: "Hey, you're on Beyoncé's curated list of Black-owned businesses." Jamila screamed. We went from having three orders a day to over 100. The year-over-year is like 2,300 percent. We had to hire six new staffers and just created a night shift to keep packaging after the store closes. We're being transparent with our employees — we hope for them to stay with us for the long term. We want to create an environment where things are stable and sustained. If we maintain this momentum, then there could be talks of even paying ourselves.
— As told to Peter Martin
The Pet Spa That Lost Its Only Groomer
Paws and the City, 754 Nostrand Avenue, Crown Heights | Founded: 2017
Jae Samuel, owner: Our groomer is older, and she has an older husband. She was scared for him to get sick, so she left the city permanently back in March. We spent about $400 on ads to get people to apply for a grooming position with us, and we got maybe three nibbles from bathers. So now we have a pet barbershop with no barbers, essentially. We lost three months' worth of income, and it's not like we have huge savings or a bunch of resources. We kind of go month by month. We weren't able to get an SBA loan to take care of other things besides payroll.
We want to start an online store and offer services that don't require a brick-and-mortar storefront, since we might not be able to cover the overhead of the shop anymore. That's really sad because we built out the space specifically for how we wanted to conduct business. Leaving that space is going to hurt a lot. We have a GoFundMe that can help us to order a bunch of merch and possibly take care of the overhead, but we don't know if that's sustainable. Grooming is what we really need to keep the space itself. If we reach our goal, we may have time to get new groomers.
This could be devastating to us to the point where we lose our business. But I hope people know, at least, that there was a Black-owned pet store standing — a beautiful one that offered really great services. People are finally going to know that we stood there for three years strong; I'm happy that people now know.
— As told to Liza Corsillo
The Beauty Brand That Sold Out Its Site
Golde, golde.co | Founded: 2017
Pandemic best sellers: Make Your Matcha Kit, Superfood Latte Sampler, Clean Greens Face Mask
Trinity Mouzon Wofford, co-founder: After the news about George Floyd came out, we said we were going to donate 100 percent of our profits to the NAACP for a week. Almost immediately, we saw a massive uptick in our sales — they increased tenfold and stayed that way for weeks. We sold out. All of those orders were, for the most part, people shopping presale. In the month of June, we did more revenue than we did all of last year. And we ended up donating over $10,000. Luckily, we were able to respond to the increase in demand. A lot of Black-owned brands were brand-new, got all of this attention, and didn't have the infrastructure set up to reorder. We were at a stage where we were able to manage the costs of reordering.
— As told to Tembe Denton-Hurst
The Grocery Store That Opened Mid Pandemic
Buy Better Foods, 372 Kosciuszko Street, Bedford-Stuyvesant | Founded: 2020
Myriam Simpierre, owner: Getting open was challenging. Bigger stores were requiring a lot from my distributors, so my orders kept being pushed back. Or if I did receive it, it was half or less than half [of what I ordered]. But the community, which is mostly African American, they were just so happy to see us open, to see we were Black owned. But once the initial excitement died down, business was very slow. A few weeks ago, I did an article on the website Black-Owned Brooklyn. The article went so viral. The day that it ran, we had lines outside the store. Since, things have been back to average. Just enough to maintain the bills and payroll. I'm taking it day by day.
— As told to to Karen Iorio Adelson
The Hair Artist Who Started Selling Braiding Kits
The Way, 221 Madison Street, Lower East Side | Founded: 2019
Pandemic best sellers: "More Than a Woman" T-shirt, Totes, Essential Oils
Illeisha Lussiano, founder: I never had time to make an online store before. Suddenly, I had the time. I taught myself. I learned how to photograph my hair accessories; I created a braiding kit so people could braid their hair at home. My loyal salon family started shopping on the site. Not sudden splurges of people saying, "Oh, she's Black. I want to buy from her." Not guilt purchases. People who'll stay consistent. Those aren't orders that make me nervous that they'll start to go away eventually.
— As told to Tembe Denton-Hurst
The Bookstore That Shifted to Bulk and Online Sales
The Lit Bar, 131 Alexander Avenue, Mott Haven | Founded: 2016
Noëlle Santos, owner: For the first two weeks after my store was forced to close in March, I did nothing. I was mourning my store. I put my head down for five years to build this business. I sacrificed everything and then, ten months into the dream, it was snatched away from me.
I had a team of five at the time, and that was my No. 1 priority — to work with other essential businesses to place my team at other jobs, if that's what they wanted. My next thing was dealing with my own sanity and mental health. I'm quarantined alone. I don't have kids and I'm single, which is wonderful when you're not home for three months, but it hits differently when you're in the middle of a pandemic. I put my focus into sales — and I bought a lot of plants to keep me company.
I reached out to schools and organizations I thought might be able to buy bulk orders of books for their teacher-appreciation packages or graduation packages, or do some sponsorships and give books away for free in the community or to local schools. I was really disturbed by the fact that I was legally allowed to sell wine, but I couldn't sell books; liquor was essential but books were not.
Systemic racism has a hand in so many different institutions and systems. Once that started [to be recognized], people began buying a lot, a lot of books from my store. I've been calling it my "reparations." That's my dark humor around it because we benefited so greatly from the pandemic and people rushing to buy anti-racist resources. Our sales have been — wow — just in the end of May and June, we've done over a year's worth of sales. Now I'm in that phase of survivor's guilt.
I'm an anomaly — especially in the Bronx. My financial success is very recent. I'm still working out the logistics with my accountant on how we can give some of the money back to organizations. But that's coming up next. This movement has everyone's attention right now. I'm interested to know how much of this is just symbolic and how much will be permanent.
For all the grants that I was applying to in the beginning of this, the application processes were demoralizing. I had to pitch myself like, "We're so poor and Black and female." It's like we're playing the Oppression Olympics. It's a humiliating process, and there was a point where I just stopped applying. I'm trying to hold myself up while also supporting my neighbors. But right now, my team is good. I'm flourishing. My hair's growing. I'm in a good space.
— As told to Karen Iorio Adelson
The Furniture Store That Opened a New Location
Lichen, 98 Moore Street., Williamsburg | Founded: 2016
Jared Blake, co-owner: We've always been about diversity in the design community. It sounds cool now, but we don't really want to be the new hashtag. We don't want to be like, "Oh, this is a Black-owned chair, Black-owned desk." That's not what this is about. Yes, that is this, but no one wants an asterisk on the value of anyone's product, and with the wave of new interests and new excitement, it's understandable, but it's not unseen.
In terms of figuring out how to make the business work during COVID — well, our open-door policy helped. It was always fun to shop [in the store]. You never really had to buy furniture. So people would message us like, "Hey, I used to get coffee from you guys — do you have any desk chairs? Any sofas?" In June, we moved to a bigger space. We'd been doing really well with the limited space that we had, and being able to carry more things on the floor has been beneficial. The rent isn't too much higher. A few weekends ago, for the first time, we had the space to put five sofas on the show floor. They all sold that day.
— As told to Hilary Reid
The Nail Tech Who Now Makes Soap
Lisa Logan Nail Suite, 2388 Adam Clayton Jr. Boulevard, Harlem | Founded: 2013
Lisa Logan, owner: Nails have always been my safety blanket. Never in my life have I not been able to do nails. Even in the worst recessions, people want their nails done. I believed my industry could withstand anything. This was the first time I've ever been told, "No, under no circumstances can you be doing nails." Frankly, it's been snatched from under me. My talent and passion for nails allowed me to put my daughter through college. My salon was booked through June before COVID hit.
Our first appointment used to be at 10 a.m., and our last appointment used to be at 6:30 p.m. Every single day, without fail. Customers spent $60 to $100 per appointment. You'd be lucky if you could get an appointment two, three weeks out. While we've been closed, my daughter and I have been making and selling soap. We had this formula that we figured out together that really helps with rashes and irritation — especially for women with larger breasts, who are hormonal and pregnant. So we were sitting at home and decided just to advertise it. I have made money — in the first month, about $3,000 — but I miss nails. I miss my clients.
— As told to Rio Viera-Newton
The Knitting Shop That Launched a Virtual Variety Show
String Thing Studio, 54 Seventh Avenue, Park Slope | Founded: 2017
Pandemic best sellers: Wandering Flock Cosmic Tie Dye Yarn, Clinton Hill Cashmere Bespoke
Felicia Eve, owner: I started doing Instagram Lives to let people take an up-close look at stuff in the shop. The first time, it lasted 90 minutes because people kept coming on and talking. It was like a variety show. Now I do it every week and close to a hundred people tune in — friends, people in the neighborhood. After the protests started, I must have picked up about 1,000 followers on my social media. It was similar in 2019, when the fiber industry popped off about the lack of diversity. I picked up 2,000 to 3,000 people in three weeks then too. Around that time, Black-Owned Brooklyn came to interview me for my first anniversary with a reporter from the New York Times, who was actually interviewing them. When their article ended up in the Times, I ended up in it too. People were like, "There's a woman of color who owns a yarn shop?" And I was like, We've had a Black president, and people still can't believe that there's a Black woman who owns a yarn shop. These things do bring eyes that I probably wouldn't have otherwise attracted. The problem is, though, that doesn't necessarily convert into sales. I don't get a dollar for every person who follows me.
— As told to Kayla Levy
The Laundromat That Never Closed
Celsious, 115 North 7th Street, Williamsburg | Founded: 2019
Theresa and Corinna Williams, co-owners: "Recently, we were featured on Beyoncé's Black Parade Route, which was welcome, of course, but a challenge, too — there was a massive uptick in online orders. Now we have a divide-and-conquer strategy: Teresa is focusing more on working with our staff on laundry, and Corinna is running back and forth from the post office to send out, you know, our microfiber laundry balls and our coconut-based stain-remover sticks. Our website, which sells laundry gear, used to be an infinitesimal part of our business. Now it's almost on par with what the café used to bring in, before we had to shut it down."
— As told to Casey Lewis
The Boutique Where Sales Went Back to Normal
The Brooklyn Circus, 150 Nevins Street, Boerum Hill | Founded: 2006
Pandemic best sellers: Varsity Jackets, Fleece Hoodies, Caps
Ouigi Theodore, founder: COVID affected us, man. The store is a major source of income for us, and we had to close it. That's a 60 percent loss. But at some point I thought: We have this captive audience. People are sitting at home. We needed to build stories. We launched our new website, and we're doing these amazing creative fashion editorials. At first, we felt guilty pushing clothing, but it's so much more about the lifestyle and the culture than the clothes. And people were shopping. Things really picked up after the boom with Black Lives Matter. For a month and a half, [sales] jumped up 200-something percent. We had to tap into the Brooklyn Circus alumni to handle that — we were like, "Yo, can you come in and fulfill orders?" The guys stepped up to the call, but now it has flattened. American privilege thrives off the concept of charity. "Hey, I've donated to Black Lives Matter" — once and never again. No change in your lifestyle. People are too afraid of change to allow for us to have an equal playing field. That's really where we're at now.
— As told to Jordan Bowman
The Vintage Seller Who Can't Keep Things in Stock
Claude Home, claudehome.com | Founded: 2018
Maggie Holladay, founder: Since the pandemic — starting in April, when everyone went home, we've had more sales than we've ever had. We were almost immediately up 75%. People are at home, they're looking at their houses, thinking about fixing them up — it's honestly hard to keep, you know, a decorative onyx ashtray or a marble cup in stock right now. It's almost at a point where I'm like, okay, no one follow me, please.
— As told to Lauren Ro
The Chocolate-Maker Who Doesn't Want to Make 'Black Chocolate'
Sol Cacao, 780 East 133rd Street, Port Morris | Founded: 2016
Daniel Maloney, co-founder: I got so upset the other day. You know, I got into chocolate because I'm trying to produce the best chocolate in the world. I'm not trying to make chocolate from a Black perspective. We live in a world where people are seeking to categorize things. And, yes, since Blackout Tuesday, what we used to make in a week we started making in a day. But we're working hard, and we've been working hard for years. And if you buy our products, we want you to give us your genuine honesty. Like, "Do you like it, do you not?" Nine out of ten times, it's "This is the best chocolate I've ever had." So I think we're doing the right thing. We're going to continue to keep our heads up and continue to push forward.
— As told to Nikita Richardson
The Studio With Multiple Revenue Streams
Healhaus, 1082 Fulton Street, Bedford-Stuyvesant | Founded: 2018
Pandemic best sellers: Hot Raw Cacao Elixir, Mushroom Mocha Elixir
Darian Hall, co-founder: We work with over 30 corporate clients (including New York Magazine's parent company, Vox Media). Companies pay us to have one of our therapists come and lead a session around corporate stress, or one of our practitioners leads a meditation or yoga class. We have our digital membership, where people get live yoga and meditation classes, and private services — virtual therapy appointments, life alignment coaching, flower essence consultation, tarot readings, doula support. And then we have the shop, which, over the last few weeks, when there was this intense highlight on our business, with everything going on, sold out almost completely. We've built this so that we're not relying on in-person, not relying on a single source of revenue. And that means we can survive this and anything else that comes our way. And from the reviews, the emails, and the DMs we've seen — what we have built has helped a lot of people through a difficult time.
— As told to Chloe Anello
The Vintage Store That's Simply Waiting
Madame Matovu, 240 West 10th Street, West Village | Founded: 2007
Rosemary Wettenhall, owner: Every two weeks throughout the pandemic, I'd go in and change the display in my windows so people don't have to see the same thing — give them a little lift. I know my windows; people just love them, and there's always a little message. Recently, I put out a little painting that says one day at a time in New York on it and put it over a crocheted pillow with a tiger on it. I never thought of changing how I did business, though, or starting a website. That's not how I opened my store. I call my place a social club. I missed a lot, financially, of course. April, May, June — they're the biggest months for me. It's a time of graduations, weddings, opening up the Hamptons, and everybody going to their houses. Now those months are gone.
— As told to Hilary Reid
The Dance Studio That Has Acquired 12,000 New Students
Alvin Ailey Extension, 405 West 55th Street, Hell's Kitchen | Founded: 2005
Lisa Johnson-Willingham, director: From March through June, the Ailey has seen a 70% decrease in gross income. We're trying things. This month, we're going to add kids dance classes on Tuesdays and Thursdays just to see if we can give parents who are working from home a break. But to be honest — assuming a vaccination is made accessible in the next seven months, we predict it will take at least three years of consistent work to return to the level Ailey Extension was operating at before.
— As told to Jenna Milliner-Waddell
The Hat Seller That Remains Optimistic
Flamekeepers Hat Club, 273 West 121st Street, Harlem | Founded: 2014
Marc Williamson, owner: At our lowest point, we were down 80%, but we're still open. Across the city, I think the vibe is the same. I have a friend with a suiting business in midtown. He's not planning to open until August, but he's still fighting. Every purchase that has come in online over the past few months has lifted my spirits. Every time I've packed a hat into a box, it's brought me up. For right now, we're still in business, still paying our rent. So I'm very grateful and God-fearing.
— As told to Louis Cheslaw
*A version of this article appears in the July 20, 2020, issue of New York Magazine. Subscribe Now!
The Strategist is designed to surface the most useful, expert recommendations for things to buy across the vast e-commerce landscape. Some of our latest conquests include the best acne treatments, rolling luggage, pillows for side sleepers, natural anxiety remedies, and bath towels. We update links when possible, but note that deals can expire and all prices are subject to change.