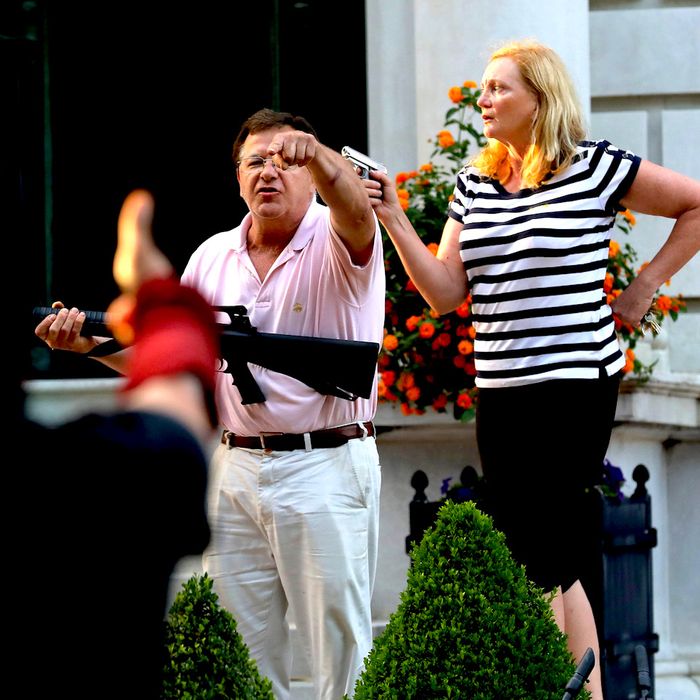 Mark and Patricia McCloskey.
Photo: Laurie Skrivan/TNS via Getty Images
Last month, Mark and Patricia McCloskey achieved national infamy after mounting an armed defense of their St. Louis mansion. Said mansion did not seem to be so much under threat as simply there, another building on the way to the mayor's house, where peaceful protesters planned to continue an anti-racism demonstration. As the group marched by, the McCloskeys took to their terrace, waving guns — a rifle for Mark; a silver pistol for Patricia — and shouting at protesters to get out of their private neighborhood. Now, the couple have been charged with one felony count each of unlawful use of a weapon.
"It is illegal to wave weapons in a threatening manner — that is unlawful in the city of St. Louis," circuit attorney Kim Gardner told the Associated Press. "While we are fortunate this situation did not escalate into deadly force, this type of conduct is unacceptable," Gardner told local NBC affiliate KSDK. Although the charges could carry as many as four years in prison, Gardner is recommending the McCloskeys be placed in a diversion program if convicted.
According to KSDK, the couple's new attorney, Joel Schwartz, called the charges "disheartening" in a statement.
"I, along with my clients, support the First Amendment right of every citizen to have their voice and opinion heard," it read. "This right, however, must be balanced with the Second Amendment and Missouri law, which entitle each of us to protect our home and family from potential threats."
Footage from social media does not suggest that the home was was threatened. While the McCloskeys, both personal-injury lawyers, have claimed that the protesters battered down the neighborhood's gate, a live feed from the march shows it intact as the crowd passed through and Mark (already armed) began to yell. Many of the McCloskeys' neighbors have sided with the protesters, some of whom can be heard in videos shouting at the gun-toting couple to "calm down."
Mark, meanwhile, has claimed that "a mob" "rushed" the mansion, threatening to kill him, his wife, and his dog. The pair have invoked Missouri's "castle doctrine," and staunchly maintain that they were defending their private property — allegedly, one of their favorite things to do. Still, as the Washington Post reports, the castle doctrine only holds up when a person has reason to believe they are in imminent danger, and the video evidence does not suggest that they were.
In any case, Missouri governor Mike Parson has already indicated that he would pardon the couple if they were convicted, and that President Donald Trump — who certainly seems supportive of the McCloskeys — would be "getting involved" in the case if necessary. Imagine that.