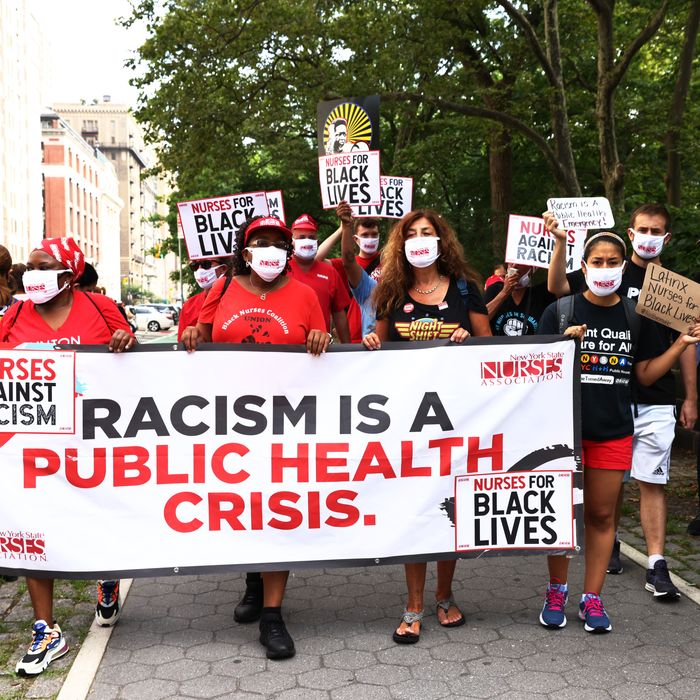 Tens of thousands of workers in dozens of cities across the country are expected to participate in the Strike for Black Lives, walking off their jobs on Monday in support of the Black Lives Matter Movement and to call for social transformation. The Strike for Black Lives website describes the action as a "day of reckoning" in which workers "withhold our most valuable asset — our labor — in support of dismantling racism and white supremacy to bring about fundamental changes in our society, economy, and workplaces."
The action is organized by the Service Employees International Union (SEIU) and backed by several social-justice groups and unions whose members work in essential industries that are disproportionately PoC and vulnerable to COVID-19. Essential employees in nursing, janitorial work, and service industries are expected to join the strike. According to Motherboard, nonunion workers for giant tech companies like Amazon, Uber, Google, Lyft, and Postmates are also expected.
Organizers of the mass strike have put forth a series of broad demands for corporate and elected leaders to "rewrite the rules so that Black people can thrive" and "dismantle racism, white supremacy, and economic exploitation." These demands include raising wages, allowing all workers the opportunity to form a union, paid sick leave, expanding health-care coverage to those who don't have it, and expanded child-care access.
The action was already well under way by Monday morning. In San Francisco, SEIU says, 1,500 janitors participated in the strike. In St. Paul, dozens of health-care workers have begun a 24-hour strike to demand safe working conditions, fair pay, and paid sick leave. Some fast-food workers for McDonald's have also reportedly gone on strike in Los Angeles. Rallies of striking workers have commenced in Boston and in New York City outside Trump Tower.
This strike comes amid unprecedented unemployment and persistently unsafe labor conditions for those working outside their homes during the COVID-19 pandemic. A general failure to support essential workers with more than performative shows of appreciation has set in across much of the country, to say nothing of those who have been laid off. In many states, unemployment payments have been slow in coming, personal protective equipment (PPE) shortages have persisted, and corporations have not been held sufficiently accountable for failing to provide paid sick leave and hazard pay for their workers. Several states have gone ahead with reopening plans despite rising rates of COVID-19 infection that put workers who have little choice but to return to their jobs at considerable risk.
The organizers have built a broad coalition to contend with corporate and legislative opposition on Monday. Jerome Gage, a Lyft worker in Los Angeles who has been organizing fellow drivers to join the strike, explained to Motherboard last week why gig-economy workers will be striking as well. "Uber and Lyft rely on predatory business models that trap people of color into them," Gage said. "You'll find many immigrants and people of color driving Uber and Lyft without proper benefits or access to unemployment during the pandemic. I think our needs as drivers are inseparable from the Black Lives Matter movement." Teen organizer Naina Agrawal-Hardin, who works with the Sunrise Movement and is a member of the U.S. Climate Strike Coalition, told Teen Vogue that climate-justice organizers have been working to build the strike as well and that the action "demonstrates that racial, economic, and climate justice are deeply intersectional issues."