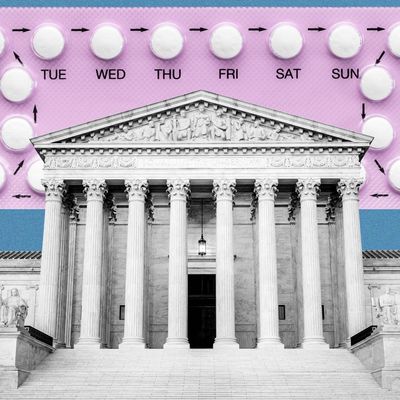 Photo-Illustration: The Cut; Photos: Getty Images
The Supreme Court just upheld a Trump administration regulation that allows employers with religious objections to deny their employees access to free birth control with insurance coverage under the Affordable Care Act. As a result, an estimated 70,000 to 126,000 women are now at risk of losing coverage, according to the government.
Justices voted to uphold the mandate 7 to 2, with Ruth Bader Ginsburg and Sonia Sotomayor dissenting. In Ginsburg's dissent, she wrote, "Ready access to contraceptives and other preventive measures … both safeguards women's health and enables women to chart their own life's course." "The court's decision to allow for religious exemption," she said, "leaves women workers to fend for themselves, to seek contraceptive coverage from sources other than their employer's insurer, and, absent another available source of funding, to pay for contraceptive services out of their own pockets."
In 2011, the Obama administration required all employers and insurers to provide access to birth control at no cost to employees through the ACA, though houses of worship were exempt. There have since been numerous attempts by religious-affiliated organizations, nonprofits, schools, and other types of employers to resist the requirement, citing their refusal to condone the use of contraceptives. In 2014, the first challenge made its way to the Supreme Court via Burwell v. Hobby Lobby Stores, in which the court sided with the craft conglomerate in allowing family-owned corporations to refuse to pay for coverage under the Religious Freedom Restoration Act, if they inform the government and insurers of their objection. Two years later, an objection to even that requirement was put before the Court via Zubik v. Burwell, but they did not make a decisive ruling.
The Trump administration's new rules, introduced in 2017, rolled back the ACA mandate even further via sweeping exemption language, allowing for all kinds of employers to deny coverage "based on its sincerely held religious beliefs" and "moral convictions." Pennsylvania and New Jersey challenged the rules in court, arguing they would have to shoulder the cost of thousands of women who would lose free access to birth control via their employers. A three-judge panel of the United States Court of Appeals for the Third Circuit unanimously sided with the states and blocked the Trump exemptions with an injunction.
In a statement sent to the Cut on the ruling, the Center for Reproductive Rights argued that the Trump administration's rules can now be implemented "so broadly that it could render the birth control guarantee meaningless for hundreds of thousands of people. Under the rules, any entity of any size, whether non-profit or for-profit, could deny birth control coverage for its workers or students as long as it claimed to have religious or in many cases even moral objections." NARAL president Ilyse Hogue wrote on Twitter that as a result of today's decision, "Countless people who need it will now be unable to afford contraception … For the Trump admin, it's a feature not a bug that this ruling will impact those who already face the biggest obstacles to care — including Black, Latinx, and Asian American and Pacific Islander communities, undocumented people, and LGBTQ folks. This is discrimination."