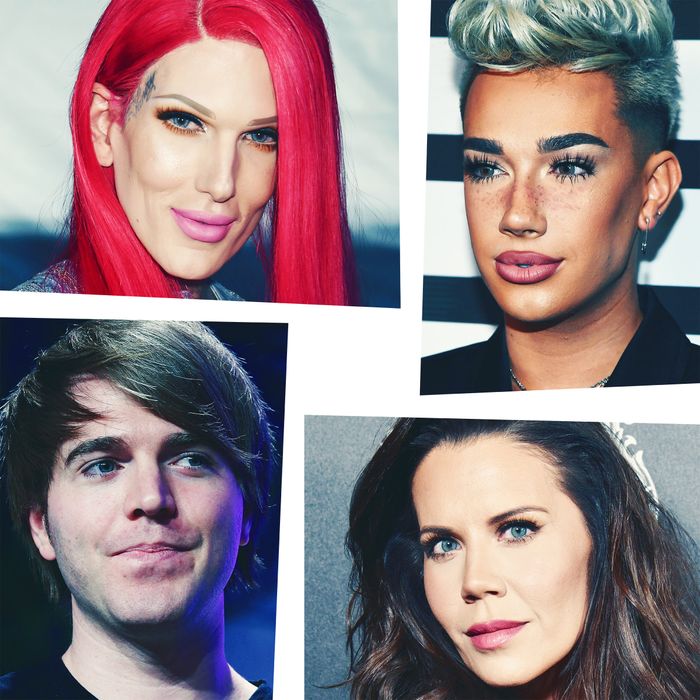 Jeffree Star, James Charles, Tati Westbrook, Shane Dawson.
Photo: Getty Images
Approximately every 23 seconds, influencer drama that was presumed long dead gets a new, reinvigorating breath of life. This week, we are witnessing the unexpected revival of a year-old feud involving four of YouTube's most prominent (and controversial) beauty influencers: Tati Westbrook, Shane Dawson, Jeffree Star, and James Charles.
Perhaps you recall Westbrook's infamous "BYE SISTER" video from last May, in which she accused influencer-model-vlogger Charles — her former mentee — of sexually harassing men who didn't show interest in him, and severed ties with him? Which prompted Star — another cosmetics influencer — to call Charles a "danger to society"? Well, now, in a new video titled "BREAKING MY SILENCE …," Westbrook claims that Dawson and Star "coerced" her into publicly shunning Charles last year, adding that the two men were "bitterly jealous" Charles's success.
She says: "The entire situation opens up a Pandora's box of speculation, but I'm just not sure anyone counted on this drama spreading like wildfire." Indeed.
Let's untangle this seemingly inexhaustible mess.
How did all of this start?
As far as we know, the storm began brewing at Coachella last April, when Charles posted an Instagram video for the gummy vitamins Sugar Bear Hair. The video pissed off Westbrook: Charles was her mentee, and Sugar Bear Hair is a direct competitor of her line of supplements, Halo Beauty. Westbrook posted a clip of herself to her Instagram in which she spoke of feeling "betrayed" by an unnamed person; Charles then came forward and publicly apologized to his "close friend, Tati," claiming that he did not accept money for his appearance in the video. Westbrook did not accept Charles's apology. In a video titled "BYE SISTER," Westbrook clarified that she wasn't upset about money ("My relationship with James Charles is not transactional") but that instead, she and her husband were tired of covering for his bad behavior: She accused James of speaking ill of other beauty influencers, harassing men who didn't show interest in him, and "tricking" straight men into thinking they were gay. A day later, Charles apologized to Westbrook and her husband in his own YouTube video, but the damage was already done. Following Westbrook's video, Charles lost around 2 million YouTube followers; meanwhile, Westbrook's follower count surged.
As Charles's reputation plummeted, Star — a breakout YouTube star — sided with Westbrook, writing in a now-deleted tweet, "[Charles] is a danger to society. Everything Tati said is 100% true." All the Kardashian-Jenners and a slew of other celebs unfollowed Charles. Then Westbrook uploaded yet another video, in which she tearfully explained her 'BYE SISTER' video: "It was me trying to reach someone that was completely unreachable … He is losing the ability to get honest more and more each day. I'm losing the ability to reach [out to him]."
After that, it seemed like the feud had cooled off … until this week.
What did Tati Westbrook say in her new video?
On June 30, Westbrook uploaded a 40-minute-long video titled "BREAKING MY SILENCE …" in which she claims that Dawson and Star — who are business partners — "used, coerced, and manipulated" her into tanking Charles's career. According to Westbrook, Star would "frequently comment about how much dirt he held on other brand owners and members of our YouTube community." Westbrook claims that the night before she filmed her "BYE SISTER" video, Star sent her audio of what he claimed to be one of Charles's "victims," and Dawson offered to help her edit the video. Then, just over a week later, Westbrook says her relationship with Star "dissolved entirely."
"It's now my opinion that Jeffrey and Shane were both bitterly jealous of James Charles's success," she says in the video. "I believe James Charles was gaining more followers and receiving more views and more press faster than anyone in the history on the platform, and it's also my opinion that Jeffrey and Shane needed James marginalized and out of the way for their November launch of the Conspiracy Palette along with Shane's merch." She notes that she has privately apologized to Charles.
She also claims that Star is "allegedly" a co-owner of the beauty company Morphe, implying that was why he wanted to take down Charles, a competitor. However, a Morphe representative has disputed this claim.
What compelled her to come forward with this now?
Over the past week or so, Star and Dawson have been hemorrhaging ads and followers as they face renewed criticism for their past behavior. A few damning examples: Dawson has worn blackface on multiple occasions and mocked people with disabilities. In response to the backlash, Dawson issued a dramatic apology on his channel, declaring that he deserved to "lose everything." Since then, a video resurfaced of Dawson pretending to masturbate to a photo of Willow Smith, who was 11 years old at the time. Meanwhile, others have called attention to the allegations of racism that Star has faced over the past few years, recirculating photos of him posing with Confederate flags and using the phrase "Lipstick Nazi."
Amid the backlash, some beauty influencers claimed that Dawson and Star were also responsible for orchestrating Charles's downfall — which is presumably what compelled Westbrook to break her silence on the matter.
Has anyone responded to Westbrook's video?
The same day Westbrook's video dropped, Dawson took to Instagram Live, where he said, "You're so manipulative. You are fake crying," as he dramatically rolled his eyes. He also wrote, in a now-deleted tweet, "THIS IS A FUCKING LIE AND IM LOSING MY MIND!!!!!!!!!!" Dawson's fiancé, Ryland Adams, also came his partner's defense, calling Westbrook's video "a master class in manipulation." He added: "The only [way] to save her reputation was to side with the person she tried to ruin." Neither Charles nor Star have responded publicly.
Meanwhile, Dawson has yet to apologize for the video of Willow Smith, which has drawn the ire of Jaden Smith and Jada Pinkett Smith.