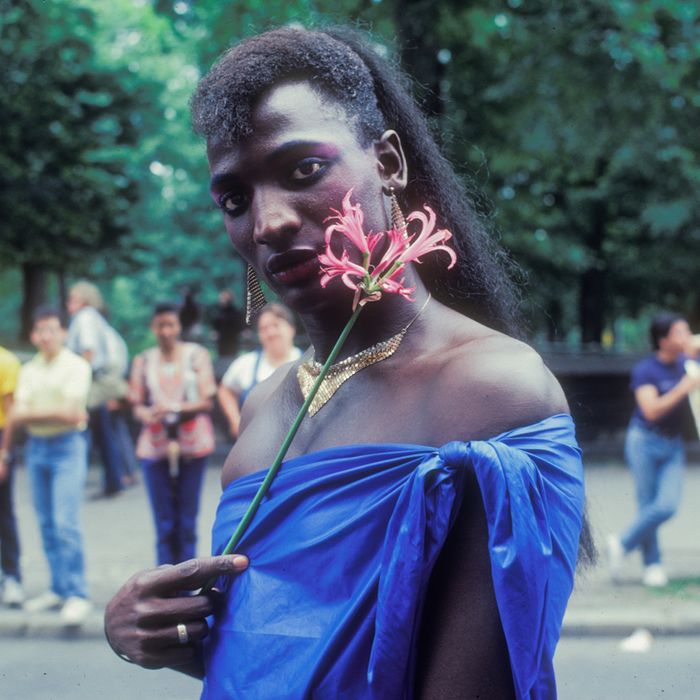 Photo: Mariette Pathy Allen
The global Black Lives Matter movement has seen people also uniting to demand justice for Black trans folks. While it's necessary to call attention to the "epidemic of violence" they face, that attention can reinforce a narrative that constantly equates being transgender with being a victim of violence, especially for Black trans women. Expanding on what justice looks like for the community also means facilitating their dreams and success.
This is where Queer|Art, an organization that connects and uplifts LGBTQ+ artists, comes into play. Today it announced a new $10,000 annual grant for self-identified Black trans women and trans femmes. Called the Illuminations Grant for Black Trans Women Visual Artists, it aims to celebrate the under-recognized contributions of Black trans women visual artists.
The grant was made possible by Aaryn Lang, Mariette Pathy Allen, and Serena Jara. Through her consulting and writing, Lang advocates for the social, economic, and political well-being of the transgender community, specifically the needs of Black transgender women. In the creation of the grant, she consulted Jara, a multidisciplinary artist, and Allen, a photographer of transgender, gender-fluid, and intersex communities.
"The Illuminations Grant not only highlights the lacking representation of Black trans women in the visual arts but also seeks to confront the systemic barriers that deny them artistic opportunities and a sustainable craft," said Lang in a statement. "By supporting this grant, Mariette Pathy Allen challenges herself and the art industry to see Black trans women as more than mere subjects, while forging a new pathway for visual artists within this community to thrive."
Each year, various judges will conduct a studio visit with the winning artist as part of the award's focus on supporting creative and professional development. This year's judges include Thelma Golden, Juliana Huxtable, Texas Isaiah, and Kiyan Williams. Applications are open from June 29 to August 30, and the grant will be awarded in November. So if you're a self-identified Black trans woman or trans femme working in visual art and based in the United States, apply here.