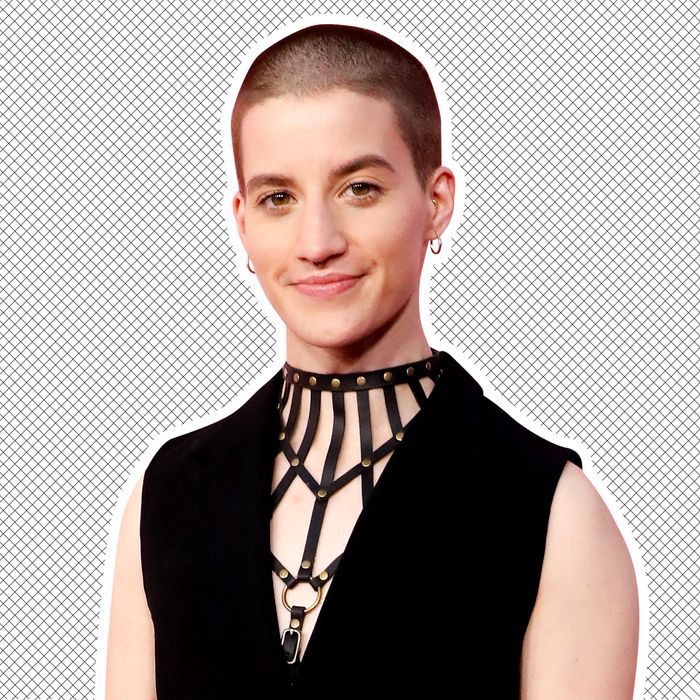 If you caught Theo Germaine on Showtime's Work in Progress late last year, you may have developed a massive crush on them. When Germaine's character, the charismatic Chris sweeps the depressed Abby off her feet, it's hard to not immediately fall for the sexy trans man who shows her a whole new way to live life.
Today, Germaine has a season two order of Work in Progress, and is replaying their role as James in season two of The Politician on Netflix now. But they grew up in Illinois, and keep that connection to home by committing to Black trans-led organizations that are helping the Chicago area, like Brave Space Alliance. In honor of Pride, Germaine shared some of their favorite pop-culture influences that helped them learn about themself.
Luna by Julie Anne Peters
A young-adult book taught me what "trans" meant — I was a preteen and I didn't know. Luna, by Julie Anne Peters, is about two sisters — one of them is trans and one of them is cis. The sister who's trans is the older sister and she can't be out at school. So she's only able to be out at home, and their parents don't even know about it. And the story is told from the point of view of the younger sister, who's just supportive of her older sister and talks about the struggles that she has as she's getting ready to come out and get out of high school and move away. It taught me about medical transitioning, which is something that I was interested in. That is the book that led me to the internet and caused me to start doing all of this research and being like, "Oh shit, I'm a real person for feeling this way." I wish I could meet the author and be like, "Hey, you're the person who taught me that I was okay."
The Legend of Zelda
I found some solace in video games — any game where there was a ridiculously pretty boy. I was like, "Oh, I kind of see myself in this character." I was really into The Legend of Zelda, which I played on our very old Nintendo 64. I had this guide to The Legend of Zelda that was this full textbook about the game. That book taught me about gender — all of the characters and the way they were rendered, everybody had a little bit of an androgyny to them.
Laverne Cox
I didn't really see any trans women on screen until Laverne Cox showed up on Orange Is the New Black, and that is just within the past ten years. When I was going to college, I got to meet her. She was doing a speaking tour. I worked at my LGBTQ resource center at the time. So if a speaker came in, I was one of the people who made sure they got where they needed to go. She gave this really amazing talk. And then afterward I was getting her back to where she was staying for the night and she was like, "Do you want to come in for a second?" And I was like oh my gosh, Laverne just asked me if I wanted to hang out for a little bit. We sat and we talked about the industry, because I was in college and I really wanted to be an actor. We talked shop, and she gave me some advice — this is how you keep yourself sane, you need to make sure you have the right side hustle. Five years later, we ran into each other at a party. And I was like, "Hey Laverne, I don't think that you remember me, but I told you I wanted to be an actor and I made it."
Pose
Pose is one of my favorite TV shows. There's a lot of white people who didn't know about the history of ball culture, and that can be a good stepping point for people to learn more about a piece of queer and trans history that is specifically Black and Brown.
Another thing is the documentary Paris Is Burning — those are two things that would be cool to watch back-to-back. Honestly, if somebody is trans, and they're an actor or a writer, I will track their work and try to consume as much of it as possible.