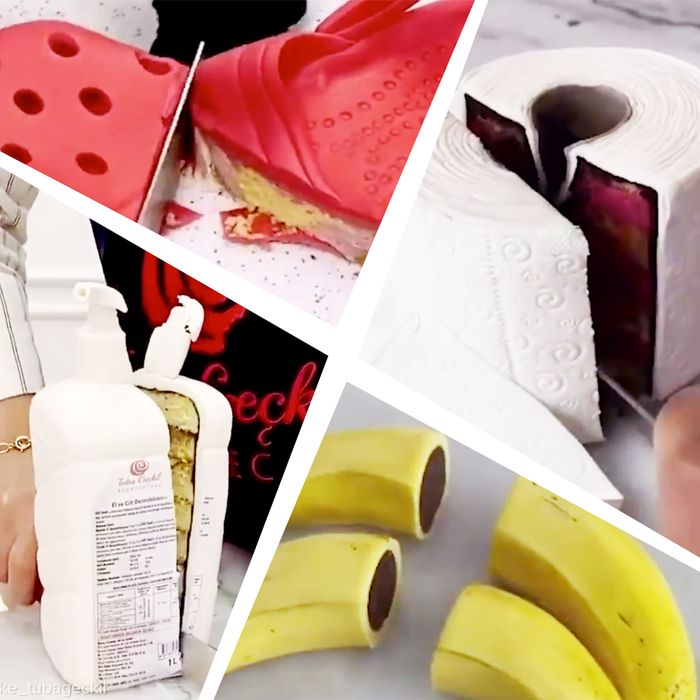 Photo: @redrosecake_tubageckil/Instagram
After a weekend spent watching videos of people slicing open highly decorative cakes that look like household objects, my expectations of life have shifted, becoming incredibly unrealistic. I ask my boyfriend to get me a coffee. He says, "Okay." I say, "Actually, make that a coffee that I can cut open, revealing it is in fact a cake." I tell him he can take as much time as he needs to fulfill my request. He says, "No." Now I am sitting here with my real coffee that seems somehow false, wondering if I am myself made of cake, if I am even a kind of cake I like, if I can finally stop the cycle of disillusionment by eating my own laptop.
Below, the videos that have dominated my timeline over the past few days and corrupted my already tenuous sanity. Most impressive to me are toilet-paper cake, bottle-of-lotion cake, Crocs cake, and lettuce cake.
And here, some of the best tweets they inspired, further plunging my mind into an abyss that is actually cake.
The memes began spreading far and wide across the internet only recently, but the concept of cakes that look like other kinds of food and household objects has been with us for much longer. You will recall, for instance, that the trend was popularized, in part, during the first episode of the eighth season of the Great British Bake Off when the contestants were asked to bake "illusion cakes" for their showstopper challenge. The demanding task produced some outstanding offerings, like Steven's BLT cake and Sophie's Champagne bottle on ice.
We've come a long way from the days when Britain's best amateur bakers crafted dessert ramen bowls and terrariums with little more than fondant and edible paint. Now everything is suspect because it might be cake. But for the sake of my morning coffee and cherished relationships with other people, I'll go on pretending it definitely isn't.