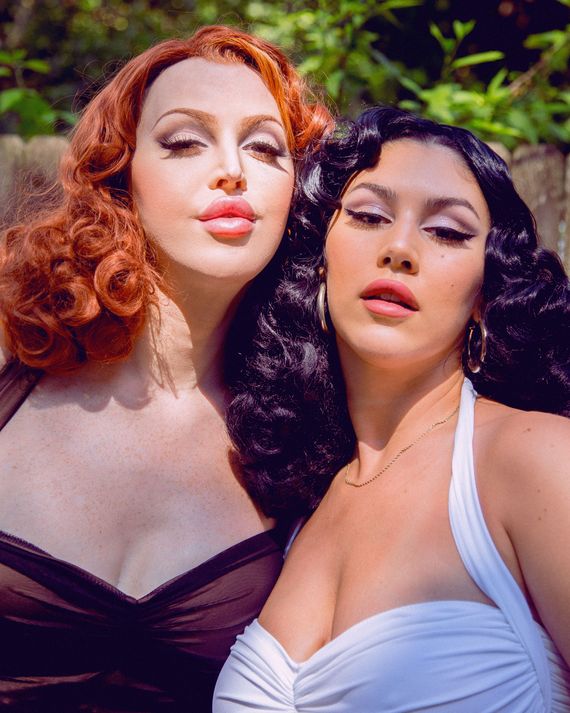 Formerly known as the band Sateen, Ruby and Queenie are a married couple who make music and videos inspired by '70s disco. Ask them what else inspires them, and a theme starts to emerge: "Gay icons like Judy Garland, gay places like Fire Island, gay movies like To Wong Foo, and gay music like Donna Summer. If it's gay we like!" The Cut spoke with Sateen about poodles, supporting Black trans femmes, and taking magic baths for self-care.
What does cool mean to you? 
It reminds us of "Something Cool" by June Christy. Like a chilly cocktail by the pool at Chateau Marmont.
Which three fictional characters do you relate to most? 
Eddy and Patsy from Absolutely Fabulous, Nomi Malone and Cristal Connors from Showgirls, and Gloria Swanson from Sunset Boulevard. Honorable mention to little and big Edie from Grey Gardens — but they were real, so they are disqualified.
Speaking of real-life people, who are three who have inspired you?
The artist Tourmaline for her impactful research and work with Marsha P. Johnson and Sylvia Rivera, DJ Honey Dijon for shaping our relationship to clubs and music, and Barbra Streisand because she's Barbra.
What are the last three songs you've listened to?
"Stormy Weather," by Lena Horne; "Feels Like Heaven," by Urban Cookie Collective; and "I Love You Always Forever, " by Donna Lewis.
What kind of animal would you be and why? 
If we were animals, we would be poodles. We have a one-year-old mini poodle daughter named Zsa Zsa. We are poodle-ologists and lovers of all things poodle-related. Poodles are the showgirls of the canine queendom!
What superpower would you have and why?
Shapeshifting. It would save a fortune in Juvederm and Botox.
If you could master any skill (that isn't related to your current job), what would it be and why?
We wish we could be better lesbians and have a butch skill like masonry. Rocks are really quite fabulous.
What does your Saturday night look like during the pandemic?
Margaritas and hopefully a breeze in the garden.
Has the way you dress changed under lockdown? If so, what are you wearing now? 
As the weather has changed, we shifted from sweats to shorts and, finally, outright nudity. We don't have roommates so we are constantly naked.
Are there any causes or organizations you are supporting right now?
We try to support Black trans femmes first and foremost! Organizations like G.L.I.T.S. and For the Gworls are doing amazing work and always need donations. But we think it is also important to give what you can to individual crowdfunding of LGBT BIPOC people.
What Black-owned local (or not) businesses are you supporting? 
We love living in our neighborhood (Bed-Stuy) and there are so many Black-owned businesses here for us to support. We get coffee at Sincerely Tommy and Playground. There is great food at Peaches. We have filled our garden with plants from Natty Garden II. And we also recently discovered a Black queer–owned health-food store called Buy Better Foods that we really like.
What goals are you working toward at the moment?
We want to make a cooking show.
What do you do for self-care?
Smoke weed, watch HGTV, and play with our doggy. Also taking magic baths! Two cups epsom salt, half a cup apple cider vinegar, 1 cup baking soda, and soak for 20 minutes.
What piece of advice has had the biggest impact on you and why?   
Hurry up! Because we are both Virgos and we get very lost in details.
What is one item that has made your life better? 
Poppers! They are fun at the club and provide an essential service in the bedroom.