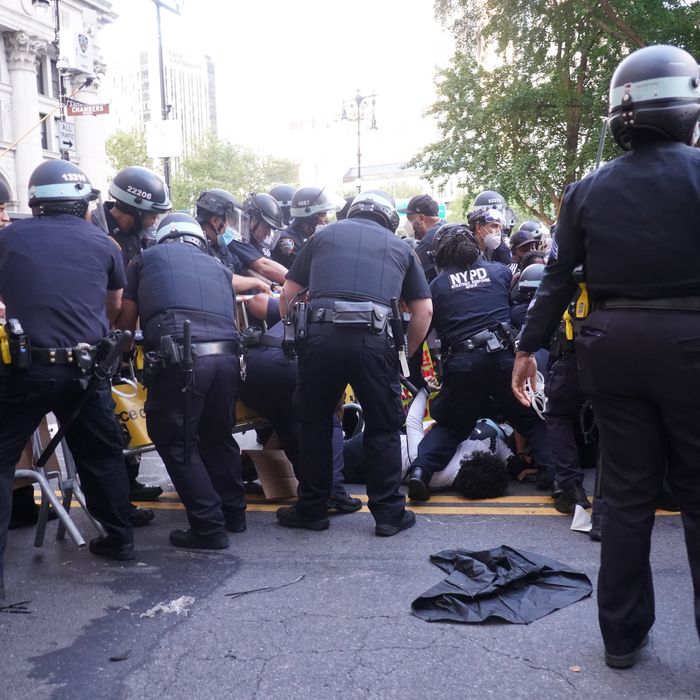 Photo: NurPhoto via Getty Images
In the weeks following the killing of Geroge Floyd by Minneapolis police officer Derek Chauvin, the streets of New York City were filled with protesters. They were also swarmed by New York City Police Department officers, and it didn't take long for videos and other reports of police violence against protesters to begin circulating on social media. Many of the attacks appeared completely unprovoked, including one of the most visible cases, in which footage shows NYPD officer Vincent D'Andraia knocking protester Dounya Zayer to the ground. D'Andraia was charged with assault, criminal mischief, harassment, and menacing in June. But that was just the tip of the iceberg.
A new investigation by the New York Times turned up more than 60 videos taken by journalists and demonstrators that show police using force on protesters in the first ten days of action following the killing of Floyd. The paper's findings suggest that many of the attacks of beating, punching, tackling, and shoving — led by high-ranking officers — were not warranted, even by the NYPD's own standards. "In instance after instance," the report states, "the police are seen using force on people who do not appear to be resisting arrest or posing an immediate threat to anyone."
The Times's review touched on 15 neighborhoods across three of the city's boroughs. The report notes that "for just about every viral moment that emerged from the protests … the Times turned up multiple examples of similar behavior." Included in the report: footage of officers attacking protesters with their hands up, swarming a man who fell while running from the police and beating him with batons, violently grabbing protesters from behind, and pummeling people who had already been thrown to the ground.
The breadth and severity of these cases is at odds with the regulations set out in the NYPD's own patrol guide, which states that officers can only use "the reasonable force necessary to gain control or custody of a subject." It also conflicts with the department's characterization of the situation: NYPD officials have maintained that unprovoked violence against protesters by officers is exceptional and taken seriously. Police commissioner Dermot Shea said police misconduct at protests was limited to "isolated cases," instead pointing to some instances of property destruction by protesters, in addition to allegations of bricks and bottles thrown in the way of NYPD officers during protests.
When presented with the video footage complied by the Times, Kapil Longani, counsel to Mayor de Blasio, responded, "These incidents are disturbing and New Yorkers deserve a full accounting of these matters and access to a transparent disciplinary process," adding that it would take some time for investigations to be completed.