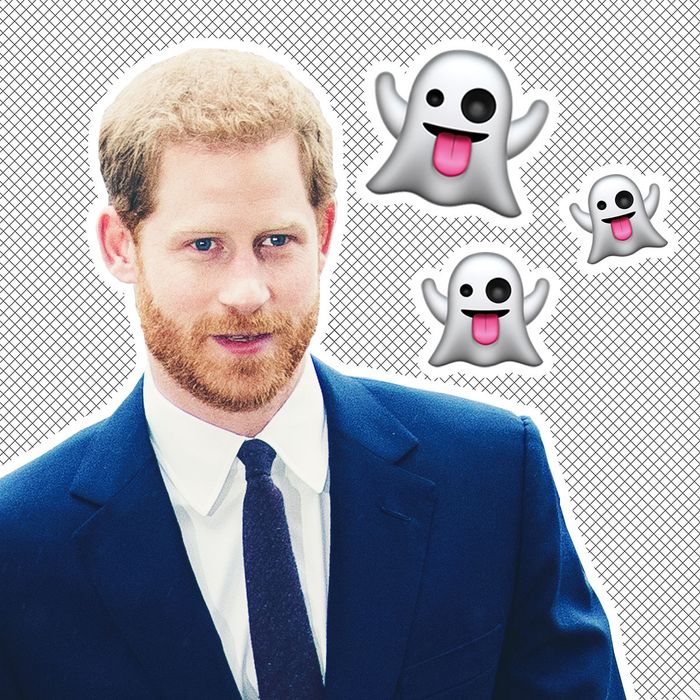 Prince Harry and his beloved emoji.
Photo: Samir Hussein/WireImage
Take a minute to consider the ghost emoji. Meditate on his cheeky expression, his lopsided "eyes." While I've never had occasion to use it myself, I get friendly vibes — absolutely zero sex appeal. In the assessment of one of my colleagues, the ghost is "kooky rather than spooky."
I found myself contemplating the friendly specter earlier today upon learning that it is apparently Prince Harry's favorite emoji. According to royal experts Omid Scobie and Carolyn Durand, who analyzed some of Harry's early texts to Meghan in their best-selling biography Finding Freedom, they were "often short and full of emojis, in particular the ghost emoji, which he often used instead of a smiley face." Why, you might ask? According to the authors, "nobody knows." But his texts appear to have had his desired effect: "Meghan found his texting etiquette funny and adorable, just like the prince."
We all have our own inscrutable texting habits. And who among us is not drawn to at least one obscure emoji that carries special meaning for you and none for the recipient? But just imagine what it must be like to text with someone who frequently uses the ghost emoji:
Someone in his tight-knit lads' chat: Harry when he's had a few too many pints 😂 [a video of an two unsettlingly buff kangaroo, strutting around the outback]
Prince Harry: 👻👻👻👻
Meghan Markle: Had so much fun last night! Still thinking about you balancing that spoon on your nose 😂
Prince Harry: I'm a pro spooner! 😀 🥄 👻
Queen Elizabeth: Harry,,,, read an article in Daily Mail…. The worst I know. Please call Me ?
Prince Harry: Ok will do in one hour. Don't worry ❤️ 👻
His ex, Cressida: Hi Harry. Just wanted to check in on you and make sure you're holding up. Weird times, eh? —C
Prince Harry: You know me 👻👻👻
Genuinely haunting.