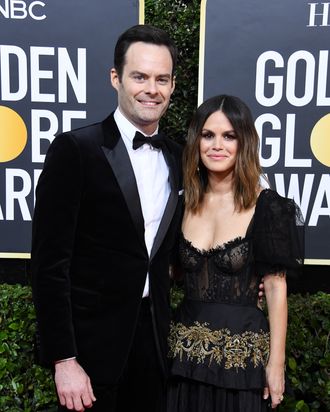 Bill Hader and Rachel Bilson.
Photo: Steve Granitz/WireImage
It was a stormy, stormy weekend, and I am not simply referring to the tempest of wind and lashing rain that blew across the East Coast on Friday. I am also referring to the raft of celebrity splits that washed ashore in the past 72 hours: No less than three famous couples have announced their breakups within as many days. Most appear to have ended with cordial, synchronized statements posted to social media, and very few details have surfaced to explain the separations. But as Vulture points out, quarantining amid the coronavirus pandemic has reportedly been hard on a number of relationships, the celebrities' very much included. In any case, here's what we know so far.
Armie Hammer and Elizabeth Chambers
Kicking off the big weekend of celeb splits, actor and recent crop-top enthusiast Armie Hammer announced his divorce from BIRD bakery owner Elizabeth Chambers. "Thirteen years as best friends, soulmates, partners and then parents," Hammer wrote on Instagram, where else is there, alongside a photo of the two of them in what appears to be high early-aughts style.
"It has been an incredibly journey, but together, we've decided to turn the page and move on from our marriage," the statement, which Chambers posted at the same time, reads. "As we enter into this next chapter, our children and relationship as co-parents and dear friends will remain our priority. We understand this news lends itself to public dialogue, but in the interest of our children and our family, we're asking for privacy, compassion and love during this time."
According to TMZ, Chambers is seeking sole custody of their two children, 5-year-old Harper and 3-year-old Ford, while Hammer wants joint legal and physical custody. Chambers's filing reportedly attributes the split to "irreconcilable differences."
Bill Hader and Rachel Bilson
Also on Friday, People broke the news that Bill Hader (a.k.a. Barry, of HBO's Barry) and Rachel Bilson (a.k.a. Summer Roberts, of The O.C.) had "amicably split." Hader and Bilson co-starred in 2013's The To-Do List, while Bilson was still with Hayden Christensen. They broke up in 2017, and rumors of "Billson's" arrival began circulating in late 2019. In December, the pair were spotted holding hands on a coffee run with Hader's family in Tulsa, Oklahoma. Shortly thereafter, they were seen buying firewood and two kinds of La Croix at a Los Angeles grocery store, apparently preparing for a cozy New Year's Eve. They then confirmed their coupledom on the Golden Globes red carpet in January, and now! Now, they have reportedly broken up.
Darius Rucker and Beth Leonard
Darius Rucker, whom you may know primarily as Hootie from Hootie & the Blowfish, and Beth Leonard married in 2000. On July 11, they announced via Instagram that, "after much reflection" they had arrived at "the decision to consciously uncouple," to borrow a phrase Gwyneth Paltrow and Chris Martin made popular during their 2014 split.
"We remain close friends and parenting partners and continue to be each other's biggest cheerleaders," their statement read. "Our priority will always be our beautiful family. We have so much love in our hearts for each other and will continue to encourage growth and expansion in one other. Please be kind as we take on this journey, and we thank you for your love and support always."
Rucker and Leonard have two kids together, 15-year-old Jack and 19-year-old Daniella.
As of Sunday evening, there were no other rumblings of famous divorces or break-ups afoot, but then again, the weekend isn't over yet. Good luck out there, everyone.