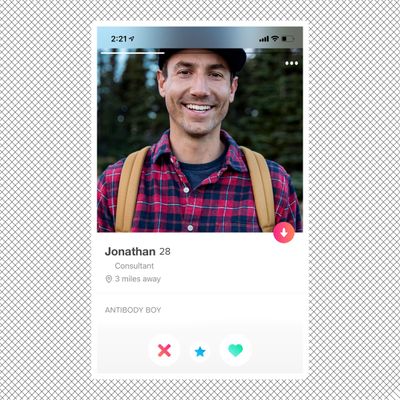 Photo-Illustration: Getty Images
Swiping through some dating apps this morning, I noticed a few casual boasts repeated in bio after bio. Height was a big one — remarkable how many guys in Williamsburg are six-foot-five — as were impressive and vague job titles. (Does anyone know what a BlackRock analyst actually does?) But among all these tall and indeterminately successful men, I noticed a third consistent bragging point: "I have antibodies."
Cut fashion writer Emilia Petrarca first noticed this trend early this week, when she was browsing Tinder and Hinge and came across a young man who referred to himself as an "Antibody boy":
Another wrote: "I have antibodies for COVID-19 but I'm still afraid of catching feelings."
In my own brief perusal of Hinge, it took only a moment for me to come across my own Antibody Boy, who identified his antibodies as his greatest strength:
The phrase is a very 2020 addition to the dating-profile lexicon. Ostensibly, it means that you'd caught and recovered from COVID-19, and now you've tested positive for antibodies that should protect you from catching and/or spreading the virus. It's reassuring-sounding, sure, but the thing is, antibodies do not necessarily confer immunity, and their absence doesn't mean you never had COVID-19 either.
Nonetheless, "I have antibodies" seems to have become, for some, a sort of playful way of saying, "I am looking for sex, and probably don't want anything serious." As author Nichole Perkins noted on Twitter: "So many dudes on the dating apps have in their bio 'had it, recovered, have the antibodies so I'm good now. Let's have some fun!'" Or, as Petrarca put it in Slack: "Antibody Boys … The new fuckboys." And like fuckboys, the phenomenon seems to be largely genderless; Jessica Ciencin Henriquez wrote, perhaps jokingly, that her own dating profile now reads: "I'm just a girl, standing 6 feet in front of a boy, asking if he's positive for antibodies."
Of course, not everyone is invoking antibodies in this way — there seem to be a share of people on the apps referencing their antibody test just out of consideration for public health, or as a signal that they're being cautious. Regardless of your intent in broadcasting your antibody status, though, if you do meet someone you want to get closer than six feet to, your best and safest bet is to both get a COVID test first.