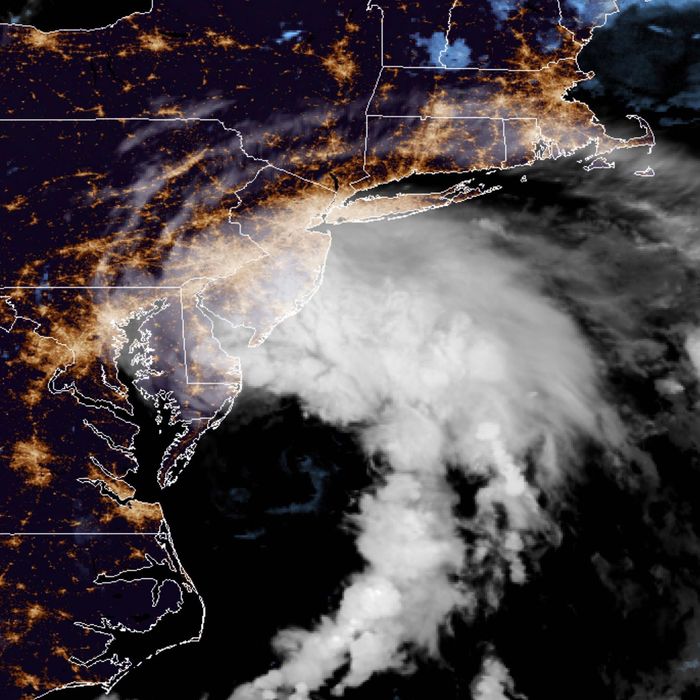 Tropical Storm Fay.
Photo: Uncredited/AP/Shutterstock
And now, an ominous storm approaches.
A large swath of the East Coast is bracing for an incoming tropical storm named Fay, which is scheduled to make landfall between New Jersey and Long Island sometime today. While early observations showed Tropical Storm Fay moving around 8 mph with top sustained winds of 45 mph, it has picked up some speed since it formed off the coast of North Carolina yesterday afternoon, and is now moving around 10 mph, producing top sustained winds of 50 mph. Yikes.
As a result, a tropical storm warning has been issued for coastal New Jersey, New York City, Long Island, and Connecticut. Once Tropical Storm Fay hits land today, it's expected to lose some of its steam — but not by much. According to the National Hurricane Center, the tropical storm will likely dump somewhere between two and four inches of rain on some areas of the East Coast. Additionally, forecasters are predicting it will bring strong gusts of wind between 40 and 50 mph to the New York Metro area, beginning sometime this afternoon. "The main threats with this system will be locally heavy rainfall, the potential for flash flooding and dangerous surf conditions Friday into Friday night," the National Weather Service said in a warning yesterday. Lovely.
By early Saturday, the storm is expected to have mostly run it course, at which point we can all joyously throw open our apartment windows and return to our normal lives. Oh, wait, that's right.