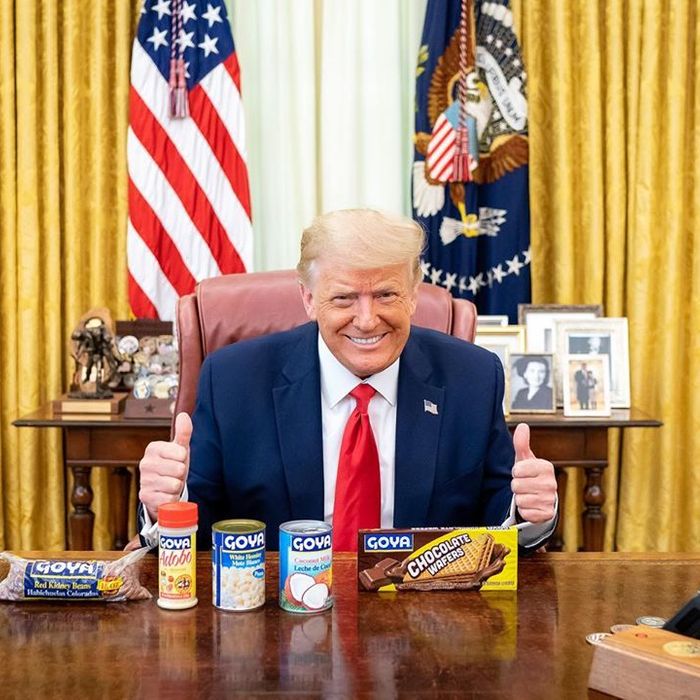 The satisfied smile of a man reacquainted with regularity?
Photo: @realdonaldtrump/Instagram
Oh, how the mighty have fallen. After waiting patiently on the gassy periphery, maybe for most of their lives, a cohort of sturdy, humble heroes sprang into action this spring. They asked nothing in return, nobly offering an anxious nation a measure of comfort and surety. I'm talking about beans, of course. Beans, which took center stage amid the coronavirus pandemic and its emphasis on shelf-stable foods. Beans, quietly beloved of so many, at least until the recent betrayal. Now, the president has hijacked the beans bandwagon; predictably, he looks pleased with his plunder. After years of pounding McDonald's and double ice creams, the president would appear to be consuming fiber. Unprecedented? Possibly.
Last week, Goya — one of the world's largest and most recognizable bean purveyors — went over to the dark side: The company's CEO, Robert Unanue, stopped by the Rose Garden to heap praise on President Donald Trump. Unanue asserted that the U.S. is "truly blessed … to have a leader like President Trump," a frankly bewildering statement from the head of a brand that describes itself as "the largest Hispanic-owned food company in the United States." Trump has repeatedly, consistently exercised violently xenophobic rhetoric toward Latinx people; calls for a consumer boycott were swift, prompting Trump supporters to go buy up all the Goya beans. Which probably explains the president's latest Instagram post.
In the photo, he looms over a clutch of Goya products — including canned white beans and dry kidney beans — arrayed on his desk in the Oval Office. He gives the camera two thumbs up, flashing the satisfied smile of a man who has recently become reacquainted with the concept of regularity.
And he is not the only Trump gloating over this fibrous discovery. His daughter, Ivanka Trump, also tweeted some Goya spon-con today, in an apparent violation of ethics standards. But that has never seemed to matter much to the Trump administration, which currently seems intent on laying claim to Goya.
But maybe the silver lining here is this: We all know what happens when you shock your system with a busload of fiber, particularly if you eschewed your recommended daily roughage dose for … ever? Come on, beans. Do your worst.