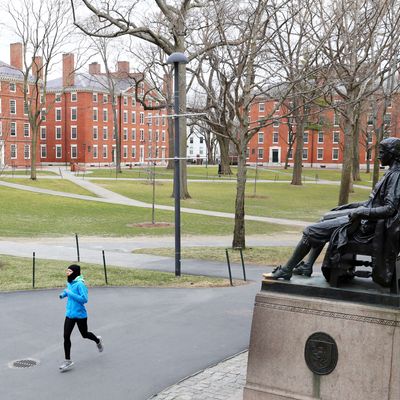 Photo: Maddie Meyer/Getty Images
Update: On Tuesday afternoon, shortly after this piece was published, the Trump administration announced it was rescinding its order prohibiting international students from continuing to live in the U.S. while taking classes online.
From the moment Alisha arrived in the United States from Kathmandu, Nepal, her life has been spent on high alert. In order to comply with the terms of her student visa, the 22-year-old, who is studying psychology at Northwest Missouri State University, was only allowed to earn money working on campus for a maximum of 20 hours a week, a limit she sometimes exceeded. Still, she badly needed the income; international students typically pay full tuition, in addition to all the expenses associated with moving to a foreign country. Every time she filed a time sheet, she was racked with anxiety that even a tiny slipup could torpedo the life she had built here.
And last week, in addition to the constant visa anxiety and financial stress and the emotional toll of seeing her family in Nepal only once in the past three years, Alisha's journey to complete her education in the U.S. hit yet another roadblock. Despite assurances earlier in the year that international students could attend online classes for the duration of the pandemic, on July 6, the Trump administration suddenly announced that international students whose university courses had gone entirely online would suddenly have to leave the U.S. and complete their work from their home countries.
Some see this move as a twisted attempt by the Trump administration to pressure colleges to reopen; others see it simply as part of the administration's ongoing quest to gut the country's legal immigration system under the cover of the pandemic. "If you look at the bigger picture of everything Trump has been doing since 2016, it has been to limit immigration," says Devin Connolly, an immigration lawyer in California who represents many international students on their student visa applications. This will likely force some students to uproot their lives — put their education on hold, leave leases and partners and friends, or in some cases go back to countries they haven't called home in decades. The logistics alone are overwhelming: The next direct flight back to Nepal isn't till October, and continuing classes online would mean Alisha has to log on at 1 a.m. to attend lectures. "It feels like I'm gonna have to start from scratch," she says.
To be an international student in the States is to spend your years darting through an obstacle course while your American peers sprint beside you on a straight track. In addition to exorbitant tuition fees, there are arbitrary and Draconian regulations that make it easy to fall "out of status" on a student visa if you aren't paying attention. For example, a certain amount of in-person instruction has always been a stipulation – which often means students are adding and paying for surplus classes even if they don't need them for their degree. Flexibility — to take time off, to take risks academically — is a liberty international students can't afford. And depending what country is listed on your passport, crossing the border to see friends or family can be an hours-long ordeal of enhanced screening and interrogation, with the possibility of being denied at any moment at the whim of a border guard. And there's little relief after graduation: what awaits most is the search for an employer to sponsor them, and having their career prospects limited by the looming need to remain "legal."
In a pandemic, international students are being forced to accept the risk of getting sick where their American peers have options to protect themselves. "We put in so much effort to make sure that we're complying with our immigration status. We entered this country in full compliance. This is not our fault," says Siobhan, a 25-year-old student from Ireland studying biochemistry and philosophy at one of the SUNY universities. Even though her school has declared an intention to remain partly in-person, she has a preexisting lung condition, and remains worried that contact with other students and faculty would put her life at risk. "You're being forced to choose between your health and your education," she says.
After being swindled by one lawyer who left his visa status in limbo, and paying another $10,000 to fix it, 30-year-old Edgar left his family in the Philippines to study marketing at a private university in California. While his school offers a mix of online and in-person classes for now, if that changes he'll be forced to go home, where completing his degree would be impossible. Back in the Philippines, his family lives together in one small home, and the internet is spotty. His grandmother recently died of pneumonia, and he's spent the past few weeks video chatting the rest of his family, who are now sick and waiting on their COVID-19 test results. "I just want to finish what I started, what I invested in, what I promised my grandma and my parents," he says. "I'm not okay right now, but I'm just trying to be tough."
While some undergraduates just here for four years, many have been in the country for much longer, and don't feel they have a home to go back to. Twenty-three-year-old Muhammed moved to the U.S. from Pakistan 11 years ago, and acquired a dependent F2 visa while his dad pursued a Ph.D. He spent his high-school years terrified by the specter of deportation; his friends would joke about getting him married off, while his family kept a list of airports to avoid where they were likely to be racially profiled by border guards and detained for long hours. After high school, he got his own F1, doing an undergraduate and now a master's, and is planning to apply for a Ph.D. in the fall. He's currently working on his M.A. thesis, which looks at public perceptions of COVID-19 in a polarized society.
"This is the worst timing for something like this to happen because there's so much going on right now. Writing a thesis while applying for a Ph.D. is so cognitively exhausting. I can't afford to take a year off. That is light-years for an international student," he says. If his school suddenly decides to go online, he'll have to go back to Pakistan and live with extended family, where he hasn't been since he was a teenager. "I'm at a point where I question: where do I belong? Because I don't fully belong in Pakistan now. This is my home."
Many universities have sprung into action. More than 25,000 professors have signed an open letter opposing the new rule, and many others have taken to social media pledging to to teach in-person seminars to any international students that need them. "It is a tremendously cruel policy that targets a group of my students and puts a border in my classroom where it doesn't belong," says Heba Gowayed, the BU sociology professor who wrote the initial letter.
Last week, Harvard and MIT filed a lawsuit in Boston federal court to prevent DHS and ICE from enacting the policy, and more than 200 other schools signed briefs supporting the lawsuit. Eighteen states and the District of Columbia have also filed suit against the Trump administration.
"I think everybody's going to do what they can. But sadly, I do think there are going to be a lot of people who fall through the cracks," says Connolly. "I think there's going to be a lot of international students who are unable to take in-person classes. So they are risking deportation and it just adds to the number of people here without lawful status."
While it's great that schools have gone to bat for their students, of course, it shouldn't only be "desirable" migrants, the ones pursuing higher education in respected fields, paying exorbitant fees that keep universities afloat, who are fought for. Most undocumented immigrants have lived with this sort of fear their whole lives. While some immigrant students will abandon their lives and home, some will choose to stay, undocumented or at risk, because it's a better option than losing it all.
"The government understands that we are pretty much in a chokehold," says Edgar, as he tries to meet deadlines while waiting anxiously to hear back from his sick family at home. "That's why they did it. They know that most of us are going to risk it to get sick. They know that we have no choice."
Some names have been changed in this article to protect the identities of the students.