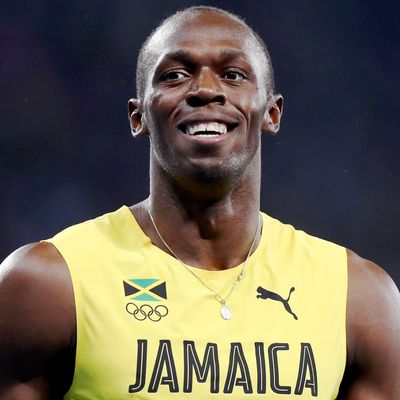 Photo: Ezra Shaw/Getty Images
Eight-time Olympic gold medalist Usain Bolt shared a photo of his daughter on Twitter today. Olympia Lightning Bolt was born in May to Bolt and his girlfriend, Kasi Bennett, and is the couple's first child:
It's nice to see an excellent and fitting celebrity baby name. "Olympia Lightning Bolt" is both beautiful and feels appropriate, given that Bolt is hailed as the world's fastest person, and his last name just happens to be a synonym for "run." How could he not give his child a middle name like "Lightning"? It's a perfect bit of wordplay.
Of course, naming a child is usually a very personal decision, but there are many famous people whose baby names seem so deliberately outrageous that it feels a bit like a PR stunt at the child's expense. Case in point is X Æ A-X12, the child of Elon Musk and Grimes, whose name was recently changed to X Æ A-Xii to comply with California law but will no doubt cause little X some grief in the future.
And they're not alone: Celebrity chef Jamie Oliver named a few of his children off of My Little Pony characters, and Shannyn Sossamon's first son is named Audio Science. And then there was Frank Zappa, whose children Moon Unit, Dweezil, and Diva Thin Muffin Pigeen have long been the standard-bearer for kitschy celebrity baby names. Yes, they're the children of famous people, but I don't even want to think about how many times Audio Science will have to explain himself, or how many times Petal Blossom Rainbow will have to endure the titters of her classmates in the years to come.