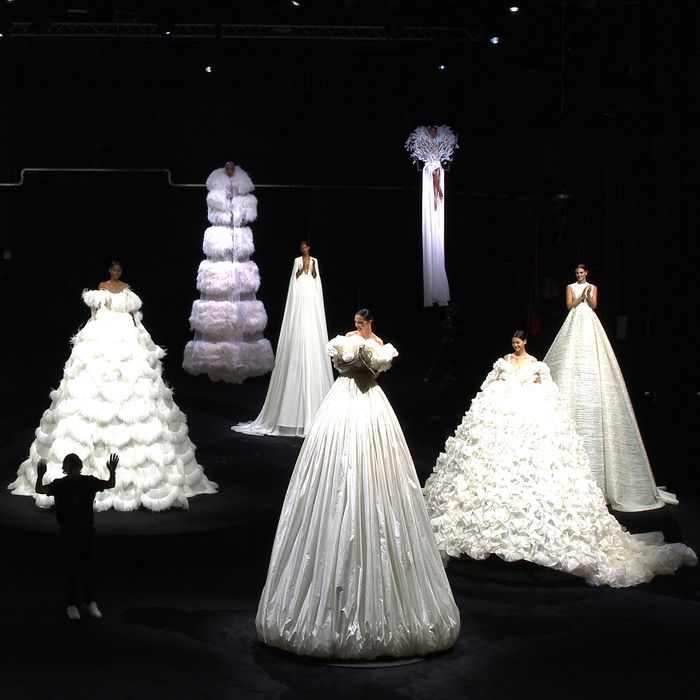 Photo: Courtesy of Valentino
This morning, we were blessed by couture angels. Virtual church was in session, and the sermon was the Valentino fall 2020 couture show.
The collection debuted in a mini film and live performance titled "Of Grace and Light," directed by photographer Nick Knight in collaboration with the brand's creative director Pierpaolo Piccioli. In punchy Nick Knight fashion, the film opens with graphics projected onto the garments as models stood on rotating platforms or swung on trapezes — Valentino gowns literally taken to new heights.
The following live performance showed the 15 models on a dark stage at Cinecittà Studios in Rome. As the weepy FKA Twigs soundtrack softly played, spotlights rose on each couture creation: ten white gowns and capes standing high on the ground, and five glimmering looks dangled overhead.
With just a livestream, Piccioli reminds us of haute couture's ability to take our breath away — and take our minds to fantastical places. "White, the sum of all colors, captures the blank slate of this new beginning, the sense of infinite possibilities," the brand said in a press release. "White as a sheet of paper waiting for it to be filled with lines and ideas. White as the toile, a symbol of the workmanship and dedication, the first step in the construction process. Again, a possibility."
See some of our favorites below, and watch the entire show here.