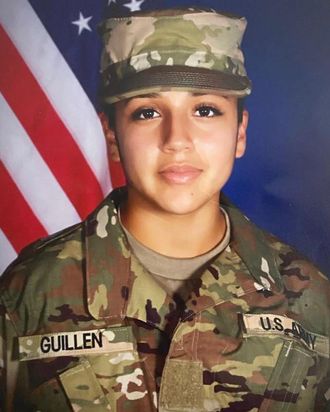 On Sunday, lawyers for the family of Private First Class Vanessa Guillen confirmed that human remains discovered near the Fort Hood military base in Texas had been identified as Guillen. It has been more than two months since Guillen, a 20-year-old from Houston, disappeared: She was last seen on April 22 in a parking lot just outside her barracks. Guillen's personal belongings, including her car keys, barracks room key, identification card, and wallet, were later found in an armory room where she had been working the day she went missing.
In the months since her disappearance, an ongoing investigation turned up little, prompting Guillen's family, who say she was being sexually harassed on the base, to retain a lawyer and keep Guillen's story in the national spotlight. Here's what we know so far.
Human remains found at an "area of interest" identified as belonging to Vanessa Guillen
On Tuesday, June 30, the U.S. Army Criminal Investigation Command (CID) said in a statement that agents who had returned to an "area of interest" near the Leon River in Bell County, Texas, found "what has been described as partial human remains after analysis from a forensic anthropologist."
On Sunday, the remains were positively identified as belonging to Vanessa Guillen, according to her family's attorney, Natalie Khawam. The family learned in a meeting with Army investigators on Thursday that Guillen was bludgeoned to death with a hammer in the armory where she worked. The killer then transported her body off base and disposed of it.
The Guillen family's attorney, Natalie Khawam, said in response to the discovery on June 30, "Our hearts are broken. We feel pain, frustration, and devastation. This shouldn't have happened … If this could happen to Vanessa, this can happen to any one of our sisters, daughters, and mothers."
The main suspect in Guillen's case, Aaron David Robinson, died by suicide this week
Twenty-year-old Specialist Aaron David Robinson, whom police identified on Thursday as the main suspect in Guillen's case, died by suicide on Wednesday morning as police were trying to make contact with him, according to the local Killeen Police Department. CID Senior Special Agent Damon Phelps said at a news conference on Thursday that Robinson and Guillen were colleagues, but worked in separate buildings and operated under different chains of command.
A second suspect, 22-year-old Cecily Aguilar, told investigators she helped Robinson hide Guillen's body, according to the police. According to a federal complaint filed Thursday, Aguilar, who was Robinson's girlfriend, helped him dismember and burn Guillen's body off base.
Aguilar has been charged with one count of conspiracy to tamper with evidence and is expected to appear in court in Waco, Texas, on Monday. She's being held at a jail in Bell County. If convicted, she faces a maximum of 20 years in prison and a $250,000 fine.
Guillen was reportedly sexually harassed during her time at the base
Guillen's family has insisted for weeks that Guillen had told multiple people she was being sexually harassed shortly before her disappearance. Late last week, with a main suspect named, Khawam said that Guillen had planned to file a sexual-harassment complaint against Robinson the day after she was killed. Her family believes she told Robinson and that motivated him to end her life. Fort Hood said in a statement that they are not aware of any pending sexual-harassment cases against Robinson at this time.
The CID maintained in a news conference on Thursday that after conducting more than 300 interviews they have "no credible information" regarding allegations that Robinson was sexually harassing Guillen.
In mid-June, though, Khawam said she had turned up two alleged incidents of sexual harassment toward Guillen at the base. In one case, a superior allegedly walked in on Guillen while she was showering; in the other, a colleague made vulgar remarks to her in Spanish. According to Khawam, Guillen had told several people that she was afraid to report the alleged incidents.
"The facts aren't good. I don't like them," Khawam said. "There were a few incidents where she had told her colleagues, her friends, her family about being sexually harassed, but she was afraid to report it. How does someone disappear on a base that has more protection and safeguards than anyone else on the planet?"
On June 18, Colonel Ralph Overland, commander of the 3rd Cavalry Regiment, said in a press release that an investigation had been launched to examine claims that Guillen had been sexually harassed prior to her disappearance. Earlier that week, the Army's Criminal Investigation Command had said in a news release that "investigators have no credible information or report that Vanessa Guillen was sexually assaulted."
Guillen's family has been searching for answers
Vanessa's 22-year-old sister Mayra Guillen told the New York Times on Monday that, after getting a call from Army officials notifying the family that they'd identified Vanessa's remains, "there's not much that can explain what we're feeling. I feel an empty presence in my chest. And for my mom, it's hard to accept. But she knows that heaven has an angel."
On June 30, Khawam said in a Facebook post that she and the family were planning to demand a congressional investigation into Guillen's disappearance. "Due to the lack of answers, safety, respect, and responsibility in Fort Hood, we are demanding a Congressional Investigation to be done," wrote Khawam. "How can someone be sexually harassed on base, go missing on base and the family has not obtained answers in the last two months?"
Earlier in June, Mayra Guillen, Vanessa's older sister, expressed frustration over a lack of leads, saying at a press conference, "This happened inside a federal building, and we're still not getting answers."
Fort Hood said in a statement on May 21 that in its initial search for Guillen the Army had deployed "more than 500 soldiers a day, searching on foot in training areas, barracks, and across the installation." The Aircraft Cavalry Division searched for more than 100 hours, according to the statement. On April 27, the U.S. Army Criminal Investigative Command began offering a reward of $15,000 for credible information about Guillen's whereabouts.
But on June 13, Mayra Guillen said she hadn't "seen a flight log or anything that proves to me that they are actually searching." The family had requested that a larger agency, "such as the FBI," take over the investigation. (The FBI was participating in the search but is not in charge of it.)
Actress Salma Hayek, Texas representative Sylvia García, and Texas state senator Carol Alvarado all joined the Guillen family's effort to keep the case on the national radar, and a dedicated Instagram account has regularly been sharing updates since early June, urging people to raise awareness under the hashtags #FindVanessaGuillen, #IAmVanessaGuillen, and #WeAreVanessaGuillen.
The sustained publicity around the case prompted many female veterans and servicemembers to share their own experiences of sexual harassment and assault in the military, accompanied by the hashtag #IAmVanessaGuillen.
This post has been updated.