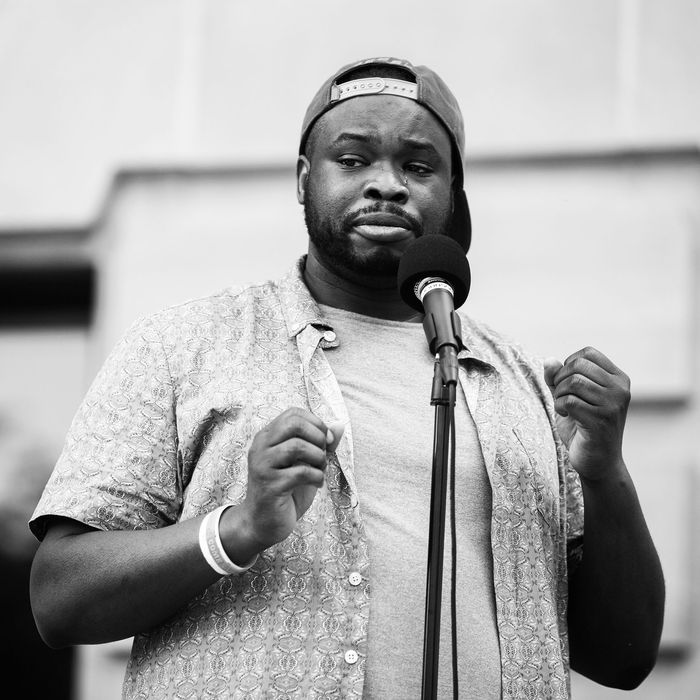 Vauhxx Booker
Photo: Jeremy Hogan/SOPA Images/LightRocket via Gett
On the Fourth of July, Vauhxx Booker and his friends planned an outing to Lake Monroe, a scenic reservoir located just outside Bloomington, Indiana, to view the lunar eclipse. "We were simply looking forward to a night of enjoying nature's awesome beauty," Booker, a county human-rights commissioner, later recounted in a Facebook post. But on their way into the lake in a heavily wooded area, Booker, 36, says five belligerent white men attempted to lynch him.
In the Facebook post, which has since gone viral, Booker says the men accused him and his friends of trespassing on private property and threatened to "get a noose." (Booker was the only Black person in his group.) In video footage of the incident, Booker can be seen on his hands and knees, being pinned against a tree by multiple people who are also flipping off the onlookers who are filming. "Stop! Let him go!" bystanders can be heard pleading. Eventually, they were successful in de-escalating the situation, and Booker says he escaped with a mild concussion and bruises. While Department of Natural Resources officers responded to the incident, where witnesses were prepared to corroborate the disturbing incident, the officers made no arrests.
The incident sparked outrage, and on July 6, hundreds of protesters gathered in downtown Bloomington to demand justice for Booker. The demonstration ended violently after a vehicle plowed into the crowd, injuring at least two people. Now, the FBI has stepped in, and is investigating the incident as a hate crime. Here's what we know about what happened.
A Black man was attacked while visiting an Indiana campsite.
According to Booker's Facebook post, he and a friend were walking to a campsite on Lake Monroe, a reservoir about ten miles southeast of Bloomington, Indiana, when he ran into a "large white male" who was seemingly inebriated and was wearing a hat with a Confederate flag design. The man falsely claimed Booker and his friend were on private property; Booker and his friend apologized, then continued on their way. Later in the evening, Booker heard the man was blocking the rest of the group from getting to the campsite and went back to try to resolve the conflict. There he encountered a larger group of men, two of whom escalated the situation by jumping on Booker from behind and knocking him to the ground. "I don't want to recount this, but I was almost the victim of an attempted lynching," Booker wrote.
In video footage of the encounter, Booker can be seen on all fours, being pinned up against a tree, where he says the men "began pounding on [his] head and ripped off some of [his] hair." He writes, "At one point during the attack, one of the men jumped on my neck. I could feel both his feet and his full bodyweight land hard against my neck."
At this point, a growing crowd of bystanders, many of whom Booker did not personally know, started attempting to intervene; in videos of the encounter, people can be heard crying, "Let him go!" In response, Booker wrote on Facebook, "the attackers told the growing group, 'we're going to break his arms' (while literally attempting to bend my arms behind me) and then stated to the members of their party several times to 'get a noose,' amongst some other choice slurs." Video footage also shows the men flipping off onlookers and demanding that they leave.
Bystanders eventually helped free Booker, who called 911; an operator transferred him to the Department of Natural Resources. According to witnesses, it took DNR agents between one and two hours to get to Lake Monroe. Per Booker's Facebook post, multiple witnesses corroborated the incident and told officers they had video footage, but the officers "refused" to make any arrests.
"They left a clear and present danger loose in our community," Booker said of the DNR officers in an interview with the Indianapolis Star. "I don't have a doubt that if it would have been five Black men who had attacked a white man, they would have been in jail that night." In his Facebook post, Booker says that he suffered a mild concussion and bruises and that the men had yanked out patches of his hair.
One of Booker's friends who witnessed the violent encounter says they had been having a conversation about racism just before Booker was attacked. "[Booker] said that Black people don't go into the forest and camping because they fear for their lives," Max Xam recounted to The Bloomingtonian. "He told his sisters he was going, and they didn't believe him."
Booker is a local activist who serves on the county's Human Rights Commission.
Booker is a well-known community organizer in Bloomington, where he has worked as a rehabilitation specialist helping people struggling with mental illness, addiction, and homelessness. He formerly served as the chair of Monroe County's Affordable Housing Advisory Commission and managed a local emergency homeless shelter. Today he serves as a member of the Monroe County Human Rights Commission.
Per the Indiana Daily Student, Booker has also been a familiar face at city-council meetings, where he has been known to take the stand at the podium to criticize city decisions. (In April 2018, he attended a meeting as a Black Lives Matter Bloomington protester and was escorted out after speaking against the city's controversial purchase of an armored vehicle for the local police department.) In early 2019, Booker was a candidate for one of the city council's at-large seats, running on a platform centered on affordable housing and more equitable representation for marginalized groups. (His bid was unsuccessful.)
"He pays attention," one of Booker's roommates told the Indiana Daily Student last year. "He listens to people around him. He has this brain that can take things in and respond in a way that's helpful."
Hundreds of people took to the streets to demand justice. The protest ended when a vehicle plowed into demonstrators.
On the evening of July 6, several hundred students and locals gathered in the Bloomington streets to demand justice for Booker. By all accounts, the Black Lives Matter protest was peaceful — until about three hours in, when a red Toyota Corolla plowed into demonstrators, carrying two people at high speed on its hood for two blocks before they were thrown off. Per The Bloomingtonian, one of the people struck by the car, a 29-year-old woman, was loaded into an ambulance on a stretcher and taken to the hospital; she reportedly suffered a head injury. According to the local police department, the other person, a 35-year-old man, "suffered abrasions to his arms as a result of falling from the vehicle."
On Wednesday, the driver of the car was identified as 66-year-old Christi Bennett, who was booked into the Monroe County Jail on preliminary charges of criminal recklessness and leaving the scene of an accident, the Indy Star reports. She has since been freed after posting a $500 cash bond. Formal charges have not yet been filed against Bennett, but Monroe County first deputy prosecutor Jeff Kehr is reviewing the case.
"When we have a peaceful protest, when we kneel for the national anthem, all of a sudden it becomes about being anti-American," Caleb Poer, a 19-year-old community activist who was at the protest, told the Washington Post. "When we up it a little bit, when we start marching and we get in the streets, what do we get? People trying to drive a car through us."
The FBI is investigating the case as a hate crime.
On July 7, Booker's attorney announced that the FBI had opened an investigation into the incident, and that they are investigating it as a hate crime. "I can tell you as a criminal lawyer of over 30 years, I never thought I would say, 'Boy am I glad the FBI are coming,' but we are," attorney Katharine Liell said at Courthouse Square in Bloomington. "We want this investigated as a hate crime. It was clearly racially motivated."
Bloomington mayor John Hamilton, who was present for Liell's announcement, voiced his intent to lend support in any way possible, even though the city does not have jurisdiction over the area where Vauhxx was attacked. "My job is to help protect my residents," Hamilton said. "I am sorry for what happened to Mr. Booker, and I am going to cooperate fully to make sure justice is done."
This post has been updated.