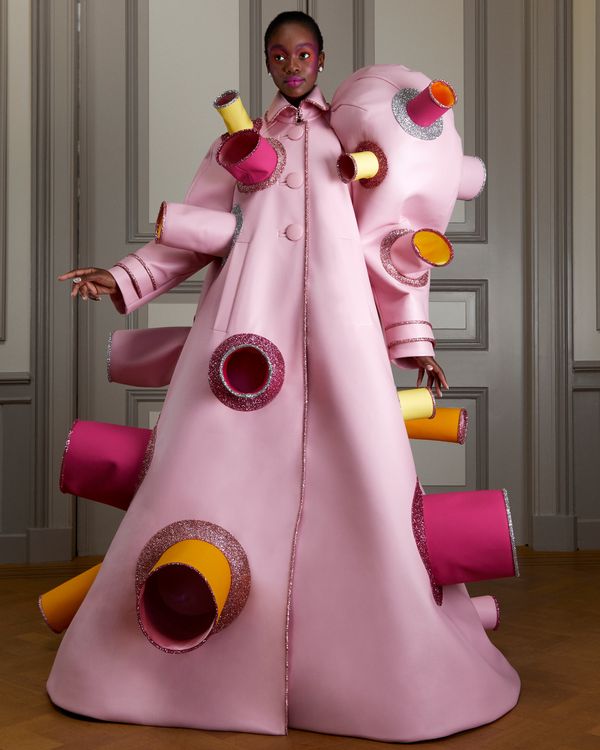 Photo: Courtesy of Viktor & Rolf
Avant-garde designers Viktor & Rolf, who last year boldly told us to "Go F*ck Yourself" via viral meme gowns, have channeled their playful theatrics into addressing the global pandemic.
For the fall 2020 couture collection, titled "Change," the duo was inspired by the roller coaster of emotions we've experienced in lockdown — feelings like sadness, confusion, and love. These took form in funky wardrobe capsules, each with a nightgown, dressing gown, and coat that "emanate a safe feeling."
It turns out that the coat manifestation of confusion is ideal for social distancing. At first, the bubblegum pink draws you in, feigning innocence. But you can't get too close — a voluminous skirt, absurdly bulbous sleeve, and tubular appendages keep strangers at bay (six feet away, to be exact). "Its generous A-line volume guarantees you will remain in your own safe zone while venturing out into the world," babbles the singer Mika in the collection video, which was filmed like a vintage British newsreel. "The abstract decoration of holes and tunnels is at the same time unapproachable as well as attractive."
While some brands opted for pure escapism with their couture collections, Viktor & Rolf reminded us that the world is rapidly changing — but even so, it's still okay to have a sense of whimsy. Clothes themselves can't change the world, but fashion always has the potential to use its voice. As the video concludes, you can always find beauty somewhere, "whether apocalypse or new spiritual area." Watch the entire thing below.