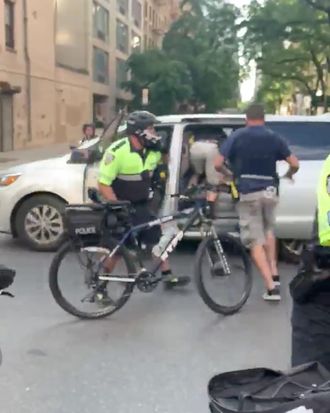 Viral video footage shows several plainclothes New York Police Department officers dragging a teenager from a crowd of protesters and throwing her into an unmarked minivan in Manhattan on Tuesday evening, then driving off while bystanders scream in horror. The footage was recorded by multiple people during a planned 24-hour demonstration against the NYPD, which seemed to be emulating aggressive tactics deployed by federal agents in Portland, Oregon, this month. There, too, protesters have been pulled into unmarked vans by agents without proper identification, breaking with precedent and raising urgent concerns over violations of civil liberties.
Gothamist reported that the apprehended individual has been identified by friends an 18-year-old trans woman named Nikki, and has been characterized by those who attended the action alongside her as a "protest leader." Witnesses said a group of about 200 people was participating in a planned 24-hour protest against the NYPD and were exiting a small plaza on 26th Street where they'd been attending a skateboarding event just before the arrest. A 32-year-old protester identified as Derrick told Gothamist, "Four guys jumped out and a line of police bicycles came out from down the block … They pushed us back. They grabbed Nikki like she was a rag doll."
Witnesses to the detention described it on social media as a "kidnapping," and the disturbing footage immediately stirred up mass outrage on social media. Congresswoman Alexandria Ocasio-Cortez tweeted in response, "Our civil liberties are on [the] brink. This is not a drill. There is no excuse for snatching women off the street and throwing them into unmarked vans."
City Council Speaker Corey Johnson described the footage as "incredibly disturbing." Public Advocate Jumaane Williams also expressed concern, adding that he was "reaching to try and get some answers." The ACLU called the NYPD's actions "dangerous, abusive, and indefensible."
Meanwhile, the NYPD claimed they were following standard procedures, confirming in a statement that cops had used an unmarked van to arrest the woman. They said she was "wanted for damaging police cameras during five separate criminal incidents in and around City Hall Park." The cavalier response reads as if anyone might reasonably be disappeared off the streets of New York on suspicion of light property damage. The statement also referred to the arresting officers as being part of the "warrant squad," which it says "uses unmarked vehicles to effectively locate wanted suspects." The video shows a man in an orange shirt with "Warrant Squad" written on it joining the effort to push Nikki into the car, but this again does not explain why the violent arrest occurred in the midst of a protest.
The NYPD added in their statement on Tuesday that the arresting officers were "assaulted by rocks and bottles," although they did not say by whom or procure any evidence of this alleged barrage.
Bystanders have disputed claims of a physical altercation with police. 20-year-old Oxford student Clara Kraebber told Gothamist, "None of that happened whatsoever. We literally turned the corner and were met with a line of police who attacked us without warning." Kraebber said protesters had been "skateboarding and eating pizza" when they were accosted by police officers who pepper sprayed the gathering "seemingly at random."
On Wednesday, Mayor de Blasio commented on the incident during a press conference, saying he thought it was the "wrong time and wrong place to effectuate that arrest," but did not comment on the use of the unmarked van. When Gothamist asked his deputy press secretary Julia Arredondo for a response on Tuesday, she forwarded links to the NYPD's statement.
Police told the Washington Post that Nikki is facing charges of criminal mischief. New York City Council member Carlina Rivera confirmed on Wednesday morning that, after being held for several hours, Nikki had been released from police custody.
This post has been updated.