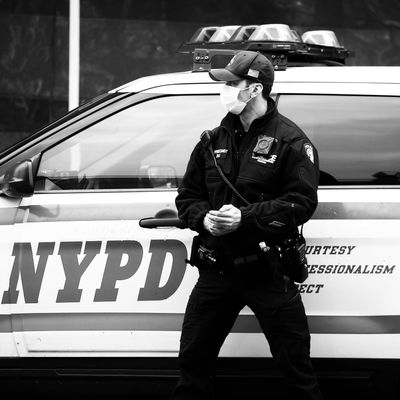 NYPD officer.
Photo: John Lamparski/Getty Images
In New York, there's an anti-loitering statute that has come to be known colloquially as the "Walking While Trans" ban. Advocates say that the law, which is ostensibly meant to target sex workers, allows officers to arbitrarily arrest and detain New Yorkers for simply walking around or standing on the street. It allows police to decide, for instance, that a woman's skirt is too short, or that she's been lingering too long on one street corner, and to apprehend her based on suspicion that she's "loitering for the purpose of prostitution." Trans women — and particularly trans women of color — are disproportionately targeted this way, activists say. "Whether you are ho-ing or not ho-ing, even if you look like you might be trans, you are going to jail," Tiffaney Grissom, a trans woman from the Bronx who has been arrested multiple times under the law, told The Village Voice in 2016.
For years, activists have called for the law to be repealed — a demand that has recently gained unprecedented momentum. As New Yorkers took to the streets in support of the Black Lives Matter movement, the push to repeal the law gained mainstream recognition alongside demands to defund the police and scrap laws that shield law enforcement from accountability. In the past month, a bill that would repeal the Walking While Trans ban has gained enough support in both the New York State Senate and New York Assembly to go to the floor for a vote. Even Governor Andrew Cuomo has vocalized his commitment to repealing the law.
However, the legislation still faces obstacles. Below, everything to know about the ban and the push to repeal it.
What is the Walking While Trans ban?
The Walking While Trans ban is a colloquial name for the Loitering for the Purpose of Prostitution law, which was enacted in 1976. Under the law, which is notoriously vague, police can apprehend anyone they assume to be engaging in sexwork, and with essentially no evidence. (Though it's mostly used against women, the law isn't gender specific, and men have been arrested on suspicion of "loitering for the purpose of prostitution," too.) "A woman can be improperly arrested and detained simply because an officer takes issue with her clothing or appearance," the Legal Aid Society wrote in a 2016 class-action lawsuit challenging the constitutionality of the law. The suit lists some examples of women who've been targeted: "women assumed to be loitering for prostitution because they were wearing a 'short dress,' 'a skirt and high heels,' 'tight black pants,' or 'a black dress.'" The city eventually dismissed much of the suit without resolving whether or not it's unconstitutional.
In 2018, after arrests for loitering for prostitution spiked 120 percent in one year, the NYPD narrowed its enforcement of the law, telling officers to cut back on arbitrarily apprehending people.
Activists say police disproportionately target trans women of color under the statute.
As the name suggests, the Walking While Trans ban disproportionately affects trans women, particularly trans women of color. At a rally to repeal the law last year, several activists characterized the ban as "stop-and-frisk for trans women," a reference to a racist law-enforcement tactic that allows officers to stop a person based on "reasonable suspicion" of criminal activity and subject them to an intrusive search.
In an interview with the Cut in 2018, Raquel, a then-23-year-old trans woman from the Bronx, recalled the night that she was apprehended. One moment, she was talking outside with her friends in East Harlem. "Next thing you know, I'm in handcuffs," she said. That night, vice-officers loaded her into an unmarked car and drove her to a precinct, where she learned she was being charged with prostitution alongside four other trans women. "Me being trans, it's like, I take pride in it," Raquel told the Cut. "But it's like, people always think of a trans woman: 'You have to sell sex. That's your dominant job.' And that's not what everybody does."
It's well documented that the law is overwhelmingly used to target women of color. According to the New York State Division of Criminal Justice Services, 152 people — 80 percent women — were arrested under the law in 2018: 49 percent were Black, and 42 percent were Latinx. In 2013 and 2014, the sex-workers'-rights group Red Umbrella Project found that in one Brooklyn court, 94 percent of the defendants charged under the loitering law were Black. The law also poses a high risk for undocumented immigrants, who could be turned over to U.S. Immigration and Customs Enforcement.
But it's harder to get a clear picture of exactly how many women targeted under the law are trans. As reporter Emma Whitford wrote in the Cut in a 2018 feature on the law-enforcement practice, "The percentage of New Yorkers charged with prostitution who are trans is impossible to know for sure. Attorneys with the Legal Aid Society say the NYPD often misgenders their trans clients, listing them as men."
The movement to repeal it has recently gained momentum.
Last year, sex workers and trans activists traveled to Albany, where they urged lawmakers to support a bill that would repeal the law, sponsored by State Senator Brad Hoylman and State Assemblymember Amy Paulin; other elected officials threw their support behind the measure. But ultimately, the legislation didn't make it far: While it reached the Assembly floor, it failed in the Senate Codes Committee.
In the past year — and in particular, the past few months — the push to repeal the law has gained new momentum. In February, the New York City Bar Association declared its support of repealing the bill. On June 3, more than 90 organizations signed a letter addressed to Cuomo, Assembly Speaker Carl Heastie, and Senate Majority Leader Andrea Stewart-Cousins, urging them to prioritize repealing the loitering law. On June 10, Hoylman announced on Twitter that a majority of the State Senate had signed on to co-sponsor his and Paulin's legislation (S2253/A654) repealing the ban. "Now," he tweeted, "we need to get it to floor of the Senate and Assembly."
In late June, Cuomo vocalized his intent to repeal the statute this year, as well as his commitment to combating "anti-trans violence" at large.
But the law still has a few hurdles. According to a coalition dedicated to repealing the Walking While Trans ban, the bill currently has a majority of support in both the House and Senate, with 66 Assembly co-sponsors and 36 Senate co-sponsors. However, the legislation is lacking the key support of Heastie and Stewart-Cousins, who can move it to the floor for voting — and who are facing mounting pressure to do so. In the past week, elected officials and locals alike have participated in social-media campaigns about the discriminatory ban, many of which have been directed at Heastie and Stewart-Cousins.
"We need an extra push to ask Andrea Stewart-Cousins and Carl Heastie to move this bill to the floor for a vote," the Walking While Trans–ban coalition tweeted today, encouraging followers to send selfies and vocalize their support to the elected officials. "WE ARE READY, NEW YORK."