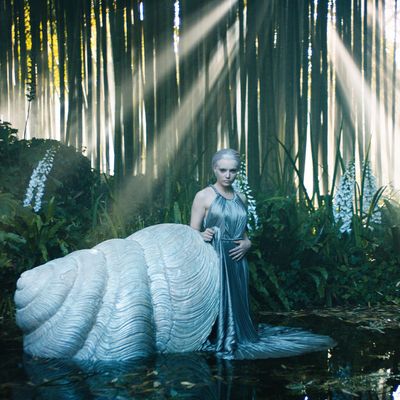 Snail lady in Dior Haute Couture.
Photo: Courtesy of Dior
What do mermaids, sentient statues, snail ladies, and horny tree nymphs have in common? The answer to this question you've never asked is that they all wear Dior haute couture.
In order to safely present its fall-winter 2020–2021 haute couture collection during a global pandemic, Dior did things a bit differently. "We knew we couldn't do a real show, so it was very clear from the start that my reference needed to be tied to the dream or fantasy world," says creative director Maria Grazia Chiuri in a video. This crystallized into teeny-tiny couture dresses and a surreal short film.
The film begins in the atelier, where ten minidresses on 16-inch dolls are packed into a trunk shaped like the historic Dior headquarters at 30 Avenue Montaigne in Paris and transported across a Narnia-like landscape by two bellhops. Like door-to-door salesmen, they present the miniatures to mythical beings who happen to have a taste for Dior couture. (It's worth noting the cast is entirely white, which has earned criticism for the brand amid worldwide Black Lives Matter protests.) River nymphs frolic in the water with mermaids before timidly choosing their dresses. A human-size snail-woman hybrid emerges from her massive shell to get measured. A horny tree nymph pauses her make-out session with a hunky tree man to delicately caress her selection. And a normal human woman makes her pick, getting a grin of approval from her satyr husband.
Having made the rounds, the atelier seamstresses get to work making life-size versions for their customers. In their idyllic land, the mermaids can swim, the tree nymph can kiss, and the snail lady can come out of her shell — all in Dior couture.
Woven into the fantasy is an important reference from fashion history. During World War II in France, in order to promote the idea that the country's couture was still very much alive, artists and fashion designers collaborated on a project called Théâtre de la Mode, in which couturiers created miniature clothes for dolls. These dolls were then shipped across the world to remind the public of the power of art in difficult times. Given their tiny scale, the attention to detail had to be obsessive, and Dior has replicated that here. The horny tree nymph's dress took three seamstresses 300 hours to make.
Watch the short film below.