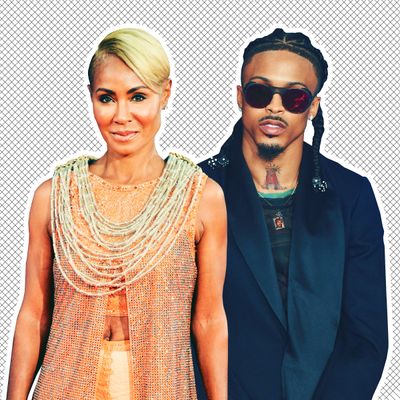 Jada Pinkett Smith and August Alsina.
Photo: Getty Images
In an interview with Complex published this week, 27-year-old R&B singer August Alsina addressed the long-standing rumors about his alleged relationship with Jada Pinkett Smith, 48, saying that "I totally gave myself to that relationship for years of my life, and I truly and really, really, deeply loved and have a ton of love for her (Jada). I devoted myself to it. I gave my full self to it." Alsina also said he had a conversation with Pinkett Smith's husband, Will Smith, and that the actor had given their relationship "his blessing."
Hours after the story was published, however, reps for Pinkett Smith called the claims "absolutely not true. " Then, on Thursday, Pinkett Smith tweeted that "There's some healing that needs to happen … so I'm bringing myself to The Red Table," referring to her Facebook Watch series, Red Table Talk, a talk show she hosts with her daughter Willow, and her mother, Adrienne Banfield Norris, in which they interview celebrities, friends, and family members around a red table at the Smith family home in Malibu. And at the Red Table on Friday, Pinkett Smith confirmed her past "entanglement" with Alsina.
Were Pinkett Smith and Alsina in fact having an affair? Did Will Smith know about it? Do the Smith's have an open relationship, as has long been suspected? Below, what we know about this drama.
Rumors have been swirling about Alsina and Pinkett Smith's relationship for some time now.
In the Complex interview with Angela Yee this week, Alsina, who is currently promoting his new album, The Product III: stateofEMERGEncy, says he was introduced to Pinkett Smith by her son, Jaden, in 2015. He and this Smiths developed a close relationship over the years, and in the interview Alsina said he loves the Smiths, and that they are "like family."
In 2019, Alsina released a track called "Nunya," which many suspected was about Pinkett Smith. The song included the lyrics "You got me feeling like it was an act, you're just an actress/Putting on a show 'cause you don't want the world to know," and the official music video features a shots of a text conversation with someone named "Koren *broken heart emoji*" (Koren is Pinkett Smith's middle name).
Later, Alsina denied the song was about Pinkett Smith. According to XXL, in an Instagram post of April of last year, Alsina wrote: "So Here's To Clarity, The Song is not about Jada. It's simply JUST A SONG , & a free artistic expression of a made up narrative already put in place by its ORIGINAL format. Thankyou for all of your love around the music & more is to come but please know that Me & my BEST (@jadapinkettsmith )are good!!! & We will always be, 4Life! We've been talking eryday while all this has taken place."
Alsina says leaving the relationship was the "hardest thing I ever had to experience in this lifetime."
The singer said he's only opening up about he and Pinkett Smith's relationship now because "I'm not OK with is my character being in question." He says that even though he doesn't like drama, and drama makes him "nauseous," in this instance "there are so many people who are side-eyeing me … I've lost money, friendships, relationships behind it. And I think it's because people don't necessarily know the truth. But I've never done anything wrong. I love those people (the Smiths) … They are beautiful people."
He went on to say that, after he and Will Smith sat down, and he got Smith's blessing, he gave himself fully to his relationship with Jada. "So much so that I can die right now, and be OK knowing that I fully gave myself to somebody … Some people never get that in this lifetime."
Walking away from the relationship, he says, "butchered" him. Per Complex:
This conversation is difficult because [it's] hard for people to understand. But once it starts to affect me and my livelihood, I have to speak up about my truth … Walking away from it butchered me … It almost killed me. Not almost. It did — it pushed me into being another person … It broke me down … It probably will be the hardest thing I ever had to experience in this lifetime. It's difficult because I never want to be the person to cause confusion or step on toes, but I want to honor myself and I want to honor my authenticity. And if honoring my authenticity means you hate me, stone me, shoot me, crucify me, whatever, bury me an honest man."
There has also been lots of speculation that Jada Pinkett Smith and Will Smith are in an open relationship.
The rumors about Alsina and Pinkett Smith's relationship might have seemed more credible due in part to the fact that people have long suspected the Smiths of having an open marriage.
In 2013, for example, Pinkett Smith told HuffPost: "I've always told Will, 'You can do whatever you want as long as you can look at yourself in the mirror and be okay.' Because at the end of the day, Will is his own man. I'm here as his partner, but he is his own man. He has to decide who he wants to be and that's not for me to do for him. Or vice versa."
As "Page Six" notes, when the public started suspecting that the couple had an open relationship, Pinkett Smith addressed the claims in a Facebook post, writing: "Open marriage? […] The statement I made in regard to, 'Will can do whatever he wants,' has illuminated the need to discuss the relationship between trust and love and how they co-exist. Do we believe loving someone means owning them? Do we believe that ownership is the reason someone should 'behave'? Do we believe that all the expectations, conditions, and underlying threats of 'you better act right or else' keep one honest and true?"
She concluded: "Here is how I will change my statement … Will and I BOTH can do WHATEVER we want, because we TRUST each other to do so. This does NOT mean we have an open relationship … this means we have a GROWN one."
In 2015, she reiterated her message, telling Howard Stern that "I'm not his watcher. He's a grown man … I trust that the man that Will is is a man with integrity. He's got all the freedom in the world … and as long as Will can look himself in the mirror and be okay? I'm good."
Three years later, Will also said in an interview that he and Pinkett Smith consider each other "life partners" more so than husband and wife.
"We refer to ourselves as life partners, where you get into that space where you realize you are literally with somebody for the rest of your life," he said. "[There are] no dealbreakers. There's nothing she could do — ever — nothing that would break our relationship. She has my support till death and it feels so good to get to that space."
Jada Pinkett Smith confirmed her relationship with August Alsina on Red Table Talk.
As promised last week, Pinkett Smith did indeed bring herself to the Red Table on Friday. Joined by her husband, she confirmed that she and Alsina had a relationship about four-and-a-half years ago, during a rocky separation about which, Smith insisted, the actors "specifically never said anything."
Emphasizing that she felt the situation was "private," Pinkett Smith explained that she "started a friendship with August" that became extremely close as the family tried to help him with his health. "From there, you and I were going through a very difficult time," Pinkett Smith told her husband, who agreed, saying, "We decided to separate for a period of time, and you go figure out how to make yourself happy, and I'll figure out how to make myself happy."
"From there, as time went on, I got into a different kind of entanglement with August," Pinkett Smith said, clarifying at Will's prompting that the entanglement was a "relationship." Pinkett Smith also noted that "the only person that can give permission in that particular circumstance" was her, not Will, but that she thought Alsina "wanted to make it clear" with his wording "that he's not a home-wrecker, which he's not."
"I just wanted to feel good," she said. "It had been so long since I felt good. And it was really a joy to just help heal somebody."
Noting that it felt "weird" to her that "all this stuff was coming out now," Pinkett Smith added, "I actually don't look at it as a transgression at all. Through that particular journey, I learned so much about myself and was really able to confront a lot of emotional immaturity, emotional insecurity, and I was really able to do some really deep healing. And as I came through and started to realize some things about you and I," she told Smith, "he decided to break all communication with me. Which was totally understandable." But now, she said, she and Smith have "really gotten to that place of unconditional love."