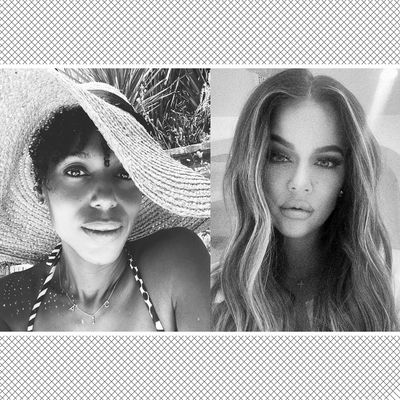 Photo: @kerrywashington, @khloekardashian/Instagram
According to most dictionaries, the word challenge indicates a difficult, complex task or situation to be conquered; a charged invitation to action; or a rejoinder to someone's argument. According to the informal tenets of social media, however, the word challenge typically means "posting a photo of yourself in a certain context, oftentimes for an ostensibly good cause, ideally looking attractive." Some recent examples include: the pillow challenge, which saw celebs posing with a pillow belted to their front, cheekily naked but for their downy shields; the 2009 vs. 2019 challenge, which really highlights hotness accumulated over time; and this week's #WomenSupportingWomen #ChallengeAccepted challenge, which appears to ask women to post a flattering black-and-white selfie from their camera rolls.
While many of the posts tagged #ChallengeAccepted make it difficult to determine how the challenge started or what it's supposed to achieve, at least 3 million posts have accumulated under the hashtag nonetheless. Let's take a closer look.
What is #WomenSupportingWomen? What does it mean?
On Monday, a raft of celebs began posting well-lit photos of themselves in black-and-white, usually with a caption espousing the virtues of women in general and maybe two to three women in particular.
"Thank you to all the magical women in my life for the endless love and support. ✨ May we all continue to shine a light on one another," Reese Witherspoon, for example, captioned her contribution. "This is what sisterhood is all about."
"To all my Queens," Khloé Kardashian added. "Let's spread love and remember to be a little kinder to one another."
"Challenge accepted ladies!" Eva Longoria wrote. "Women supporting women! So many women to tag and thank!"
Per an Instagram spokesperson, this hashtag is "meant to celebrate strength, spread love, and remind all women that supporting each other is everything."
Okay, but where did it begin? And how did it spread so far?
There are a few conflicting theories about how the challenge started. Writing for the New York Times, Taylor Lorenz points out that there have been previous iterations of social-media users posting black-and-white pictures with the hashtag #ChallengeAccepted, including a 2016 campaign meant to raise awareness for cancer. An Instagram representative told the Times that the first post "for this current cycle of the challenge" emerged a week and a half ago on the page of the Brazilian journalist Ana Paula Padrão. A PR and "influencer marketing manager" at the social-media firm Later speculated that the latest round of black-and-white selfies could have been inspired by Representative Alexandria Ocasio-Cortez's electric speech on the House floor last week, in which she addressed being called a "fucking bitch" by a male colleague, and which apparently resulted in a spike in social-media posts about feminism and women's empowerment.
Others have said that women in Turkey began posting black-and-white photos on social media last week to protest femicide and domestic violence and to grieve the violent death of Pinar Gültekin, a university student who was reportedly killed by her ex-boyfriend this month. The writer Mina Tumay created the following graphic, which has been shared widely:
However, according to Lorenz, Instagram confirmed that the resurgence of the hashtag in Turkey was "unrelated to the version of the challenge that spread in the U.S."
Meanwhile, the tag-you're-it nature of the challenge — friends tagging friends tagging friends into infinity, urging them to share their own tastefully hot selfies — means that any original aims of the hashtag have now been obscured. As with the "Imagine" video certain celebs used to convey that #WeAreOne amid a pandemic and its attendant economic crisis, or the #itakeresponsibility anti-racism PSA, the social-justice message feels a little hollow when the main focus is on participants' flawless faces. I mean, #WomenSupportingWomen could actually be — as supermodel Cindy Crawford captioned her glamour shot — "a simple way to lift each other up," but this challenge now seems to be mainly about the poster lifting herself up.
This post has been updated.