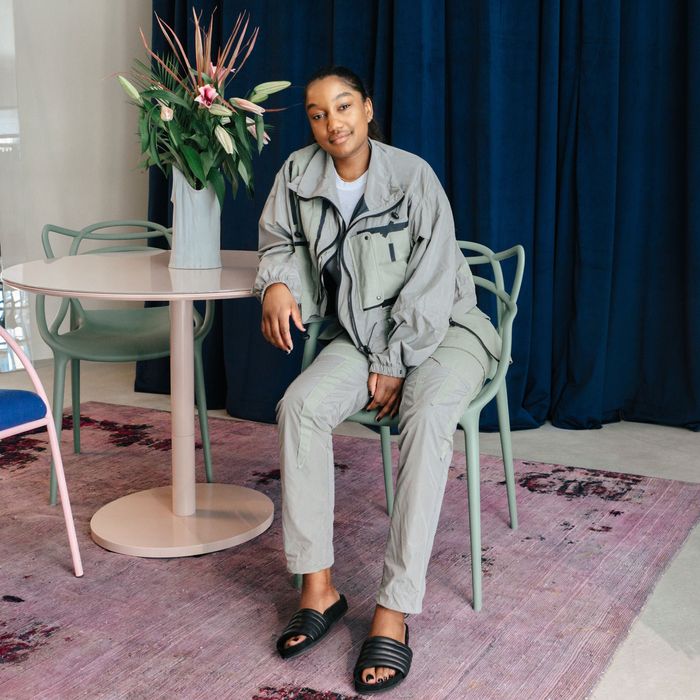 With the recent news about sister retailers/e-tailers Totokaelo and Need Supply closing, the future of a certain kind of curated multi-brand shopping — the kind that's all about helping cool people find cool new things — looks grim. In the middle of a pandemic, a recession, and a historic fight for racial equality, who has the time or money to wander around a shop looking for new designers? But Telsha Anderson believes in supporting up-and-coming creatives — especially creatives of color — and the optimism behind her new store, t.a., is inspiring.
Anderson is the founder, owner, and buyer for t.a, which is based in Manhattan's Meatpacking District and feels sort of like it could fill the hole left by Totokaelo and Opening Ceremony, another multi-brand casualty of the last year. The brick-and-mortar retail space, which opened its doors last Wednesday, offers globally sourced looks from up-and-coming brands including Ellery, PRISCAVera, William Okpo, Ottolinger, Barragan, and more.
Anderson initially planned to debut her concept boutique in March, with the e-commerce site to follow three to four months later. But the COVID-19 lockdowns in New York City forced her to revisit her opening strategy. The brand launched an e-commerce site within 24 hours in place of the store opening, and has since gained popularity among celebrities and influencers through Instagram.
The Cut talked to Anderson about her career change from social media to retail owner, her fears around opening a store during a pandemic, and what it's like running a Black-owned business right now.
How did you get into retail? You were in social media for a while, right? 
I went to Syracuse, majored in Communications, and minored in Retail Management and African-American Studies. I didn't know what I wanted to do. Then I started reading articles online about buyers for major brands, and I was like, I could do that! I started applying to jobs after college, but none of them were hiring, and with the social-media boom, everyone wanted to hire a young Black girl to come work for their company doing social. So I ended up doing that.
I did social for Food & Wine magazine, Hypebeast's Hypekids, and Atlantic Records as a freelance consultant. And then I went to work at Purple PR as influencer manager. I worked there for nine months while writing a business plan for the store. I would run to look at the place on lunch breaks, and then one day in August, I booked my flight to Paris for market week.
A week before I quit, I cold-emailed different brands. Some of them are not in the U.S., let alone in New York, so I tried to sell them on the area. When I started getting all of these responses, I knew it was time to leave and pursue the store full-time.
How did you figure out the aesthetic? Everything on your Instagram is so satisfying to look at.
After I quit, I went to Paris and sourced everything. Some of the pieces in the store I wasn't even expecting to have — like Mozh Mozh. They're a great brand from Peru. I accidentally saw them in a showroom and started to see how the buy could develop, if that makes sense. I was able to put pieces together, like Okay, I got this for this spread over here. Let me get this over here.
I definitely want someone to feel like they are walking into either my living room or my closet or literally my brain, so that was the goal for the build-out. Of course Black designers were a must-have, so I reached out to some of them. The buy just came together seamlessly. There was some struggle throughout, but overall it felt like I was walking in my purpose. And then I started the buildout of the store, with the architect, in October.
It seems like a crazy time to open a store. Were you worried?
Where do I even start? Of course it was scary. We were supposed to open in February, but then that got pushed back to March because of construction. And as soon as I started to make plans overseas, everyone was like "We can't send you the product right now. Our factories are closing because of coronavirus." That was like five of our brands. I knew I couldn't open with only half of a store full of products, and then we got the wave in New York City and everything started closing down. And yeah, I mean, I was fearful, I cried all the time for like a good week. But then one day I woke up thinking People are going to know T.A. New York is a thing! I built the website in 24 hours and then I launched it, and I already had the Instagram name so I started to post on there and kind of just plug it that way. And surprisingly enough, the traffic has been insane.
It must have been especially scary because so many other stores are closing.
To see different stores closing is sad, but in some odd way also comforting because that is my competition. If I look at it from that perspective, it's like, They did an amazing job. Now, let's take what they did and move forward towards a new way of buying, especially for women. 
And you're a Black woman owning this store. Everyone knows where they need to be shopping. They better know. 
Definitely. The "support Black-owned business" boom hit just as I was about to open. It's unfortunate that happened at the cost of a Black life. That is tragic and so upsetting. But in that same breath, it is nice to see people wanting to show up for our community. Are they too late? Yes. But I'm glad that they are doing it.
I always tell people it's the craziest time to be opening a store, but also the best time. There were some people who came in yesterday during our opening who were just happy to be outside and exploring the area. Once this is over, I do believe there will be a surge of people that will want to be out.
In order for me to get through lockdown, I did a lot of praying. I am a faith-driven person, so I was listening to any sermon I could, trying to grab hold of some type of faith in the universe and God. And, too, just realizing — not to get all spiritual — but if he, God, allowed me to come this far, then he wanted it to happen. There have been plenty of times throughout the process where I felt like the door was closed, but another one just opened.
t.a. is located at 332 W 13th Street, Unit B, New York, NY. Open Tuesday through Sunday 11 a.m. - 5 p.m.; guests can book private appointments from 10 a.m. - 11 a.m. or 5 p.m. - 6 p.m.