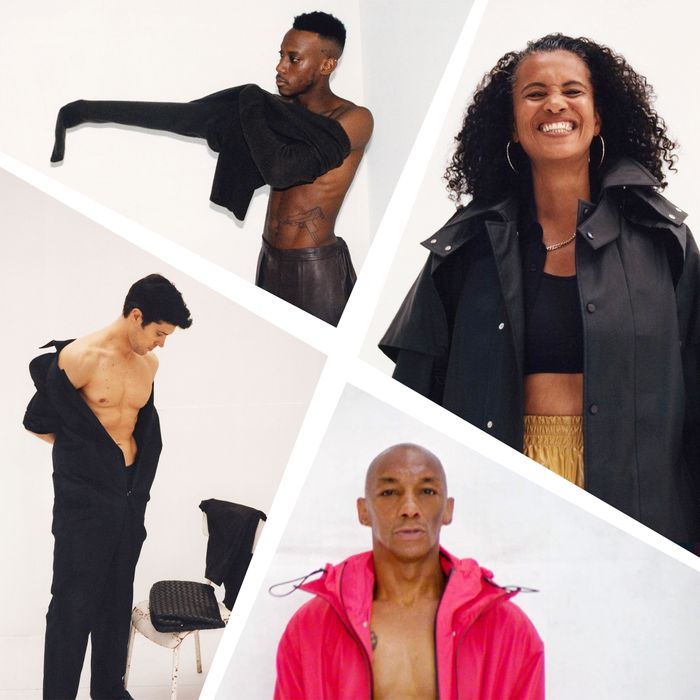 Men (and non-men) in Bottega Veneta's new men's wear video, including (clockwise from top left) the rapper Octavian, singer Neneh Cherry, musician Tricky, and dancer Roberto Bolle.
Photo: Courtesy of Bottega Veneta
When it's hard to remember what week it is, it's doubly hard to pin down what fashion week it is. Or when. Or, honestly, why. As the fashion industry has worked to face the challenges of the COVID-19 era, fashion week as we knew it was one of the first sacred cows to be sacrificed: February's European shows made it to the finish line, even as editors flew home en masse, but the summer menswear weeks were canceled, and plans for September are still being debated. (There will be some presentations, organized by the major fashion capitals, but participants and attendance are still TBD.)
Still, the last few weeks have been a lesson in the dogged perseverance of the largest brands. Suddenly, shows that would have been globe-spanning boondoggles — Prada, Gucci, Dior — are digital extravaganzas, though it can be hard to figure out exactly what they're showing. (Next spring's menswear? Women's cruise collections? Something else?) The methods varied; Prada made an art piece of sorts, Dior essentially threw a ball and invited nobody to come. (They staged a live show and streamed it instead — the kind of compromise that flies under the grotesque banner of "phygital.")
Now in rides Bottega Veneta, a major brand with major backing. (Bottega isn't as large as some of its siblings in the Kering group, but it still brought in €274 million in sales revenue in the first quarter of this year, even as COVID-19 forced store closures.) It's hard to ignore Bottega's contribution to the what-should-a-show-be digital debate — or at least it was hard for me because, to my surprise, the company sent a leather-trimmed digital projector to my apartment to blast its new men's wear video at wall-size.
What is it? It's menswear, though it's not exclusive to men. And it's not a show — it's not even all new. (The clothes are a mix of the latest men's collection with previously-released pieces.) Creative director Daniel Lee and his frequent collaborator, the photographer Tyrone Lebon, put together a video to try to answer the question of "What is a man?" "The film explores the potential of masculinity," Lee said in a statement. "There is no one set way of being a man. It's up to us as individuals to define. And in our own time."
Given that a definitive answer is impossible, it's either smart or beside the point to take this approach. The video is more honest than most shows (if that's even the word) in being an exercise in pure, unfiltered content. I can't shake the sense Bottega doesn't quite know what to do with it. It is streaming on BottegaVeneta.com, although you'd be forgiven for not realizing that, since it can only be accessed by a direct link, and isn't on the main homepage; it's also on the fab independent and international film streaming service Mubi.com (basically an art-house Netflix), but isn't part of any more overarching partnership between the two.
But if you can find it — it's here — it's an atmospheric way to spend eight or ten minutes. Especially where men's wear is concerned, Lee is still establishing Bottega's new look. What stands out among the clothes is so astringently fashion — an oversized pair of denim bib overalls, a neon-kiwi hybrid of a Chelsea boot and a wader — that you'd have to conclude driving sales isn't the point. The taste is. It peeks through, not only in the Day-Glo boots, but also a very smart trench, the extra inch of clomp on the sole of a shoe. And in the company, who were assembled from the ranks of the great, beloved, but still somehow underacknowledged, and whose murmurings on what makes a man score the piece. There's the choreographer and dancer Michael Clark ("There were comments from the ballet teachers, saying, you'll never get a job dressed like that"). The electronic pioneer Tricky. And Ms. Buffalo Stance herself, Neneh Cherry. I can confirm, she looked great at wall-size. Someone give that woman a billboard.