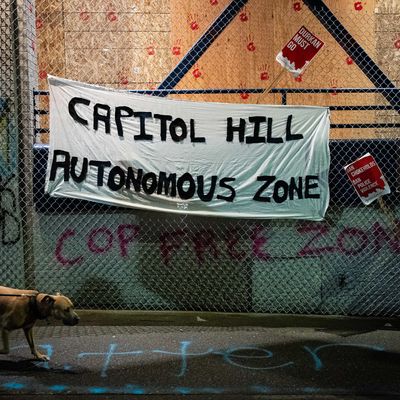 Photo: David Ryder/Getty Images
On June 9, an area of around six blocks in downtown Seattle became known as CHAZ, the Capitol Hill Autonomous Zone. It was formed after several nights of intense, sometimes violent standoffs between police and protesters; eventually, police ceded the area surrounding a precinct to the protesters. In the absence of law enforcement, a kind of police-free commune sprang up, rebranded after a few days from CHAZ to CHOP, the Capitol Hill Organized Protest. The occupation quickly became a nightmare bogeyman for conservatives, including the president, who seemed to think it was a "territory" "claimed" by antifa radicals (antifa, which is not a formal organization, has not claimed any responsibility for CHAZ), "Mad Max movie mayhem come to life," and run by a group of "domestic terrorists" whose "warlord" was a SoundCloud rapper (also false).
CHOP was initially reported as being "extremely chill" — some organizers even criticized participants for acting like the occupation was a music festival — but several shooting incidents occurred in the area after June 20, and Seattle mayor Jenny Durkan subsequently announced that the police would be returning to the precinct. On June 25, a group of neighborhood residents and businesses sued the city for "extensive harm" they say CHOP caused. And on July 1, police finally moved into CHOP to clear protesters, arresting 13 in the process.
Here's everything we know about CHAZ/CHOP:
Who created the Capitol Hill Autonomous Zone?
After protests began in Seattle at the end of May, standoffs between protesters and police became intense almost nightly, so much so that lawyers with the Seattle firm Perkins Coie, the American Civil Liberties Union, and the Seattle University School of Law filed a lawsuit against the city on behalf of Black Lives Matter Seattle–King County and others. "On an almost nightly basis, the SPD has indiscriminately used excessive force against protesters, legal observers, journalists, and medical personnel," the lawsuit says. It alleges that as late as Monday, June 8, police officers deployed tear gas despite a pledged 30-day moratorium.
A day later, on June 9, Seattle Police Chief Carmen Best announced a "decreasing footprint" around the East Precinct at 11th Avenue and East Pine Street, which had become a "flash point" of clashes between protesters and police. "Protesters have requested it, they want the streets open for peaceful marches, and we're going to facilitate that opportunity for them," Best said. "This is an exercise in trust and deescalation." Law enforcement boarded up windows in the precinct and were seen removing items from the building. Once they were gone, protesters moved in on Pine and set up camp, reversing barricades in order to create a protected zone of about six blocks.
When did CHAZ become CHOP?
Competing agendas in CHAZ were reflected in its name change to CHOP, which stands for Capitol Hill Occupied Protest. By June 13, according to chaz.zone, a CHAZ website "intended to document and culturally preserve" the occupation, protesters began altering graffiti and other signage from CHAZ to CHOP "following discussions to 'rebrand' to focus on the 'occupancy/organized protest' aspects." One participant named Maurice Cola told KOMO News, regarding the name change, "We're noticing a lot of tourists coming in and some of the narratives are getting lost with all the extra added energy … We're trying to keep the focus. This is not Coachella."
What was inside CHOP?
Initial reports from CHOP, described by The Stranger in its early days as "exceedingly chill," made it sound like a mix of Occupy Wall Street and a college independent cooperative dorm. The cordoned-off area includes apartments, businesses, and the precinct, with protesters free to gather away from any police. According to news reports and accounts from observers, there was a "No Cop Co-Op" with free food, vegan pizza, LaCroix (and White Claw), a hot dog stand (not free), a medical center, a Mutual Aid Books table, a garden, and a giant Black Lives Matter mural.
Protesters reportedly screened Ava DuVernay's 13th and Paris Is Burning in the intersection, and some have hosted people's assemblies to discuss demands. One night, members of the Lakota and Yakama tribes performed. A protester told the New York Times that CHOP residents "are trying to prove through action and practice that we don't need [the police] and we can fulfill the community's needs without them."
What were the CHOP demands?
Unsurprisingly, the future of CHOP and its plans for the East Precinct were somewhat up in the air from the beginning. Some protesters released a list of 30 demands on Medium; they say that the documented is intended "to represent the black voices who spoke in victory at the top of 12th & Pine after 9 days of peaceful protest while under constant nightly attack from the Seattle Police Department." They include that the city of Seattle defund and abolish the Seattle Police Department, ban the use of armed force, and provide reparations for victims of police brutality. On Wednesday, June 10, Kshama Sawant, a City Council member affiliated with the Socialist Alternative Party, led protesters from CHOP to City Hall, during which she called for the resignation of Mayor Jenny Durkan and promoted her plan to tax Amazon. Sawant wrote on Twitter the following day that she wants to convert the East Precinct to a "community center for restorative justice."
But some people involved were clearly wary of the involvement of politicians at all and of distracting participants from the focus on racist police brutality: Moe'Neyah Dene Holland, a Black Lives Matter activist, told the Times that CHOP "should focus on just this one thing first … The other things can follow suit. Because honestly, black men are dying and this is the thing we should be focusing on."
Misinformation about CHOP abounded, especially in right-wing circles.
Misinformation abounded immediately from the right wing regarding CHOP, attempting to portray it as both dangerous and violent as well as silly "woke-ness" gone mad. One pernicious Twitter post claimed, "A SoundCloud rapper becoming the warlord in an Antifa insurgency-controlled autonomous zone in Seattle is proof we live in a simulation," referring to Seattle rapper Raz Simone, who, yes, has a SoundClound and is a protester involved in creating CHAZ but did not declare himself a "warlord." The American Conservative, the New York Post and other outlets, and pundits like Tucker Carlson repeated the claim. Simone responded by posting a screenshot of a tweet claiming he was the leader of Seattle antifa on his Instagram story with the caption "yo y'all are stupid."
The hysteria traveled all the way up to Donald Trump, who tweeted on June 10 that "Domestic Terrorists have taken over Seattle, run by Radical Left Democrats, of course," and that "Radical Left" Governor Jay Inslee and Mayor Durkan "are being taunted and played at a level that our great Country has never seen before. Take back your city NOW. If you don't do it, I will. This is not a game. These ugly Anarchists must be stooped IMMEDIATELY. MOVE FAST!"
Fox News was forced to apologize after digitally altering two different photos taken from CHOP ten days apart to make it appear that a gunman was standing threateningly in front of a welcome sign. Seattle police walked back a previous claim that some businesses were being extorted to be able to operate in the area, with Best clarifying that they have not actually had any formal reports of extortion occurring. A few business owners told the Daily Beast that were in favor of the protests, and that it was even helping improve business after the coronavirus shutdowns.
However, on June 25, a group of owners and area residents sued the city for, they say, allowing CHOP to cause "extensive harm" to their area by abdicating the precinct. The law firm representing the group said that the plaintiffs "support protesters' right to bring issues such as systemic racism and police brutality," but that, "for more than two weeks, and with the full knowledge and participation of the City, our clients' neighborhood and properties have been blocked, barricaded, occupied, and vandalized." A second similar lawsuit with an undisclosed number of plaintiffs was filed on June 29.
There were several shootings in the CHOP area.
Two separate shootings occurred within CHOP on the early morning of Saturday, June 20, injuring 19-year-old Horace Anderson and a 33-year-old man; Anderson later died. In a statement, Seattle police said that the suspect or suspects fled, and the motive for the shootings is unknown. A volunteer medic told the New York Times that he treated Anderson, and called the Fire Department to come and help, but the Fire Department wouldn't come. CHOP medics eventually took Anderson to the hospital themselves.
Several more shootings have occurred since then: On June 21, after 10 p.m., a 17-year-old was shot in the arm and transported by a private car to the hospital, where he was treated and released. On June 23, a man in his 30s was shot within CHOP. The victim was able to meet medics and the Fire Department at a designated place, after which he was taken to the hospital by the Fire Department and treated for non-life-threatening injuries. Police said he declined to give them a description of the shooting or suspect. And on June 29, around 3 a.m., police following up on multiple reports of gunshots found a white Jeep Cherokee "riddled with bullet holes," sitting near or at one of the CHOP barriers. Authorities transported two teenage victims to Harborview Medical Center, where one — a 16-year-old — died from their injuries. The other, age 14, remains in critical condition in Harborview's intensive care unit.
"People are not being cooperative with our requests for help," Seattle Police Chief Carmen Best said of CHOP residents at a Monday news conference, according to the New York Times. "It is abundantly clear to our detectives: People had been in and out of the car after the shooting," contaminating evidence. Best also asked protesters to move out of CHOP, ASAP: "We're asking that people remove themselves from this area for the safety of the people, if they care about people, they're going to have to try to help us to make it safe," she said. "There are people who live here, there are multiple people being injured and hurt, and we need to do something about it. Is it absolutely irresponsible for this to continue."
Police have moved in to dismantle CHOP
Durkan first announced that CHOP would be dismantled on June 22, in a press conference in which she said that "the impacts on the businesses and residents and community are now too much," although she did not give an exact timeline. A day later, she released a new city-budget proposal that reduced the police department's budget by 5 percent — protesters had demanded 50. Though a Twitter account calling itself the Capitol Hill Occupied Protest (Official Account) subsequently posted a statement saying that CHOP was "concluded," and encouraging protesters to vote for Joe Biden for president and to reelect Durkan, other CHOP residents denounced it. Many remained in the area for another week.
In the early hours of July 1, Durkan signed an executive order declaring CHOP an "unlawful assembly," and Seattle PD started to move back into the area. Videos taken by onlookers showed lines of police on bikes and with batons bearing down on remaining protesters, using pepper spray. At least 13 arrests were reportedly made.
This post has been updated.