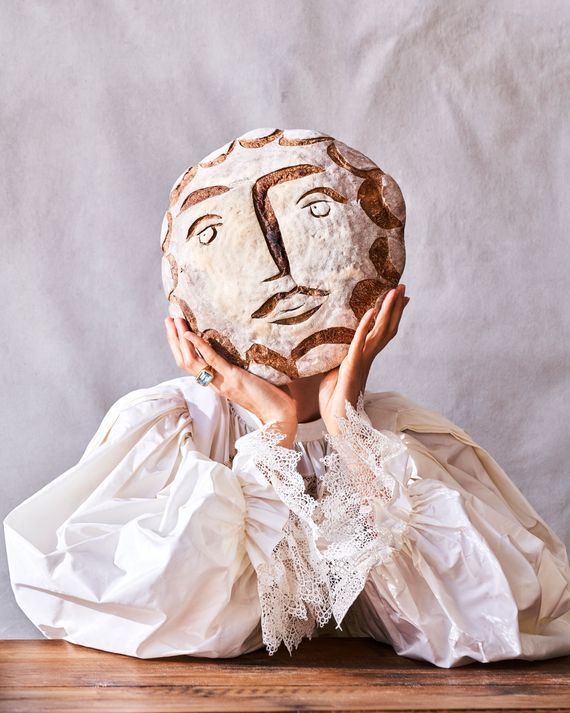 Remember sourdough? Almost as soon as the world went into lockdown and everyone turned artisanal survivalist, it seemed to be everywhere: burbling in warm, dark corners; feeding, multiplying, inspiring trend stories and backlash to the trend stories, and choking social media; seducing Jake Gyllenhaal; obsessing an antsy, underoccupied populace. The air seemed palpably tarter, lactobacilli luxuriating in paradise. It was sourdough, sourdough, sourdough. Jesus never made so many loaves. "Making bread must be easy," the comedian Sandy Honig tweeted a month or so into our leavened confinement, "if all you fucking morons are doing it."
As Americans battened down and homesteaded like there was no tomorrow — which, in fairness, there still may not be — they rediscovered their inner prairie pioneers, embracing all the things that just yesterday seemed like fattening, allergen-rich evils: gluten, sugar, carbs, bread. Baking tends to run countercyclical to the economic moment. When people feel prosperous, they eat out and shop; a recession comes and they retreat to the kitchen to knead. After the recession of 2008 to 2009, flour experienced an increase in business. That was a wave. This was — in the words of Karen Colberg, co-CEO of the Vermont baking-goods supplier King Arthur — a "tsunami." The company, whose roots date back to 1790, found itself suddenly pandemic-famous. Its inventory was wiped out in less than a month and won't be reliably replenished until next month at the earliest. And while King Arthur can't track where each cup of its flour goes, it has a pretty good idea: In March, sourdough starter became the No. 1 most searched recipe on its website and stayed there for months.
Bread literacy is up — way up. "I'm actually a little nervous," joked Nick Curtola, executive chef of the Brooklyn restaurant the Four Horsemen, which adapted to the challenging conditions by opening a to-go grocery selling wine, prepared food, and (naturally) sourdough starter. "People are going to be so judgmental when restaurants open. They'll have gotten so good at making it at home. We're going to have to make some really, really good bread when we open back up." But bread boredom is also up. As my colleague Rachel Sugar wrote recently on Grub Street, "baking had stopped feeling like cosplay and started feeling like the rest of our lives."
So what did we want from sourdough? What do we want still? (Were we asking too much of it anyway?) A distraction, an occupation, even a vocation: Suddenly cursed with more time than places to go or things to do, plus the imminent threat just beyond our front doors, we found sourdough-making offered a way to fill the hours, the everyday miracle of turning raw stuff delicious if you were willing to work and to wait. Sourdough starter is a living mixture that needs feeding and pruning, attention paid and paid again, like a houseplant, or a jarred pet. To make a happy, fragrant slurry that will eventually beget bread is to play God, or at least a Bronze Age version of Animal Crossing. And yet we are each of us in our kitchens nervous divinities, capable of mixing life, uncertain if it should really smell like that.
The height of sourdough mania crested before Memorial Day, when one national emergency — the COVID-19 pandemic — was met by another, the police brutality and systemic racism brought to the fore by the death of George Floyd in Minneapolis. The privileged lifestyle cosiness of home baking then seemed a pale crutch. The Instagrammed loaves disappeared. The mood is more urgent now; those stuck at home have forcefully, passionately wrenched themselves unstuck. Sourdough can't save a nation, and it can't distract it indefinitely, either.
But to go back: It was not easy to transition from a purchased-bread society to a home-baked one. The rations wobbled. In the midst of the coronavirus pandemic, there was a stockpile-stuffing run on predictable staples: toilet paper, Clorox wipes, hand sanitizer. But also on bakery supplies. It wasn't the raw stuff at issue — the U.S. has plenty of grain — but the logistics of getting it milled, processed, packed, and shipped, especially given that the vast majority of flour in the country (96 percent, according to Robb MacKie, the president and CEO of the American Bakers Association) is destined for commercial use, not the grocery shelf. "Our shipments have been double what they normally are," Mike Duffy, the CEO of C&S Wholesale Grocers, the country's largest grocery wholesaler, told me in May. Orders are even more than that — probably three to four times what they'd normally be — but the company can't fulfill them all. Before the pandemic, baking goods weren't a growth area. "Since mid-March," Duffy said, "we're up."
Nor was flour the only scarce thing. So was yeast. In the first weeks of quarantine, neither love nor money seemed able to turn it up. "One of our yeast members said it was a 600 percent increase on sales year over year," MacKie said. "You can handle if it's up 50 percent, 100 percent. But when you're up 600 percent, it just takes a while to adapt."
And when packaged yeast disappears, sourdough is there. It always has been. Humans have been making sourdough for millennia using a fermented mixture of flour and water to give the bread its rise; commercially produced yeast, with its lab-grown reliability, is the newcomer. The truth is, you already have yeast in your kitchen. Natural yeast is available everywhere, invisibly. It is around us and on us, and when flour and water are mixed, an ecosystem is ultimately created, a microbiome in which these omnipresent yeasts and ambient bacteria mingle. (The yeasts leaven the bread; the bacteria called lactobacilli give it its tang.)
But here's the thing about sourdough baking: It's difficult. The starter is temperamental, more organic, and less finely calibrated than a packet of Fleischmann's. Nora Allen, a kitchen veteran of Roberta's and the Standard, had just passed building inspections on her own new bakery, Mel, on the Lower East Side, when the pandemic struck; while she waited it out, she shifted her focus online, where she offers advice and diagnoses of flat or stodgy loaves via Instagram. One week, her inbox filled up with 60 requests. "It would be a lot easier and a lot less time spent to do a yeasted bread, to be honest," she said. And on the bakers' hotline King Arthur runs, a toll-free service maintained by friendly on-staff bakers, calls have tripled this year, and "probably 75 to 80 percent of them," said Judy Falconi, one of the friendly voices on the other end, "are about sourdough."
The challenges of sourdough baking alone would be enough to keep the tip line's dozen or so advice-giving employees busy, but as calls stretched longer and longer — 15, 20 minutes, sometimes more — the King Arthur bakers heard again and again about the world outside the callers' kitchens. In its way, sourdough uncertainty came to function as a proxy for a more overarching anxiety about the pandemic. "Most of the calls it's mentioned," said Amanda Schlarbaum, one of the hotline bakers. "A lot of people tell us it's relaxing for them to bake, or kneading bread kind of helps them not think about whatever's going on. The anxieties are definitely running higher. There have definitely been calls where I feel like we have to talk 'em down a little bit." Frontline responders would call. "I've had a lot of calls from nurses recently," said Anna Herbert, another hotline baker, "who openly say they're a nurse from New York City and this is what makes them feel they can go to work the next day." One hospital nurse called twice. "I got her again," Herbert said, "and we ended up talking more."
Baking kept us sane even if we weren't very good at it. And just because it's not trending anymore among the influencers, that doesn't mean people aren't still doing it. The baker and blogger Bryan Ford of Artisan Bryan watched his web traffic skyrocket in March and continue to climb, fourfold and more; his website's biggest numbers were logged in June. His book, New World Sourdough, came out that month and, buoyed by sourdough mania, quickly sold out its first printing. "It's been like a month, and my publisher says we're making new books — where are they? I'm getting hounded now," he said. "The demand was crazy."
Just the act of baking itself can be a salve, even if you're making just a loaf of bread. For Vallery Lomas, a Harlem-based baker, blogger cookbook author, and winner of the third season of The Great American Baking Show (the one pulled off the air mid-season after allegations of sexual harassment were leveled at judge Johnny Iuzzini), it helped her during the painful reckoning over George Floyd's death and the tumultuous protests that followed. "This no-knead, rustic loaf is the product of my anger and frustration," Lomas, who is Black, wrote on Instagram. "Humble as it is, it's all I could fix my hands to make yesterday. Its crusty existence feels like a victory."
"I wasn't about to make cupcakes," she said, when I reached her recently. "For me, going in the kitchen and baking was my act of protest." (For maximum ease, Lomas's loaf was yeasted.) And when Willa Pelini, Paola Velez, and Rob Rubba, three D.C.-area professional pastry chefs, formed Bakers Against Racism and came up with a plan for a "virtual bake sale," a collective movement of home and professional bakers making treats to be sold and profits donated, Pelini noticed that the "huge sourdough craze" had led to several sourdough bake-sale submissions. Some bakers would even "score the top to have really beautiful images of Black Lives Matter," she noted. "It was a very unique moment when we launched the sale. Everyone had just taught themselves how to bake." (Bakers Against Racism participants have reported a total of nearly $1.9 million in donations to bail funds, local BLM chapters, and "food justice and health equity" organizations like the Okra Project and DC Greens.)
Baking, like everything else, can be political, or maybe it was all along but we refused to acknowledge it. The public face of artisanal bread-making remains overwhelmingly white and male: a movement in the image of Tartine. "I worked at Sullivan Street Bakery in Miami — you probably know Jim Lahey," Ford, who is Black and Honduran, told me. (Lahey, of the Sullivan Street Bakery empire, became famous for his no-knead yeasted bread recipe, an inflection point a few years earlier in the home-baking timeline.) "If you walk in the back of most bakeries, man, it's straight up Black cats, Salvadoreans, Hondurans. The hands that are making the bread and the hands that are cooking our food are the brown hands, the Black hands that look like me. We are not necessarily on the pedestal or shown as the face of artisanal baking." Ford took to Instagram to vent his anger that the Bread Bakers Guild of America, an industry group, had remained silent and recipe focused. "Lots of small bakers supported what I said and appreciated me opening the door to a larger and more public discussion," Ford told me. The guild reached out to him, and he was diplomatic, if perhaps not overly optimistic, about the results. "They've created a committee, they've had meetings," he said. "I don't want to say anything about my opinion on anything they're doing. They're trying to take steps to improve."
But in the course of a national obsession, Black Lives Matter boules are the exception, not the rule. Mostly, sourdough mania, at least in its most socially trafficked iteration, has slowed. Though she continues fielding inquiries, Nora Allen, of the Mel bakery, has seen a drop-off in her DMs; many of those now contacting her are repeat bakers. "The extent of the boom of sourdough, where celebrities were all doing it, I do think that'll be a nostalgic thing," she told me, and in any case, by the fall, those who would otherwise make their sourdough at home will be able to head to Mel, which is delayed but not destroyed by the pandemic. King Arthur is still working to restock its top sellers; demand remains twice what it would be in a normal summer, baking's sultry off-season. (The current lag is not why, Colberg assured me, the company changed its name from King Arthur Flour to the more general King Arthur Baking Co. this month.) But customer demand marketwide seems to be easing. From mid-February to mid-May, flour sales were up 100 percent year over year, according to numbers from IRI, which analyzes market-research data, and up 49 percent over the 12 weeks prior; but for the month of June, sales were down 22 percent over the previous four weeks.
Or look to the weather vane that is Lexie Smith, sourdough's Johnny Appleseed, who spent the early pandemic riding the wave of sourdough mania. A self-styled bread scholar, artist, and researcher who has spent years organizing her investigations under the umbrella of an online archive she calls Bread on Earth, she offered to send out packets of dehydrated starter from her own batch to any interested correspondent, gratis, in the spring. In March and April, she was a guru in demand. "As much as I want this to be something that breaks these trend molds that I abhor, I realize that my reach is my reach," she told me. "I had an article on Vogue.com and then I got a lot of orders." By the time we first spoke in early May, more than 1,000 packets had been sent around the world. They went to New York and California, middle America and Mexico, a curious lot to Australia. But by the start of the summer, the numbers had fallen precipitously. Bread, she said when we spoke again recently, had become "yesterday's celebrity — a cultural memory and a sort of meme."
Smith remains deeply invested in the semiology of bread, but even she has paused. "A total obsession with bread doesn't make sense for this moment," she said recently. "I hope that people continue to bake and understand the value in a certain kind of bread and see it no longer as something you buy in a store but as a commodity and a part of history." But it's also just bread. "I still remain embarrassingly dismayed when I scroll through my Instagram — I had one that's specifically dedicated to bread — and all these bakers are back to posting their bread loaves."
She hasn't baked more than a loaf or two in weeks. "It's not the thing we need to be doing to break systems down and put new things in their place," she said. "The revolution is not taking place in the oven."