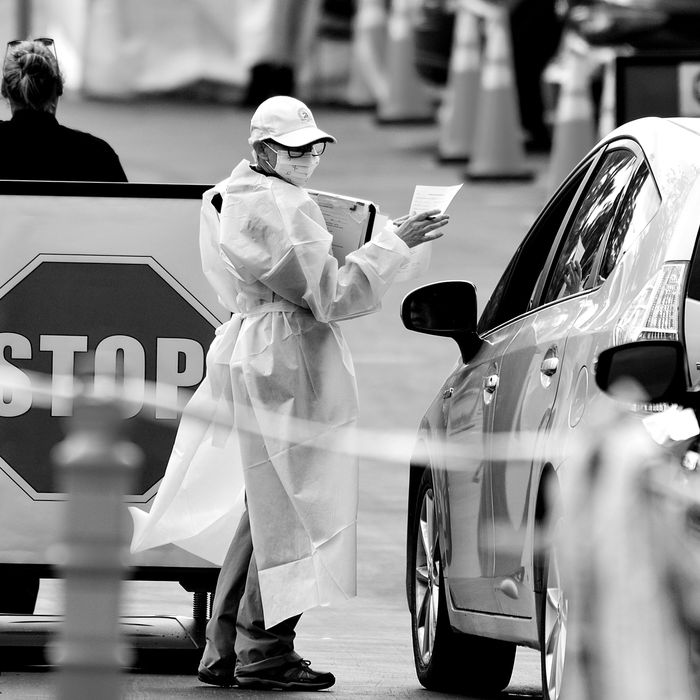 A drive-through COVID-19 screening site in Yorba Linda, California.
Photo: MediaNews Group via Getty Images
We're committed to keeping our readers informed.
We've removed our paywall from essential coronavirus news stories. Become a subscriber to support our journalists. Subscribe now.
In February, the Centers for Disease Control and Prevention warned that the United States should brace for a domestic coronavirus outbreak. Over the past four months, the number of confirmed cases of COVID-19 in the U.S. has risen dramatically, and the U.S. currently has the largest outbreak in the world. As of July 15, more than 3.4 million people across every state, Washington, D.C., and four territories have tested positive for the disease, and more than 136,000 people with the virus have died.
In March, the World Health Organization officially declared COVID-19 a pandemic, and President Trump declared a national state of emergency. Now, infection rates continue to grow across the globe: More than 13.3 million confirmed cases of COVID-19 have been reported in at least 177 countries, with at least 580,388 deaths so far.
Here's everything to know about the spread of the virus in the U.S.
How many new coronavirus cases have been confirmed in the U.S.?
As of July 15, there are at least 3,459,053 confirmed cases of COVID-19 in the U.S., and at least 136,900 people with the virus have died.
Though cases had been on a downward trajectory after the widespread lockdowns in March and April, in recent weeks, the virus has spread rapidly — especially in regions of the country that were early to reopen, including the South and West. According to the New York Times, the country has been recording an average of more than 61,000 new cases every day, which is double the daily average from mid-June. Still, public-health officials say that the true number of Americans who have been infected is far higher, with the CDC estimating that the number of cases is likely ten times the 3 million that have been recorded.
New York has had by far the largest outbreak in the country, though the number of new infections and deaths in the state have declined significantly in recent weeks. As of Wednesday, the state has 407,875 confirmed cases and 32,092 deaths, including those presumed to have died from the virus who had not tested positive. While the biggest outbreaks were initially clustered in dense urban areas, the New York Times reports that on a per capita basis, a number of small cities and rural communities in the South and Midwest have been among the hardest hit. The biggest clusters of cases have been in nursing homes, meat-processing plants, and correctional facilities — all places where social distancing is a challenge. More than 40 percent of deaths from COVID-19 in the U.S. have been linked to nursing homes and other long-term care facilities. Additionally, federal data shows that Black and Latino people in the U.S. have been three times as likely to become infected as white people and that they have been nearly twice as likely to die from the virus.
Now, 41 states are still seeing an increasing number of new coronavirus cases each day, with younger people accounting for a growing percentage of new infections. (According to data from the Times, there are only two states, New Hampshire and Maine, where new cases are currently declining). Dr. Anthony Fauci, the nation's leading infectious-disease expert, has cautioned that despite the optimism from the Trump administration — which has repeatedly downplayed the seriousness of the current outbreak, with Trump recently claiming falsely that "99 percent" of cases are "totally harmless" — the nation is still "knee-deep in the first wave" of the pandemic. Testifying before the Senate on June 30, Fauci said that the recent spikes in cases "put the entire country at risk." The WHO has warned that if current measures in the U.S. are not able to stop the spread of the virus, further lockdowns may be necessary.
In recent weeks, as thousands of protesters have gathered across the country to demand justice in the wake of the police killing of George Floyd, epidemiologists raised concerns that the demonstrations could lead to a rise in coronavirus cases. However, early results appear encouraging: A new study analyzing data from Black Lives Matter protests in 315 cities found "no evidence" that the protests led to a spike in COVID-19 cases. In Seattle, thousands of protesters have been tested for the coronavirus, and less than one percent have been positive. Preliminary data from St. Paul and Minneapolis showed that about 1.4 percent of protesters had tested positive, and New York City has yet to see an uptick in cases following the protests. Epidemiologists have expressed some surprise that the demonstrations have not led to more cases, and speculate that this may be because the risk of transmission is lower in outdoor settings, as well as the fact that most protesters wore masks.
On June 20, President Trump held his first campaign rally since the start of the pandemic at an indoor stadium in Tulsa, Oklahoma. Prior to the event, local health officials urged Trump to cancel or at least move the rally outdoors, fearing that it could lead to a surge in cases. The Trump campaign claimed that the rally would be "a safe opportunity to congregate" — though they also issued a disclaimer requiring attendees to agree not to sue the campaign or the venue if they contracted the virus at the event. Turnout was lower than the campaign had anticipated, though photos from the rally showed that most of the 6,000 attendees did not wear masks or adhere to social distancing. Now, the area is seeing an uptick in cases, and local officials believe the rally is partially to blame. "In the past few days, we've seen almost 500 new cases, and we had several large events just over two weeks ago, so I guess we just connect the dots," Bruce Dart, Tulsa City-County Health Department director, said last week, adding that the rally "more than likely contributed" to the surge in cases. On Wednesday, the governor of Oklahoma, Kevin Stitt — who attended the rally on June 20 — announced that he had tested positive for the virus.
How long will it take to reopen the country?
As the number of confirmed cases of COVID-19 continued to rise throughout March and April, many states urged or ordered residents to stay at home to slow the spread of the virus. As of mid-April, 316 million Americans in 42 states were under orders to stay at home except for essential activities, and 48 states suspended in-person classes for the rest of the school year.
The widespread lockdowns have had serious economic consequences, and more than 40 million Americans have lost their jobs since the outbreak began. Researchers at Harvard have estimated that nearly 110,000 small businesses closed permanently between early March and early May, and during the same period, an estimated 5.4 million American workers lost their health insurance. Though retail sales and the unemployment rate showed some improvement in May, the chair of the Federal Reserve has said that the U.S. economy is in a "downturn without modern precedent," and economists are increasingly concerned that many lost jobs may never come back.
The Times reports that all 50 states have now begun to reopen, though public-health officials have warned that reopening too soon — and without widespread testing available — could lead to a resurgence of cases. Testifying before the Senate on May 12, Fauci warned that reopening prematurely could lead to needless suffering and death as well as further economic setbacks. "The real risk is that you will trigger an outbreak that you may not be able to control," Fauci said.
Fauci's characterization of the situation is a stark contrast to President Trump's, who in an interview with Fox News on June 17 said that the coronavirus is "fading away." However, according to the Times, nationwide, cases have risen nearly 50 percent over the past two weeks, and deaths are up by 43 percent. California, Florida, Texas, and Arizona are among the states emerging as the country's latest epicenters; on Sunday, Florida recorded more than 15,000 new cases, the highest single-day total of any state, and a number of hospitals there have reached capacity.
On a private call with governors on June 15, Vice-President Mike Pence downplayed the outbreaks, which he described as "intermittent" spikes, and encouraged governors to tell citizens that rising case numbers were the result of expanded testing. President Trump reiterated this at his campaign rally in Tulsa on June 20, saying that he asked "my people" to "slow the testing down" so that the numbers wouldn't look as bad. Four doctors who testified before Congress on June 23, including Fauci, said they knew of no such request and that they believe the country needs to do more testing. "The only way that we will be able to understand who has the disease, who is infected, and can pass it, and to do appropriate contact tracing, is to test appropriately, smartly — and as many people as we can," said Admiral Brett Giroir, the assistant secretary of public health.
While it's true that testing capacity has increased in many areas — the U.S. is currently testing about 600,000 people a day — public-health experts have said that it's not accurate to attribute the rise in cases solely to this and have warned that the outbreak is far from under control. Additionally, the Times reports that 34 states are still far below the minimum level of testing necessary to mitigate the spread of the virus.
New York City entered phase three of reopening on July 6, which includes reopening personal-care businesses and expanding outdoor recreation. However, Governor Andrew Cuomo said the city will not resume indoor dining, as was originally planned, "out of an abundance of caution and after seeing other states' experiences," and Mayor Bill de Blasio has extended the city's ban on large public gatherings through September 30. New York has largely succeeded in controlling its outbreak, and Cuomo has announced that travelers coming to New York from 19 states currently experiencing surges in cases will have to quarantine for 14 days.
Meanwhile, across the country, new clusters of cases have been found via gatherings in bars, churches, and other recently reopened places, and a number of cities and states have walked back their reopening plans as a result. On Monday, California governor Gavin Newsom ordered restaurants, wineries, movie theaters, and zoos to stop all indoor operations, and Los Angeles and San Diego, the state's two largest public-school districts, said that classes would be online-only in the fall. Some states experiencing surges have ordered bars to close, including Arizona, Florida, Texas, and California. Texas governor Greg Abbott, who has been criticized for reopening the state too quickly, has paused the state's reopening and urged residents to stay home, and state officials have said that further lockdowns may be necessary. In Florida, Governor Ron DeSantis has announced that the state will not move forward with the next phase and urged people to avoid indoor spaces with poor ventilation, crowds, and close contact with others.
What is the federal government doing to fight coronavirus?
In March, President Trump declared a national emergency over the coronavirus pandemic, effectively freeing up to $50 billion in federal funds to help states and territories fight the spread of the virus, which he said would include expanding access to testing.
On May 24, the Trump administration announced a new testing strategy, which holds states responsible for planning and carrying out all testing. Public-health experts and Democratic leaders have criticized the proposal, saying that it will pit states against each for supplies and may result in large inequities in testing capacity.
As testing capacity has improved in recent weeks, the Times reports that a number of laboratories are struggling to meet increased demand. Testifying before Congress in June, federal health officials said that the U.S. currently has the capacity to do 15 million tests a month, which they expect to increase to 40 to 50 million by the fall. Additionally, the U.S. currently has about 28,000 contact tracers — but Robert Redfield, the head of the CDC, has said the country will need 100,000 by September to contain the spread of the virus.
On March 19, Secretary of State Mike Pompeo announced that the U.S. would close its borders with Canada and Mexico, barring entry to all nonessential travelers. President Trump has also barred entry of all foreign nationals who have been in high-risk countries, including China, Iran, and much of Europe, within the last 14 days. The CDC has advised against all nonessential travel throughout most of Europe, South Korea, China, and Iran and has advised older and at-risk Americans to avoid travel to any country. The Times reports that the European Union reopened its borders on July 1 to visitors from 15 countries, but that it will block American travelers due to the country's failure to contain the spread of the virus.
On March 27, President Trump signed a $2 trillion stimulus plan, the largest in modern American history, which sent direct payments of around $1,200 to millions of Americans who earn less than $99,000, along with an additional $500 per child. The first round of deposits went out on April 11 (though the Government Accountability Office said recently that $1.4 billion in payments were erroneously sent to dead people). The plan also substantially expands unemployment benefits, including extending eligibility to freelance and gig workers, and provides aid to businesses and companies in distress. The expanded unemployment benefits are set to expire at the end of July, and the Trump administration has said that it does not plan to extend them, and will focus instead on bringing people back to work. On May 15, the House approved a new $3 trillion relief package, which would include nearly $1 trillion in aid to state and local governments, as well as another round of $1,200 payments to Americans.
Researchers have made a number of early steps toward a vaccine that look promising. A coronavirus vaccine made by Moderna that has been tested in 45 people appears to be safe and effective, and will enter phase-three tests — involving 30,000 people — later this month. On May 5, Pfizer and the German pharmaceutical company BioNTech announced that they were beginning human trials for a possible coronavirus vaccine in the U.S., and the U.S. government has pledged to provide up to $1.2 billion for vaccine research to the drug company AstraZeneca, as well as $1.6 billion to the vaccine maker Novavax. However, Fauci has said that a vaccine will not be ready until at least the end of this year or early 2021. Earlier this month, British scientists announced that they have identified the steroid dexamethasone as a possible COVID-19 treatment, noting that it has been shown to reduce the death rate of patients on ventilators by a third.
On July 7, the Trump administration notified the United Nations that the U.S. will withdraw from the World Health Organization, effective July 6, 2021. In an effort to shift the blame for his own mismanagement of the crisis, Trump first announced that he would halt funding to the organization in April, a move that was met with widespread criticism from health officials and world leaders. A spokesperson for China's foreign ministry condemned the U.S.'s decision to withdraw, saying that it "undermines international anti-epidemic efforts, and in particular has grave implications for developing countries in urgent need of international support."
Meanwhile, the Trump administration has asked the Supreme Court to overturn the Affordable Care Act. If they succeed, as many as 23 million Americans would lose access to their health insurance.
What should I do to minimize my coronavirus risk?
In most cases, COVID-19 is not fatal, but it appears to pose the greatest risk to elderly people and those with preexisting conditions. According to the CDC, eight out of ten deaths from COVID-19 in the U.S. have been adults age 65 and older. Doctors and medical workers may also be at greater risk, due to their higher-than-average odds of exposure.
The CDC has recommended that Americans wear cloth face coverings while out in public, and 27 states and Washington D.C. now require residents to wear masks in public settings when social distancing is not possible.
The guidance on masks is driven in part by concern about the number of asymptomatic individuals who may be infected and spreading the virus. The prevalence of asymptomatic spread has been a source of recent confusion after a WHO official said on June 9 that transmission of the virus by individuals without symptoms appears to be "very rare." However, the organization reversed course a day later, saying the next day that up to 40 percent of transmission may occur through asymptomatic individuals. Fauci has previously estimated that between 25 and 50 percent of people infected with the virus may not experience any symptoms. On Thursday, the WHO also acknowledged that evidence increasingly suggests that the virus can spread via airborne transmission — a revision that many scientists feel was long overdue.
Speaking on ABC's This Week on Sunday, one day after Donald Trump was seen wearing a mask in public for the first time, Admiral Giroir, the assistant secretary of public health, said, "It's really essential to wear masks," adding, "We have to have like 90 percent of people wearing the masks in public in the hot-spot areas. If we don't have that, we will not get control of the virus."
If you have symptoms associated with coronavirus — coughing, fever, respiratory issues — call your doctor before showing up at their office: The virus is highly contagious and you want to limit the possibility of spreading it. If you are sick, the CDC recommends that you stay home and self-isolate, confining yourself to one room as much as possible and wearing a face mask when you have to interact with others. Wash your hands frequently — soap and water and at least 20 seconds of scrubbing — and avoid touching shared household items, cleaning "high-touch" surfaces (like your phone) regularly. Your health-care provider and even local health department will help you determine how long it's appropriate for you to keep up these precautions.
Regardless of whether or not you have symptoms, though, keep your hands clean, and seriously, stop touching your face and just stay home.
This post is being updated daily with new developments.