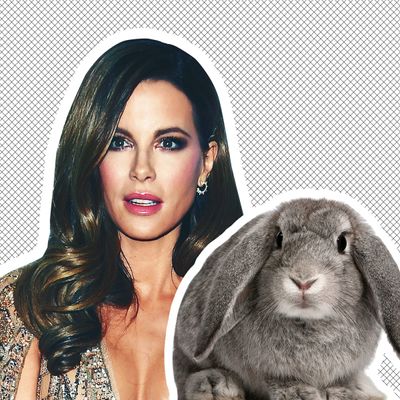 Who left a rabbit on Kate Beckinsale's doorstep?
Photo: Getty Images
If you are so inspired to leave a present at someone's front door, your options are — for the most part — endless. Say you want to surprise your best friend on their birthday; on their doorstep, you could place a precious little cake or overpriced serum they've been eyeing. Or, if the recipient of your gift is a crush, you could go with a vase of flowers or even a romantic haiku. My freshman year of high school, I once left a sandwich-sized Ziploc bag of homemade puppy chow (one of the Midwest's finest treats) on the doorstep of a classically hot senior's home, with no intention of ever revealing my identity to him. In retrospect, I acknowledge this was an odd choice — but, ultimately, innocuous and fine.
But there do exist unacceptable surprise presents. Take, for example, a rabbit, which one anonymous stranger recently dropped off at Kate Beckinsale's door. Now, there's a good chance the gift-giver was well-intentioned. According to People, they left a basket of rose petals alongside the bunny. (Also, the rabbit was caged.) But Beckinsale, who posted about the rabbit to her Instagram Story, was rightfully alarmed by the whole thing. It's unbearably hot out! Bunny Ebola is spreading! Also, uh, rabbits are not the easiest pet!
"PLEASE PLEASE PLEASE however much someone loves animals please never send an unsolicited pet to someone's house," she wrote on Instagram, "especially anonymously and especially on a boiling hot day where it could have been left outside to roast to death." Thankfully, she continued, "we found a loving home for Marvel without cats." But still, everyone involved, including the bunny, were pretty shaken.
Even my disgusting melted bag of peanut butter and Chex Mix and chocolate would've been better.