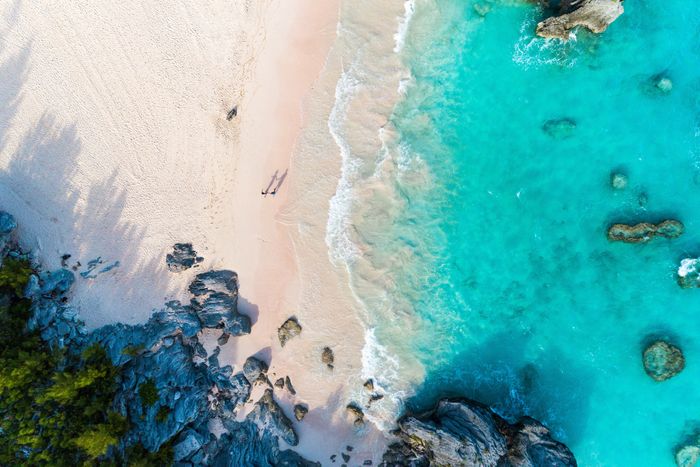 Photo: Courtesy of Bermuda Tourism Authority
Even though the world is feeling far from "normal," we'll never stop dreaming of pink sand beaches. Bermuda — the highly Instagrammable island only 2 hours from the East Coast — just reopened to air travelers, and provides an escape for those seeking out rest and relaxation of all varieties. Whatever you're missing during these uncertain times, Bermuda may be your ticket to some sense of calm. When you're feeling ready to travel, get that getaway you've been craving with safety top of mind. (Wear your masks, people!)
We know that not everyone practices wellness in the same way, so we've mapped out our recommendations for what to do in Bermuda depending on your travel style — basically, your very own customized retreat. In these rapidly-changing times, make sure to double check your itinerary for current availability and temporary closures before you go. Otherwise, read on and start planning for whenever you're ready.
If you're flying (and vacationing) solo:
Bermuda is huge for solo travelers because it's easy to get around quickly and properly distance from others. We recommend staying in the capital City of Hamilton. You'll find yourself close to any and everything, and able to walk to spots like Bouchée for breakfast, or coffee and lunch at Devil's Isle Cafe (outdoor seating is available). If you're an active solo traveler, jump on a jet ski tour or go stand-up paddle boarding. If you're looking to block out the world and be your most relaxed self, look no further than the Grotto Bay Natura Spa on the East end of the island, or plant yourself at Jobson's Cove, a secluded, less-populated beach on the West side.
Other things to try:
• Wander around the Town of St. George, a UNESCO World Heritage site
• Order a Rum Swizzle at the Swizzle Inn
If you're up for some serious adventure:
Adventure-seekers, this is your moment. Bermuda is filled with adrenaline-pumping activities that double as cocktail party stories for later. Cliff diving is huge on the island, if you can handle it. Admiralty House Park is a perfect peak for those willing to take the jump into its crystal clear waters. As for beaches, we love a hidden gem, and Astwood Cove Beach is well worth the journey if you're up for a steep trek to its pink sand and stunning views. Make a reservation and dine al fresco at Blû to really eat like a local. It's the freshest seafood in Bermuda, with an endless amount of mouthwatering sushi, sashimi, and caviar over ice.
Other things to try:
• Jump waves on a jet ski
• Go scuba diving for shipwrecks
If you want to travel better for the planet:
Despite our brief travel pause, sustainability is in, no question. Thankfully for Earth-friendly travelers, Bermuda is filled with businesses and activities that prioritize sustainability. Tap into your green thumb and go hunting for edible plants and herbs on the Wild Herbs Eco-Foraging Tour, or grab a juice at OM Juicery and rent an electric car to get around town. For more island-friendly foods, check out Wadson's Farm on the West End, where a year-round market hosts a selection of organic fruits, veggies, and other items. Wadson's is actually where many of Bermuda's restaurants get their produce (teamwork makes the sustainable dream work).
Other things to try: 
• Rent an electric boat
• Go kayaking on an eco-adventure
If you're feeling a little romance:
If you're yearning to get away with your partner-in-crime, Bermuda is an idyllic option. Take a dreamy walk along Lover's Lane at the Paget Marsh and Boardwalk, or climb to the top of Gibbs Hill for a picture-perfect view. After stopping by The Bermuda Perfumery, a historic spot offering exclusive fragrances made from the island's flowers, reserve a table on the outdoor terrace at Marcus'. It's a certain kind of luxury to feast your eyes on jerk pork belly and the crystal blue waters of Hamilton Harbour in the same romantic meal.
Other things to try:
• Take a bike ride around Railway Trail
• Go snorkeling around Shelly Bay Beach
All images courtesy of Bermuda Tourism Authority.
This advertising content was produced in collaboration between Vox Creative and our sponsor, without involvement from Vox Media editorial staff.