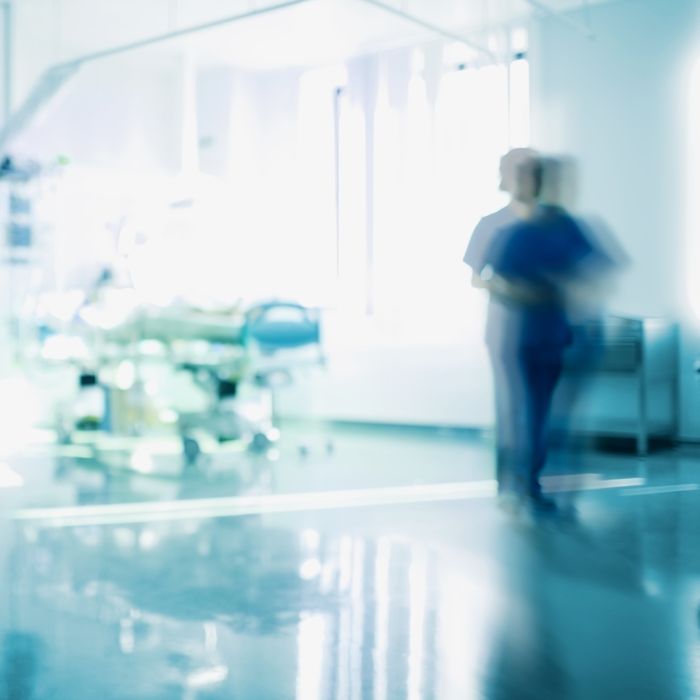 Photo: sudok1/Getty Images/iStockphoto
We're committed to keeping our readers informed. 
We've removed our paywall from essential coronavirus news stories. Become a subscriber to support our journalists. Subscribe now.
Over the past few months, hospitals around the world have observed an alarming number of coronavirus patients suffering from symptoms of delirium, including terrifying hallucinations and paranoid visions. Delirium, an acute condition characterized by confusion and reduced awareness, is relatively common in cases of illness requiring intensive care, especially among older patients. But amid the pandemic, some researchers say that intensive care units have devolved into "delirium factories." In an interview with the New York Times, one 31-year-old COVID-19 patient who suffered from the condition recounted disturbing visions: At various points during her hospitalization, she believed she was burned alive, subjected to lab testing in Japan, and transformed into an ice sculpture.
While research on the prevalence of delirium among coronavirus patients is still limited, some doctors believe that people hospitalized with COVID-19 could be more susceptible to the condition due to a number of factors, including the way the virus affects the brain and the medications prescribed to coronavirus patients, as well as the preventative measures hospitals have instituted to slow the spread of the virus. One of the most effective methods to prevent delirium is providing patients with regular human contact — a measure that runs up against current hospital policies of limiting visitors.
Here's what we know about coronavirus-related delirium.
Delirium is not uncommon in critical cases.
Delirium is relatively common among seriously ill patients who require ICU stay and ventilation: Current research shows that between 70 and 75 percent of patients who require ventilators develop the condition. Typically, delirium falls into two subtypes: hyperactive delirium, in which the patient suffers from agitation, hallucinations, and delusions; and hypoactive delirium, which is associated with inactivity, lethargy, and withdrawal. However, many patients experience a combination of the two.
"Patients in the intensive care setting are among the sickest in the hospital, and thus are inherently at higher risk of delirium due to the sheer quantity and severity of their medical problems," Dr. Anna Dickerman, a psychiatrist at Weill Cornell Medicine, told the Cut. "Ventilation itself can reduce oxygen flow to the brain. Many vented patients are also on sedative regimens of drugs that may increase the risk of delirium, such as benzodiazepines." Additionally, elderly people are more likely suffer from mobility issues or preexisting cognitive impairment, which also makes them more susceptible to developing delirium.
In recent years, hospitals have adopted measures intended to prevent patients from sliding into delirium, including preserving a patient's sleep cycle, having loved ones pay regular visits, and minimizing the use of drugs that induce delirium.
Many seriously ill coronavirus patients are developing delirium — and not just the elderly.
Right now, there's no definitive evidence regarding how common delirium is among coronavirus patients: The first report on the subject, published by JAMA Neurology in early April, found that of 214 coronavirus patients in China, more than 30 percent experienced neurological symptoms assumed to be delirium; a NEJM study suggests that the rate could be closer to 65 percent. Given the frequency with which critically ill patients slip into delirium, it's not clear that coronavirus patients are experiencing the condition at a disproportionate rate. What is notable, though, is that these studies represent people of all ages — not just elderly adults. "We are seeing patients under 50 who become quite delirious while sick with COVID-19," Dickerman told the Cut.
Accounts from coronavirus patients who've suffered from delirium are agonizing: According to the Times, after a 69-year-old man convinced himself that "there was some sort of conspiracy against me," he asked his family to kill him over a Zoom call. Per The Atlantic, patients "may believe their organs are being harvested, or that nurses are torturing them. A spike in fever might feel like being set on fire. An MRI exam might feel like being fed into an oven."
There are a few theories as to why coronavirus patients are susceptible to the condition.
Anything that interrupts normal brain function can cause delirium. And, per Dickerman, "We are quickly learning that the coronavirus has multi-organ impact, and injury to major organs like the lung and heart may lead to inadequate brain oxygenation." Dickerman also points to the body's inflammatory response to the virus — known as the "cytokine storm" — which can damage the nervous system, and therefore increase one's likelihood of developing delirium.
A few other factors may also be at play. Some reports note that the sedatives that coronavirus patients are commonly administered have a high risk of delirium. Additionally, the longer a person is on a ventilator, the more likely they'll start to become agitated or confused, especially when treated with sedatives. Whereas patients typically spend between three and four days on a ventilator, COVID-19 patients have been known to require breathing assistance for anywhere between 11 to 21 days, and sometimes up to 30 days. (Per Dickerman, coronavirus patients can experience delirium before, during, or after ventilation.)
These factors are compounded by the external circumstances of the pandemic: To mitigate the spread of the coronavirus, many hospitals have adopted policies barring visitors. "Extreme isolation and distancing from human contact whenever possible, including loved ones, plus the inability to freely ambulate" increase one's likelihood of developing the condition, a recent study reports. In an interview with the Times, Dr. Sharon Inouye, a leading delirium expert, called the current conditions "the perfect storm to generate delirium."
Dickerman says that it's still unclear whether delirium is more common among coronavirus patients than those with other severe illnesses. "What makes COVID-19 unique," she says, "is that large waves of patients with the illness can become so seriously ill in such a short period of time that hospitals may be inundated with high numbers of delirious patients all at once."
Delirium can have serious long-term consequences.
Researchers have found that experiencing delirium can increase one's risk of developing depression or post-traumatic stress, or even accelerate the rate at which an elderly person develops dementia. Per a 2013 study published in the New England Journal of Medicine, "a longer duration of delirium in the hospital was associated with worse global cognition and executive function."
"As a result of delirium, people become immobilized and deconditioned, which in turn causes a cascade of consequences like pressure ulcers, falls, urinary tract infections, increased risk of dementia," Inouye told The Harvard Gazette. "That's my fear: That it's not just delirium, it's all these really bad long-term outcomes."
To reduce the likelihood that coronavirus patients will develop delirium, Inouye recommends minimizing the use of sedatives that are known to cause the condition, as well as advocating for family members and loved ones to be allowed back at patients' bedsides. "We need to be aware of the damage of social isolation in older adults as well," she said. "As human beings, we need connection. It's so important for our survival."