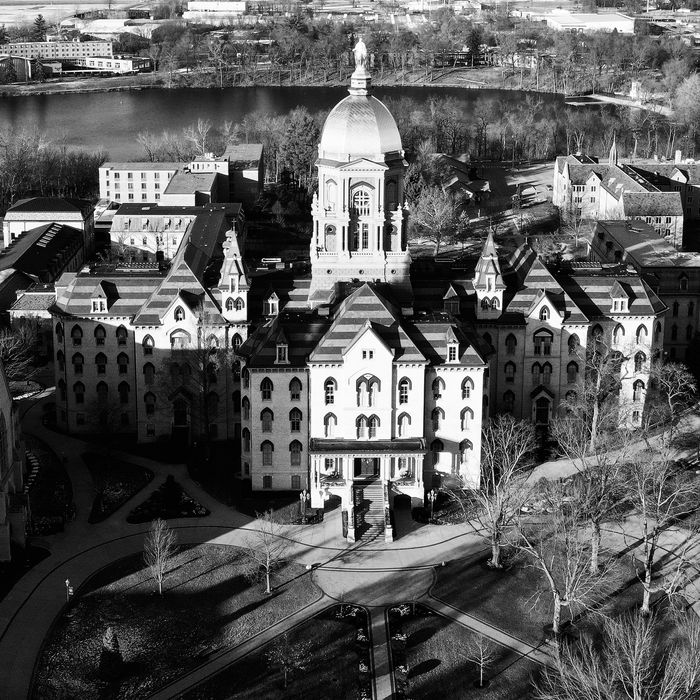 Photo: Nicole Abbett/NHLI via Getty Images
In March, as the coronavirus outbreak began to spread rapidly across the U.S., colleges sent students home and transitioned to online instruction for the rest of the semester. Now, as the fall semester approaches, many are wondering whether students and faculty can safely return to campuses.
While the U.S. is currently seeing a record surge in new coronavirus cases, which public-health experts attribute to reopening too quickly and cavalierly, colleges have huge financial incentives to resume in-person classes for the fall semester. This spring, with sports seasons canceled and room-and-board payments refunded, universities lost billions of dollars in revenue. On top of that, a growing number of students have filed class-action lawsuits demanding tuition refunds, arguing that online instruction is far inferior to the in-person experience they thought they were paying for. And the American Council on Education, a higher-education trade group, has predicted that enrollment is likely to drop by 15 percent this fall.
According to The Chronicle of Higher Education, most colleges are currently planning to reopen for an in-person semester in the fall. However, like most aspects of society, the way they operate will look a lot different. Here's what we know.
Which colleges plan to reopen?
According to The Chronicle of Higher Education, which is tracking about 1,075 colleges, 57 percent of schools currently plan to hold in-person fall classes, and 29 percent have proposed a hybrid model of in-person and online instruction. Only 9 percent of schools are planning to be online-only in the fall.
Schools that plan on adopting a hybrid model include Harvard University, which announced on July 6 that only 40 percent of undergrads will return to campus in the fall. The university said that first-year students will live on campus for the fall semester and be sent home in the spring, when seniors will return. School officials said that all classes would be held online, even for those students living on campus — and that tuition would remain the same, at $49,653 per year.
Princeton University has said they will also stagger students' return to campus, saying that first-year students and juniors will be allowed back in the fall, and sophomores and seniors will return in the spring. Most courses will be held online and tuition will be discounted by 10 percent.
Like a number of other schools, Harvard plans to have students move out of their dorms — where they will live in single bedrooms — before Thanksgiving in order to avoid the risk of students spreading the virus by traveling back to campus after fall break. The University of South Carolina has announced a similar plan, saying the school will switch to remote instruction after Thanksgiving. Notre Dame said in May that it will start its fall semester two weeks early, on August 10, and end before Thanksgiving to reduce student travel.
While the majority of colleges have said that they're currently planning for in-person classes in the fall, not all schools will reopen. In May, California State University, the country's largest four-year public university system, said that classes at its 23 campuses would be held remotely. McGill University in Montreal made a similar announcement, and Harvard Medical School has said that its first-year students will start remotely in the fall.
How will life on campus be different for schools that do open in the fall?
As institutions that typically bring together hundreds or thousands of students and faculty in one place, colleges face similar challenges implementing social-distancing measures as K-12 schools. In most cases, students and faculty will be required to wear masks. It's likely that desks in college classes will be spaced six feet apart, schedules may be staggered, and big lectures either split up or held online. A number of schools say they're considering a "hybrid flex" model, where classes are simultaneously held in-person and online, allowing students to choose either option. The Times reports that Rice University in Houston is building outdoor classrooms for the fall.
Administrators have acknowledged that colleges will need increased testing capacity in order to reopen safely, as students will be traveling to campus from all over the country. They will also need to set up systems to screen students for symptoms, and enable them to isolate if they become sick.
An additional challenge is how to safely house students in dorms. Some schools have said they will try to give every student their own room, while others are exploring the idea of creating pods of students who live together, and limiting their interaction with other groups. Schools may also limit travel off campus — and, like Notre Dame, may rearrange the fall calendar to avoid students traveling to and from campus for fall break.
Some schools that are planning to resume in-person classes in the fall are facing backlash from faculty. The New York Times reports that more than 850 faculty members at Georgia Tech have signed a letter opposing the school's reopening plan, in which wearing face masks on campus is "strongly encouraged" but not mandatory. Additionally, faculty members at Penn State, the University of Illinois, Notre Dame, and the State University of New York have signed petitions saying they feel they're being pushed back into the classroom too soon.
Earlier this month, ICE put out a guidance saying that international students who are not taking classes must return to their home countries — essentially meaning that any foreign student enrolled at a school offering only online courses would face deportation. On Tuesday, the Trump administration agreed to rescind the rule after considerable backlash: The reversal came after 17 states and Washington, D.C., as well as numerous universities, including Harvard and M.I.T., sued to block the order, which many saw as designed to pressure schools to hold in-person classes despite safety risks.

This post has been updated.